Musashi - 1060 Carbon Steel - Best Miyamoto Sword - Red Saya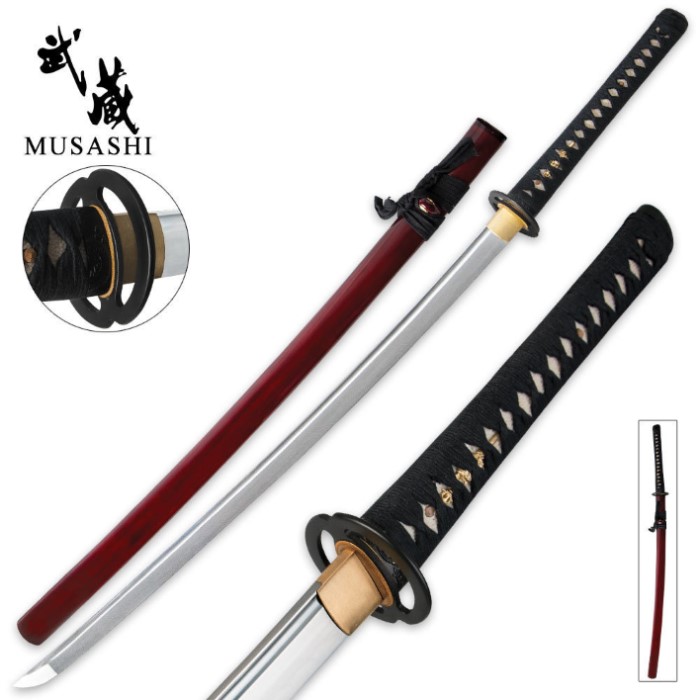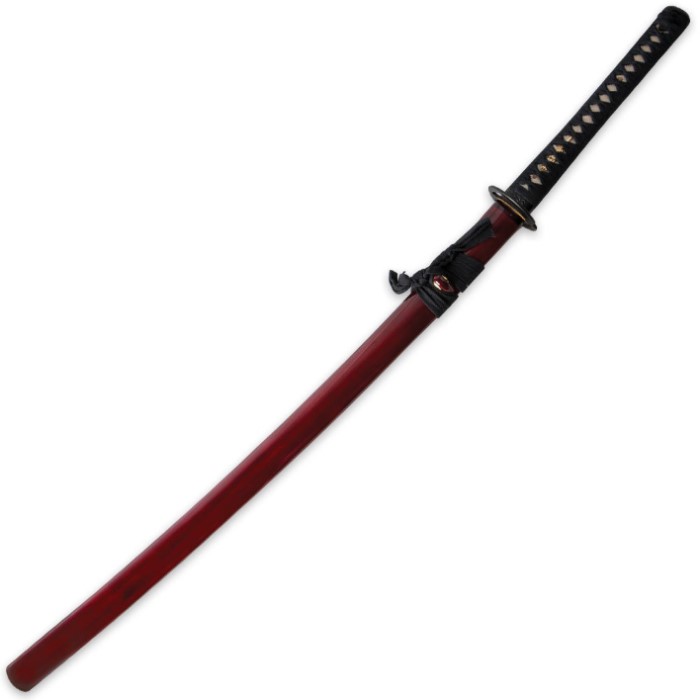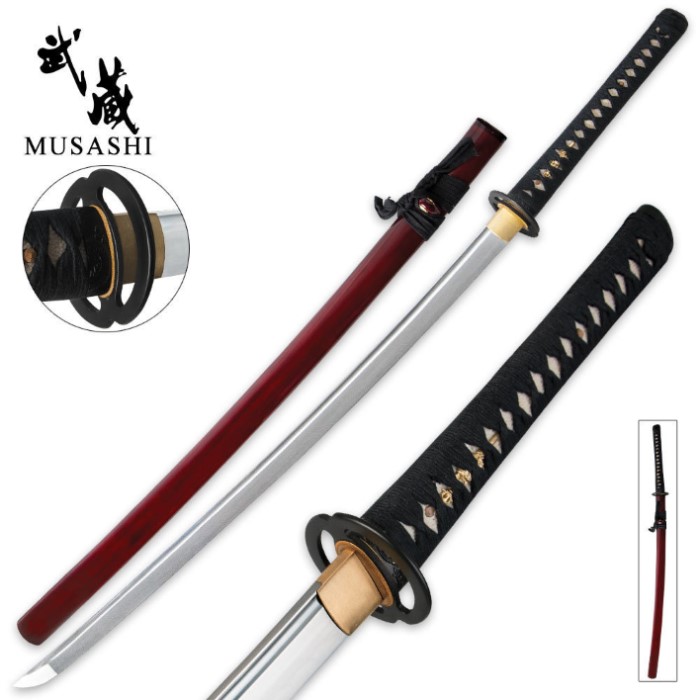 46 PCSS783RD
&nbsp
4.6
(
11
reviews)
$84.98
$124.99
Out of Stock!
Fast and Accurate Order Processing
We offer standard, 3 day express, 2 day express, and overnight express shipping options for your convenience. If you place your order Monday - Friday by 2:00 PM EST using one of our express shipping options, your order will be processed and shipped the same day it is placed!
Applies to delivery within the 48 contiguous states only.
Out of Stock Notification
---
E-Mail Address: Please Send Me Free Updates via Email


Product Is Unavailable For Purchase
1060 high carbon steel
Hand forged and sharpened
Genuine ray skin handle
Hand-painted scabbard
40" overall length
---
The tsuba of Miyamoto Musashi himself!

Current stock features the same clay tempered blade as our Bamboo Warrior Swords.

Part of a new 1060 high carbon series from Musashi, the focus of this production was to forge the best blade possible for under $100. With the result being well within that goal, this blade is nothing short of an excellent value.

Handmade, the blade is thick and comes extremely sharp. Like the more expensive models this blade can even be bent 45 degrees. To keep costs low the tsuba on this model is made with a machine process instead of using a handmade tsuba (as seen on the Elite series). The tsuba and other fittings look very good and are well suited for this model. This sword is well balanced and the tight handle wrap feels great. Comes complete with a black cotton storage bag and Musashi retail box.




About Musashi:

Miyamoto Musashi was a famous Japanese swordsman and is believed to have been one of the most skilled swordsmen in history. Musashi, as he is often simply known, became legendary through his outstanding swordsmanship in numerous duels, even from a very young age. He is the founder of the Hyoho Niten Ichi-ryu, or Niten Ryu style of swordsmanship and wrote Go Rin No Sho, The Book of Five Rings, a book on strategy, tactics, and philosophy that is still studied today.

Musashi writes about his first duel:
"I have trained in the way of strategy since my youth, and at the age of thirteen I fought a duel for the first time. My opponent was called Arima Kihei, a sword adept of the Shinto ryu, and I defeated him. At the age of sixteen I defeated a powerful adept by the name of Akiyama, who came from the prefecture of Tajima. At the age of twenty-one I went up to Kyoto and fought duels with several adepts of the sword from famous schools, but I never lost." -Musashi Miyamoto, Go Rin No Sho

It is notable that Musashi died of what is believed to be thoracic cancer, and was not killed in combat. He died peacefully after finishing the Dokkodo ("The Way of Walking Alone", or "The Way of Self-Reliance"), 21 precepts on self-discipline to guide future generations.

After his death various legends began to appear. Most talk about his feats in kenjutsu and other martial arts, some describing how he was able to hurl men over 5 feet backwards, other about his speed and technique. Other legends tell of how Musashi killed giant lizards in Echizen, as well as Nues in various other prefectures. He gained the stature of Kensei, a "sword saint" for his mastery in swordsmanship. Some believed he could run at super-human speed, walk on air, water and even fly through the clouds.


View all Musashi Swords


This is a True Swords Featured Full Tang product listing.
---
Customer Reviews
|
Average Rating: 4.64 out of 5
---
AWESOME!!!!!
Reviewed by on Jan 04, 2018
5 out of 5
I got mine for Christmas this year. it the first sword I have gotten but I have a good idea of what good quality is. I have not done any slicing or chopping yet but it is pretty sharp and I can tell will cut. it is only $124 which is a great deal for how fast the shipping was and the great packaging. it is BEAUTIFUL to behold and overall an A+
---
Decent sword, but bad engraving
Reviewed by Mark Pontius on Aug 22, 2016
3 out of 5
I'm no expert, but this feels like a nice sword. It gets knocked down a couple stars for BUD-K engraving. I bought this about three weeks before my son's birthday, to be engraved with his first two initials (MH) and last name. The sword was nicely engraved, but it came as MY instead of MH. They quickly sent a replacement with the correct engraving, but font twice as small as the first engraving. I initially thought they forgot to engrave until I put my glasses on and saw the small print. Now a few days before the birthday, BUD-K can't get another replacement out on time, but offered a 20% discount. So I offer up my experience to be wary of engraving items at BUD-K. Evidently, a half-a$$ed job hinges on who gets the order in the warehouse: large font, but misspelled... or spelled right and so small you need a magnifying glass to see it.
---
Worthy of the Name
Reviewed by Prof D Shelton Parker on Mar 10, 2016
5 out of 5
I bought this to replace a Musashi 1045 steel Katana I bought . I am glad I did, it is far better than expected. On top of that, it is beautiful to behold .
---
Really Great Value
Reviewed by on Dec 30, 2015
5 out of 5
As others have commented, this is a great sword - especially at this price point! Mine arrived today - two days ahead of schedule. It was perfectly packaged in the usual Musashi retail box, which also includes a Musashi Silver Series Certificate that details all the specifications . The sword comes in a black sword bag. I was impressed with how light it felt. Drawing it out of the bag was an awesome sight as the dark red saya is beautiful. The picture here does not do it full justice. Drawing the sword from the saya was equally awesome. The blade comes wrapped in a protective plastic wrap. Undoing that and then wiping down the blade you get to fully appreciate the beauty of the steel. I recommend doing it with full daylight so you can see the hamon at its greatest extent. It is really gorgeous! I have many other swords, most which cost more than this one, but I don't know if they are that much better. This is a solid work of art. And yes I know it's a $100 piece and not made in Japan, etc., etc., but you are going to be hard pressed to find a better sword for the price. It came very sharp - making cuts with no problem straight out of the box. No rattles, nothing loose - firm and tight. It is light and well balanced. With proper maintenance and care, this could be something your great grandchildren could be enjoying many decades from now. Add to cart - you won't be disappointed. :-)
---
Awesome
Reviewed by on Dec 23, 2015
5 out of 5
I have this blade and also previously purchased the Bamboo Warrior one. Budk sends only the very best when it comes to Musashi. Beware of other sites advertising Musashi and what you really get is a not so bad but inferior quality Musha.
---
Nice
Reviewed by Nathan on May 09, 2015
3 out of 5
A very beautiful, functional sword. I am impressed by the quality of the sword, and the quickness of the shipping. Everything about this great, except it is pretty dull. the blade isn't very sharp, and I was expecting (told) that it would be sharp. It has difficulty cutting almost anything due to the dullness of the blade. I also wish I noticed that I could engrave it, I didn't notice that, and I really wish I took that opportunity.
---
Reviewed by Bailey on Apr 14, 2015
5 out of 5
I purchased this Katana as a gift, to a friend, and was highly pleased when it arrived.It is truly a beautiful sword for the price. I would recommend this sword and True Swords to my friends,in the future. A top notch product and company. April 14, 2015
---
Reviewed by Anna on Dec 23, 2014
5 out of 5
I can't wait to get this sword on my front door. Lol. I am so excited! True swords, you guys are the best for price, quality, and speedy shipping. I have purchased a few already and I know this beauty is gonna be my favorite!!!
---
Reviewed by Richard Moy on Oct 03, 2014
5 out of 5
Very solid sword! For $99.99, the price is hard to beat! What surprised me the most was how light weight the sword is. I was expecting it to have more weight to it, but the overall feel of it is balanced well enough for any light or heavy usage. The sword is also a beauty to look at. I really love the nice gloss of the burgundy red saya, it contrasts the black tsuka very well. I am really happy with my purchase and I don't think I could've found another sword for this price and quality.
---
Reviewed by Matt Smith on Jul 31, 2014
5 out of 5
I love this katana, and trueswords did a great job on the delivery. It was shipped relatively fast, and arrived early in the morning on the date it was estimated for.

The sword itself is unbelievably good quality for the price. Musashi Swords is a legend for being able to do this. The hamon is definitely 100% natural, it wasn't bent or kinked and didn't have any deformities to speak of.

The fittings are excellent. With cheaper swords, you'll usually get a "rattle" from the Tsuba (hand guard) or habaki being loose, but not with this sword. The Tsuba (hand guard), Habaki, and seppa (spacers) are all extremely well fitted, and don't rattle at all.

The fit between the Saya (scabbard) and the habaki, are so perfect that the sword doesn't even fall out of the saya even when turned upside down.

I cannot find anything bad about this sword at all. It is perfect, and you cannot find anything better for this price, heck, it even beats other swords that are even more expensive than this one.
---