Blackout Bolo Machete & Shoulder Sheath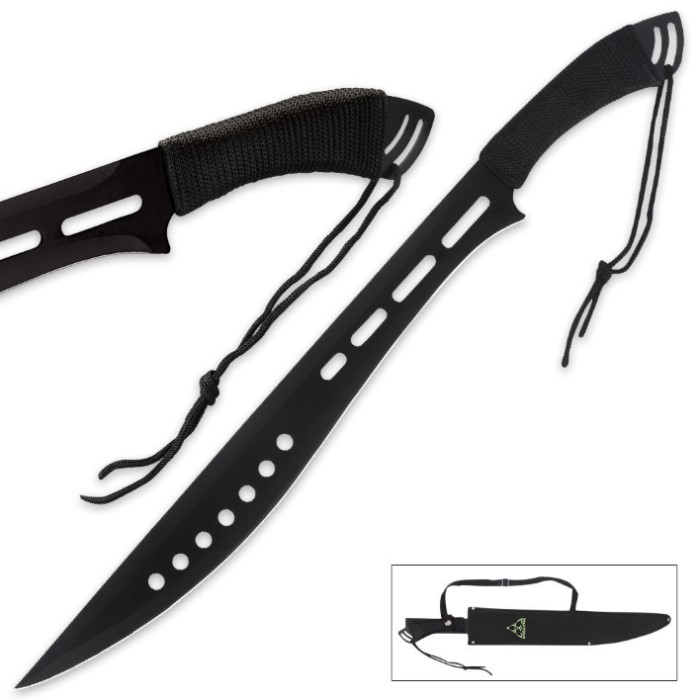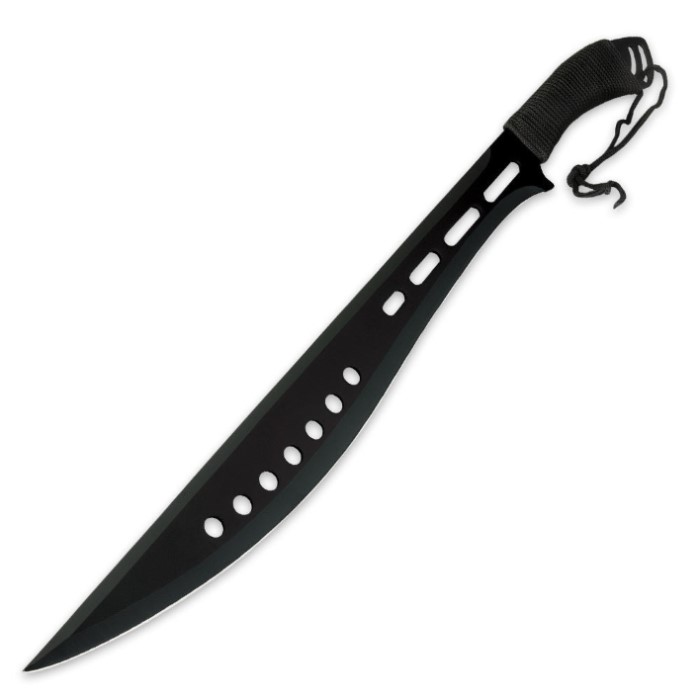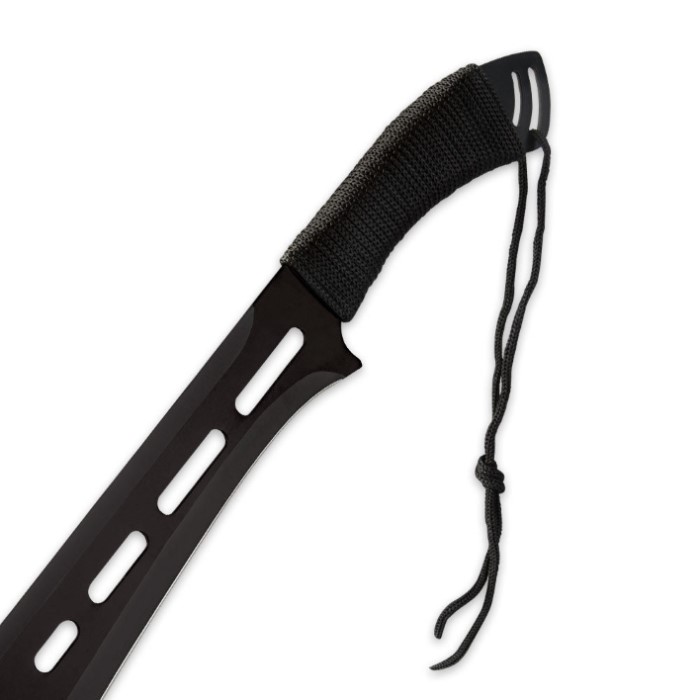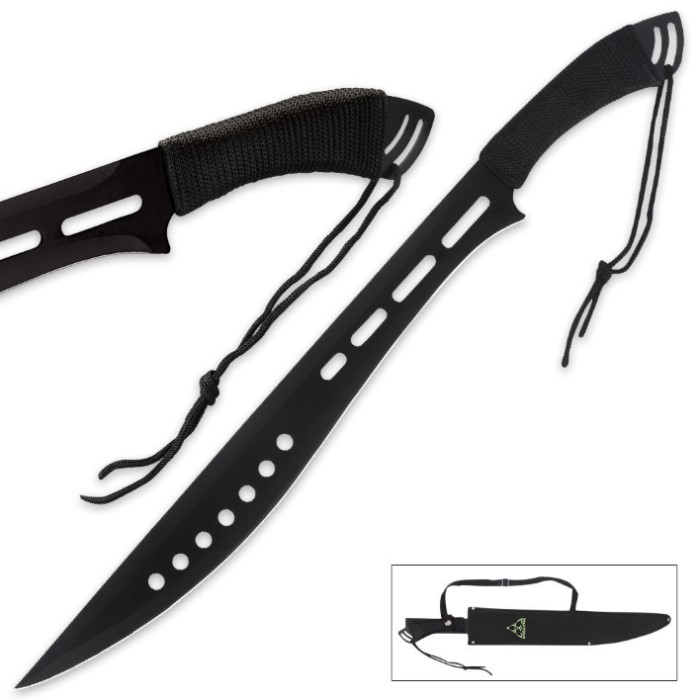 43 BK2415
&nbsp
4.7
(
13
reviews)
$9.98
$15.99
Out of Stock!
Fast and Accurate Order Processing
We offer standard, 3 day express, 2 day express, and overnight express shipping options for your convenience. If you place your order Monday - Friday by 2:00 PM EST using one of our express shipping options, your order will be processed and shipped the same day it is placed!
Applies to delivery within the 48 contiguous states only.
Out of Stock Notification
---
E-Mail Address: Please Send Me Free Updates via Email


Product Is Unavailable For Purchase
Handle: Black cord-wrapped with coordinating lanyard
Blade: Stainless steel with black baked-on finish
Includes a heavy-duty nylon sheath
Scimitar-style blade with cut-outs
Powerful full-tang construction
Measures 25" overall; 18 1/2" blade
---
Whether you are embarking on a warrior's trek into a post-apocalyptic wasteland, or just heading out back to slash apart some water bottles, our Blackout Bolo Machete has you covered!

Full tang and sharpened, this machete is forged from a single piece of stainless steel and sports an 18 1/2 in. cutting edge. Futuristic cut-outs adorn the blade while the handle is wrapped in black cord for a secure grip that helps with impact absorption.

Includes black nylon sheath with carry strap. Measures 25 in. overall.

This is a True Swords Featured Full Tang product listing.
---
Customer Reviews
|
Average Rating: 4.69 out of 5
---
Great
Reviewed by on May 12, 2016
5 out of 5
This machete is light weight and comfortable to hold. The blade is very sharp and will get the job done. I used it for hacking at some branches on a tree and was very impressed. The nylon cord is tight and firm on the handle, There is two pieces of wood on the inside of the cord to give it a better grip and more comfortable when holding. It looks really cool and makes me feel that I am ready for the apocalypse and would really scare an attacker if they saw you holding it. Very impressed and would totally buy a second one for dual wielding.
---
Fine backup machete
Reviewed by amanda rusk on Apr 02, 2016
5 out of 5
This long solid one piece blade is very nice for being so inexpensive. The cording is done perfectly. It came sharp and the blade cutouts are smooth. It is on the thin side and is a little flexible. Made in China and the quality sheath comes with an adjustable shoulder strap. Overall, this knife is a ton of intimidation power for a mere $10.
---
Pretty Good
Reviewed by Azaryah White on Jan 27, 2016
5 out of 5
So I ordered a pair of these as part of my apocalypse set, and I must say these are pretty good. They are not too heavy feel good in the hand and I can swing them pretty easy. Down side is they do not like to redirect midstroke. It appears that they are made out of a type of spring still which isn't nessarily a bad thing but they do look a bit thin about the thickness of a cleaver. The strap is JUNK cut it off! The sheath is pretty good itself though I wish it didn't have that witch symbol on it I cut it off. You will have to modify the handle I just added some charnocrylite adhesive to mine. I was kinda worried when I shook one I heard it sound like it was cracking. Otherwise not to bad a blade.
---
Reviewed by on Nov 13, 2015
4 out of 5
I am extremely satisfied with this model of machete. But the wrap around the handle is only secured by a small amount of glue that needs to be re-secured every so often. Which is why I gave it a four star rating. The only problem with this particular model in my opinion is the glue securing the wrap. It either needs a little more glue or a different style handle wrap.
---
SHARP
Reviewed by Quincy Graham on Sep 19, 2015
5 out of 5
if yo are looking for something sharp this is it! i was cutting soda cans and milk jugs no problem i cut my finger right when i was cleaning it.
---
Reviewed by Cam on Jan 05, 2015
4 out of 5
This was one of the first swords i ordered from this site, and it just came in today. this machete is amazing. it came nice and sharp, and it feels good in the hand, the handle is a couple layers of cord, which is nice, but the piece dangling off the end is separate from the handle, which is melted to itself to stay together. so if you wanted to take the cord off the handle to use, you'd have to cut it at the end, and it wouldn't wrap back up the same. the shoulder strap is a little tight, even at it's loosest position. the sheath itself though is very nice, pretty durable. I wish i could give it 4 and a half stars, but i can't
---
Reviewed by Michael Percha on Dec 11, 2014
5 out of 5
I bought my first sword from True Swords, maybe 4 or 5 years ago. Since then, I've educated myself quite a bit on what constitutes a good blade. While I still have a lot to learn, I feel confident I'm making solid decisions when I make a purchase. I feel this is a good purchase. While many blades are claimed to be shipped sharp, this one actually is SHARP. This machete is the first blade to cut me in many, many years. Without looking, I reached for the hilt and grabbed the blade instead, cutting my thumb nearly to the bone. It barely took any pressure to do so. For a stainless steel blade, it holds up very well. It's light and balanced well, so it won't fatigue you. I couldn't guess what would happen in duel, were you to parry and defend with it, but for everyday tasks it's a solid piece of equipment. It retains its edge well, and so far, unlike many inexpensive blades I've purchased, the cord on the hilt has remained intact. The sheath is a standard nylon sheath, stiff for easy drawing and sheathing. I agree with previous commentor, though: a back strap would be nice. That does not take away my enjoyment of the machete. All in all, I love it. It has become one of my favorite pieces, and were I to need something to defend myself with (short of a firearm) it is the first thing I would grab.
---
Reviewed by Judah Merrell on Sep 08, 2014
5 out of 5
This blade is so amazing! Its pretty light, ships really sharp, and is one cool looking machete. Its a pretty badass blade. I only wish the sheath had a back strap to carry it on my back. But other than that, it's definitely worth the buy.
---
great blade
Reviewed by David on Aug 24, 2014
4 out of 5
Its a great good sized blade and extremely sharp. i know its sharp because as soon as i pulled it out of the sheath the handle slipped and i cut my thumb all the way open. Only thing i dont like is the way they wrapped the cord on the handle, it makes it very slippery when swinging but you can easily take off the cord and replace it or rap it in a way to give more grip.
---
Reviewed by Alex Almaraz on Jul 16, 2014
5 out of 5
Awesome, very sharp, lightweight and well worth the pricetag.
---