Musha - Kobuse Folded - San Mai Katana Sword - Koi Bamboo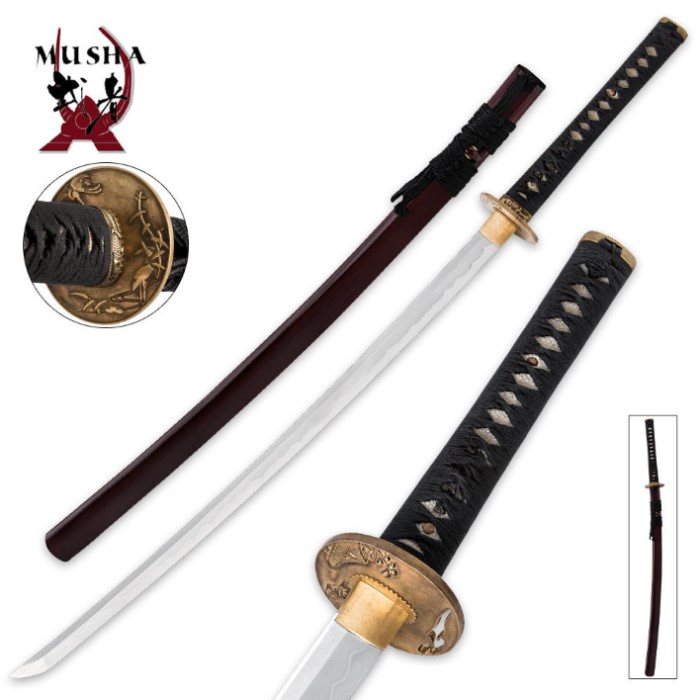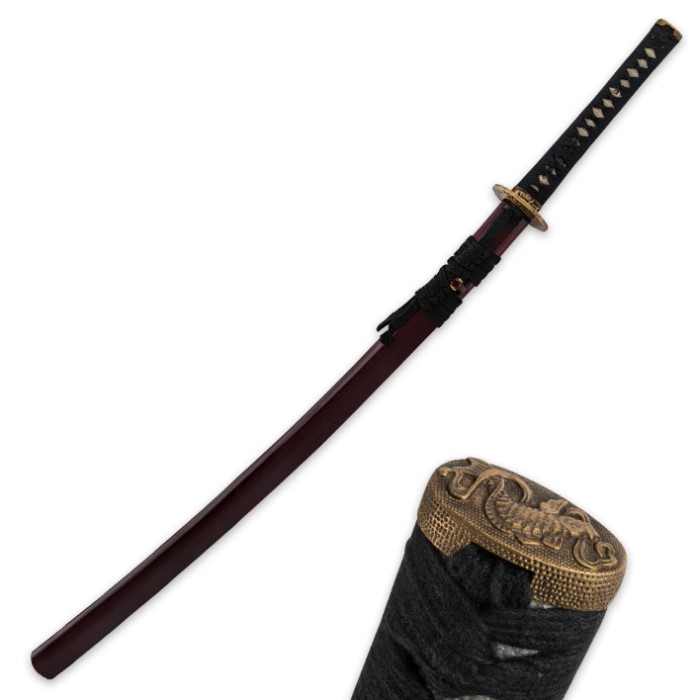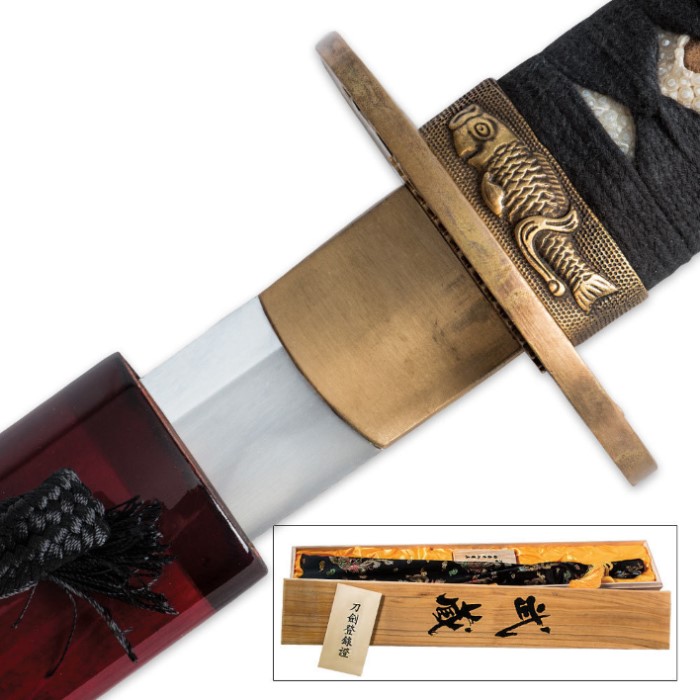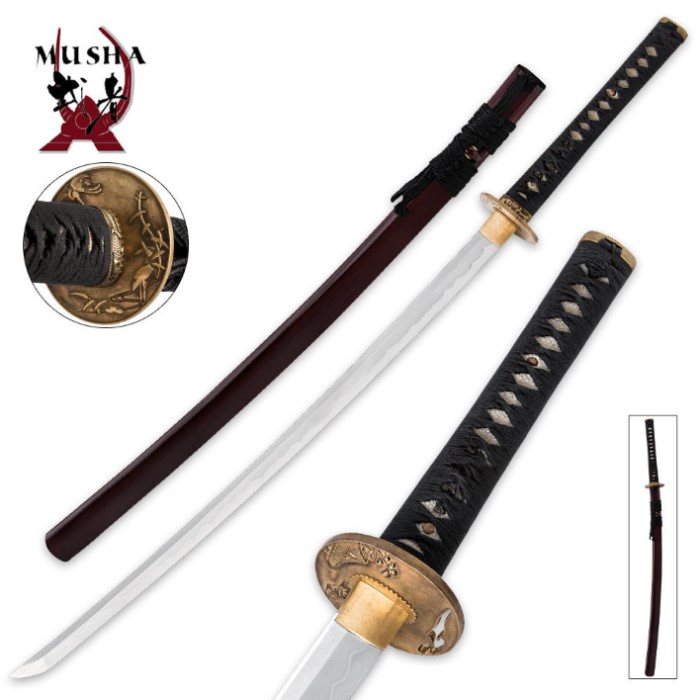 46 PCSS805RD
&nbsp
5
(
2
reviews)
Fast and Accurate Order Processing
We offer standard, 3 day express, 2 day express, and overnight express shipping options for your convenience. If you place your order Monday - Friday by 2:00 PM EST using one of our express shipping options, your order will be processed and shipped the same day it is placed!
Applies to delivery within the 48 contiguous states only.
Out of Stock Notification
---
E-Mail Address: Please Send Me Free Updates via Email


Product Is Unavailable For Purchase
Hand forged and sharpened
1060 high carbon steel blade
Genuine ray skin handle
Solid brass embellishments
41-1/2" overall length
---
Scroll for more photos! - Limited USA Supply


Forged using kobuse wrapped method with 1060 high carbon steel core and high-manganese carbon steel expertly wrapped around the front and sides. San Mai forged with clay temper to produce Ha 57 HRC (edge hardness), Mun 40 HRC (back and core hardness). Extremely sharp hand honed edge.

Although they proved difficult to photograph, there are countless beautiful layers visible along the entire blade in addition to the authentic hamon. Not a cheap screen print or faux style, this is a real folded carbon steel blade.

The outer later is a very hard carbon steel chosen for great edge retention and strength. The inner layer is a softer carbon steel and allows for flexibility while keeping the hard blade from being brittle. Both high carbon steels work together and the end result is a sword designed for high performance cutting with fast recovery. This modern day production uses the same production methods used to forge the renowned Japanese samurai swords of times past.


Product specifications:
Absolutely stunning workmanship and attention to detail.

Traditional hand forge kobuse wrapped method (San Mai).

Ha 57 HRC (edge hardness).

Mun 40 HRC (back and core hardness).

High-manganese carbon steel wrapped 1060 high carbon steel core.

Hamon and hardness created with clay temper process.

Real hamon, not wire brushed or printed.

Real ray skin wrapped grip with black cotton cord wrap.

Hardwood scabbard with high quality piano paint finish.

Extremely sharp hand honed edge.

Thick brass tsuba, fuchi, and kashira.

41.5 in. overall, 29.5 in. blade, 11 in. handle.
Package includes:
Completely handmade samurai sword.

Serialized with Certificate of Authenticity.

Oversized hardwood storage and presentation box with logo.

Colorful satin sword bag.

Sword Cleaning & Maintenance Kit.
---
Customer Reviews
|
Average Rating: 5.00 out of 5
---
Reviewed by al shane on Aug 06, 2010
5 out of 5
Blown away, to describe this sword in detail, would take pages of writing, and even then justice could not be done to this beautiful piece of art.

(NOTE: YOU COULD EXPECT TO PAY UPWARDS OF 700 DOLLARS FOR A PIECE LIKE THIS)

Pros:
The tsuka is very sturdy, with a very tight same ray skin wrapping that wont move even when force is applied. The ito is flawless, perfect diamond shape

The menuki is a piece of art in itself, depicting a sakura flower.

The tsuba, although in my opinion, slightly on the plain side adds another layer of beauty, and is the perfect size (at least for my hands). this is not some machined replica, this was hand made for this blade and fits in very well, and is very secure.

The sageo (cord wrap) is made of high quality black rope that looks like an over sized shoe lace, and is secured tightly to the saya.

The saya is a deep burgundy red color, and has a high gloss finish that is very reflective. very attractive.

You can clearly see the hada in the steel, from the folding process, and it is quite easy to tell that he blade screams of quality

The sword is very blade heavy, but that just adds to the cutting potential of the extremely sharp blade.

The kissaki is very well defined.


Cons:

There are only two cons i could think of

1. On the seppa, on one side in small letters is the word china. for a sword of this quality, a china stamp is very unnecessary

2. On the fuchi, tsuba and kashira, in the picture provided, they look bronzed, but mine are more black in color...not really a big deal to me, but still, it should be mentioned

Also, im not sure whether this is a pro or a con, but there is no hi (blood groove) on the blade.
************************************

The box containing the sword and cleaning kit seems o be made of pine, and looks great for a display box.

The cleaning kit is just average only coming with small amounts of oil and rice paper, but it gets the job done

The satin sword bag is blue and gold, and is very nice. the rope even has tastes on each end
************************************

Delivery was extremely fast at only two days (and im in California), and True Swords kept up to there promises, by only delivering the best of the best at-the best prices around. I am very satisfied, and i will be back for more.

Thank you True Swords for yet another amazing product!
---
Reviewed by Paul Moore on Dec 06, 2009
5 out of 5
This sword is absolutely amazing. Most people write Musashi off as a sub-par brand however, this blade is on and above what I was expecting. First off the wrap is very tight and very well done. The gaps are completely symmetrical on each side and neither side will slide about at all, even when attempted forcefully. The saya is a beautiful deep red.The blade has a prominent hamon and is EXTREMELY sharp. You can, upon close examination, even see the individual folds in the steel itself. It effortlessly cut through two side by side gallon jugs with (literally) only a flick of the wrist (all I have to test with at the moment). The sword bag and cleaning kit are also well made, they don't feel cheap. The certificate and the envelope it is in are made of an interesting textured paper. The box is nothing to be too excited about, considering it is made of a very light wood and the satin appears to be sewn onto Styrofoam. Still though aesthetically pleasing.
The fittings are impressive and solid.

All in all, I would say that it is defiantly a great buy. Call me crazy but I would probably choose this sword as opposed to the practical series if heading into combat, but that may just be a personal bias.
---