Masahiro - Folded Steel Samurai Sword - 1000+ Layers - Ronin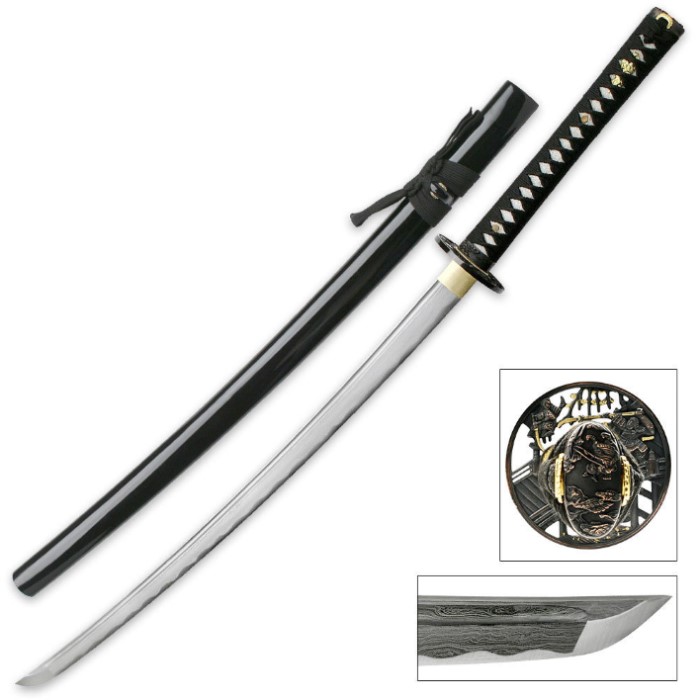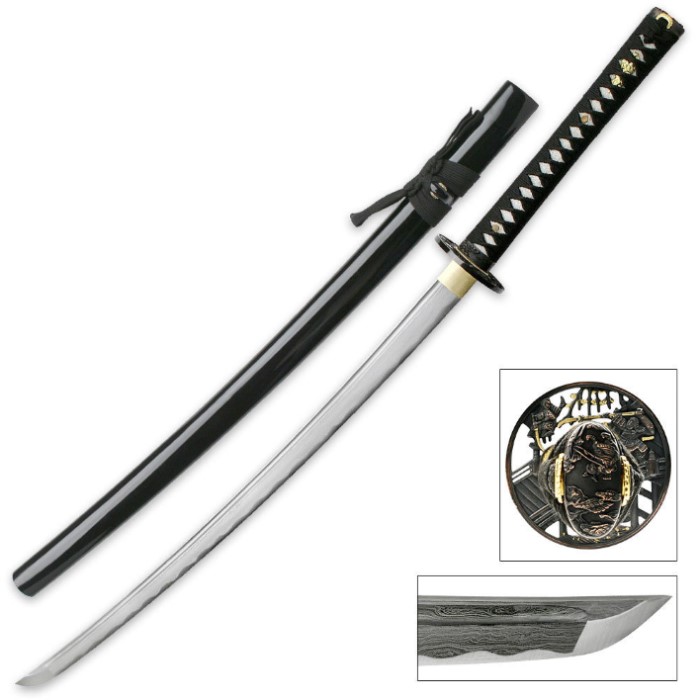 46 MC11685
&nbsp
4.7
(
18
reviews)
$99.98
$124.99
Out of Stock!
Fast and Accurate Order Processing
We offer standard, 3 day express, 2 day express, and overnight express shipping options for your convenience. If you place your order Monday - Friday by 2:00 PM EST using one of our express shipping options, your order will be processed and shipped the same day it is placed!
Applies to delivery within the 48 contiguous states only.
Out of Stock Notification
---
E-Mail Address: Please Send Me Free Updates via Email


Product Is Unavailable For Purchase
Hand-forged 1060 carbon steel blade
Cast metal alloy accents
Genuine ray skin handle
Heavy cord wrappings
Includes lacquered scabbard
40" overall length
---
This stunning layered blade demands attention!

Hand folded and carefully shaped, no two swords are exactly the same. Over 1000 layers ripple across the sharp, hand honed blade. Attractive and well balanced, we can't stop admiring this katana blade. The photos do not do the blade justice! We are especially drawn to the unique layer patterns within the blood groove.

Featuring steel tsuba and fittings with a two tone finish, full tang construction, real ray skin and dual bamboo pegs. Well suited to be the center of your katana collection, this sword comes ready for cutting use right out of the box.

Product Specification:

Full tang, fully functional, and "battle ready."

Quality workmanship and attention to detail.

Traditional hand forge Muku-kitae method.

The blade is folded 10 times, tempered, and lightly bathed in acid to make the layers easier to observe.

Real ray skin wrapped grip with black cotton cord wrap.

Hardwood scabbard with high quality piano paint finish.

28 in. edge, 11 in. handle, 40 in. overall.

About Masahiro:

For more than 2600 years, the "City of Treasure Sword", Longquan, is known for making the best swords in the world. Located within the border of South Zhejiang, and under the Fengyang Mountain, Longquan is rich in resources which are ideal for crafting swords.

During the period of Warring States (770-476 B.C.), a famous sword maker named Ou Yezi created the most renowned sword in Longquan. Since then, the secret arts of crafting swords have been passed down from generation to generation.

Masahiro swords are hand forged by master craftsmen with years of experience from Longquan. These master sword smiths combine modern knowledge with traditional secrets to produce superior quality swords known for their durability, sharpness, and exquisite craftsmanship.
Click here for more Masahiro swords.

This is a True Swords Featured Full Tang product listing.
---
Customer Reviews
|
Average Rating: 4.67 out of 5
---
Reviewed by Joseph on Apr 02, 2015
2 out of 5
i bought the sword, it came in, in a good amount of time (about a week and 2 days) the sword was very sharp and looked AMAZING aside from the tsuba which idk what it was made of but looked like plastic, so after replacing the oil on the sword i decided to go and slice some water bottles and it went well until I tried cutting through 2 at once where it went through the first one alright and cut through about half of the second one and when I looked at the sword there was bends in the blade! the bends were on the edge where it made the edge almost go down! and the tsuba was also loose and when you tapped on anything lightly with the sword it felt like it would break. basically an amazing looking blade but not made very well at all, sending it back
---
Reviewed by Terrence James on Mar 09, 2015
5 out of 5
i think i selected 2 day delivery but it seems like it got here in 1 day so very awesome...absolutely love this piece, just stunning, and sharp. It was exactly what i was expecting, another Masahiro for my collection, now i am just waiting for the Musashi Three Tier Wall Mount to put them on display when im not practicing with them.
---
Reviewed by dennis handt on Feb 09, 2013
4 out of 5
This is my first real sword so I don't have a comparison but I really like this sword. It could be a little heavier and longer but it was what i expected. I had a few minutes of fun hacking up the box it came in.
---
Reviewed by Jonin Sho on Aug 31, 2012
5 out of 5
Absolutely Excellent! Near Razor Sharp! Perfection, get you one!
---
Reviewed by Dale Brown on Aug 23, 2012
5 out of 5
received this beautiful katana not 24 hours after ordering it, and its more than id expected... absolute perfection, and its sharp enough to shave with
---
Reviewed by Zach Gill on May 12, 2012
5 out of 5
this beast of a sword is absolutely stunning, it didnt come in the case, but it makes up with that with its pure awesomeness. this is my first sword and i highly recommend it. also, its very sharp, accidentally cut my finger on it. lol
---
Reviewed by Dylan Tilley on May 11, 2012
5 out of 5
I just purchased this sword and put it through it's paces. It's a very fine katana and extremely sharp.


The steel is well folded, with no major defects in the forging process. (The layers are all tight and there's as little porosity as possible). The balance point of the sword is about 4 inches up from the tsuba and it's relatively light. A very fast cutter and as sharp as it gets.

I'm not sure about the hardness, but it's definitely monotempered. So far it has been able to cut through it's own box, several rolled mats of varying thicknesses and some jugs with no signs of ever being used. (As it should be) The acid bath they give it to darken the folds is only a surface treatment, but has held up very well so far.

Overall I give it a 5/5 for it's price range. Best Katana you can get for the money. It is, however, not the best in the whole world. Great for an entry to light/medium cutting and a lot more attractive than a normal carbon steel katana.
---
Reviewed by Dustin Snyder on Apr 27, 2012
5 out of 5
This blade is a beautiful work of art. I never thought I would have a blade of this quality. Every detail is stunning. To top it off it's sharp. Really sharp. It cut throught the box it came in like butter. I almost fell over from the lack of hesitation. Oh and like the other reveiws said, the oil container leaked out, but other than that, this is a must have Item.
---
Reviewed by matthew mabb on Apr 25, 2012
5 out of 5
this was my wedding gift from my wife, i love it, the blade is beautiful, the online picture truly give this amazing sword no justice
---
Reviewed by katty Hilario on Apr 10, 2012
5 out of 5
Best sword for the price and fast shipping
---