Musashi - Kobuse Folded - San Mai Handmade Sword - Harmony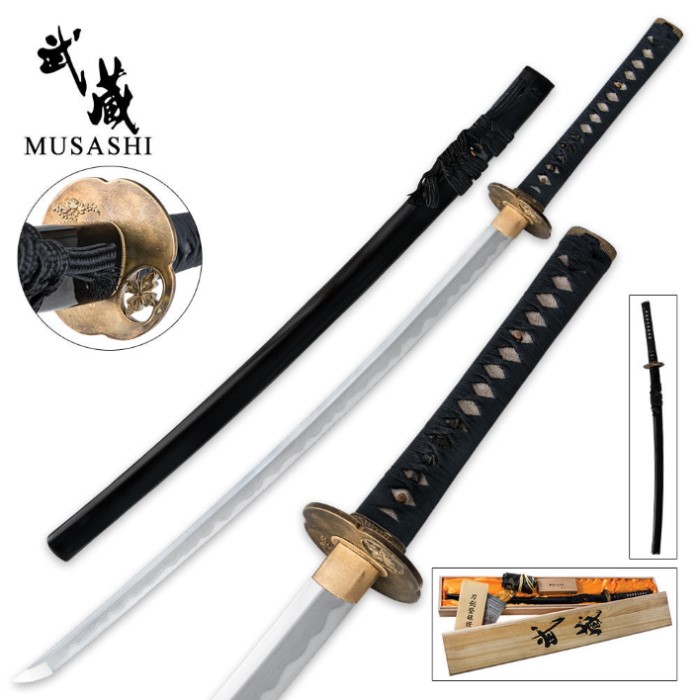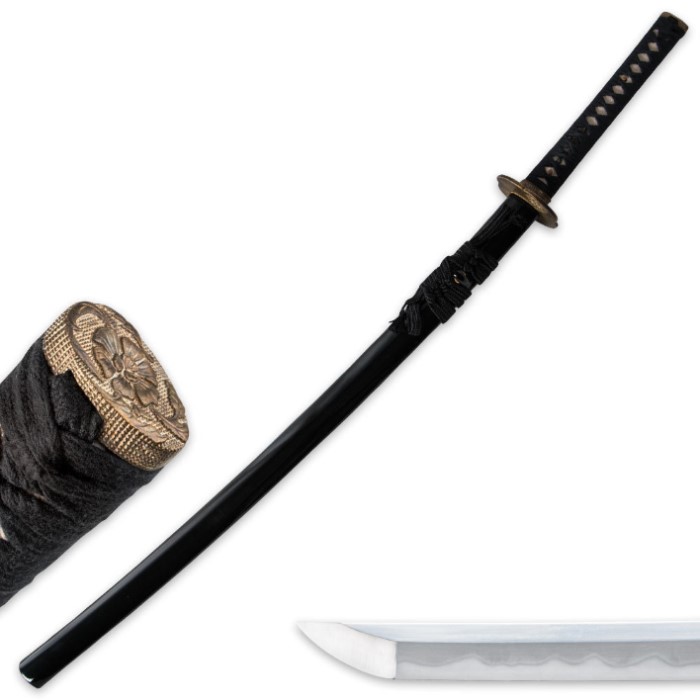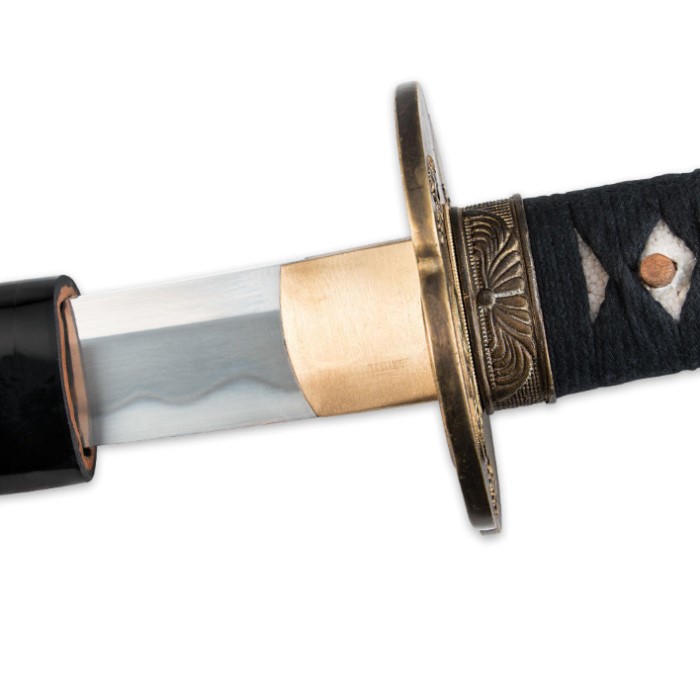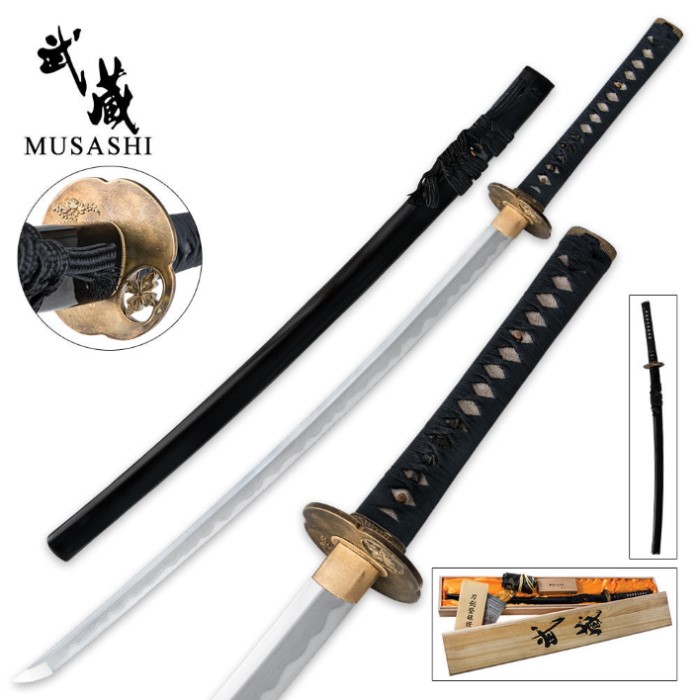 46 PCSS805BK
&nbsp
4.4
(
8
reviews)
Fast and Accurate Order Processing
We offer standard, 3 day express, 2 day express, and overnight express shipping options for your convenience. If you place your order Monday - Friday by 2:00 PM EST using one of our express shipping options, your order will be processed and shipped the same day it is placed!
Applies to delivery within the 48 contiguous states only.
Out of Stock Notification
---
E-Mail Address: Please Send Me Free Updates via Email


Product Is Unavailable For Purchase
Hand forged and sharpened
1060 high carbon steel blade
Genuine ray skin handle
Solid brass embellishments
Includes Certificate of Authenticity
Measures 41 1/2" overall in length
---
Scroll for more photos! - Limited USA Supply


Forged using kobuse wrapped method with 1060 high carbon steel core and high-manganese carbon steel expertly wrapped around the front and sides. San Mai forged with clay temper to produce Ha 57 HRC (edge hardness), Mun 40 HRC (back and core hardness). Extremely sharp hand honed edge.

Although they proved difficult to photograph, there are countless beautiful layers visible along the entire blade in addition to the authentic hamon. Not a cheap screen print or faux style, this is a real folded carbon steel blade.

The outer later is a very hard carbon steel chosen for great edge retention and strength. The inner layer is a softer carbon steel and allows for flexibility while keeping the hard blade from being brittle. Both high carbon steels work together and the end result is a sword designed for high performance cutting with fast recovery. This modern day production uses the same production methods used to forge the renowned Japanese samurai swords of times past.


Product specifications:
Absolutely stunning workmanship and attention to detail.

Traditional hand forge kobuse wrapped method (San Mai).

Ha 57 HRC (edge hardness).

Mun 40 HRC (back and core hardness).

High-manganese carbon steel wrapped 1060 high carbon steel core.

Hamon and hardness created with clay temper process.

Real hamon, not wire brushed or printed.

Real ray skin wrapped grip with black cotton cord wrap.

Hardwood scabbard with high quality piano paint finish.

Extremely sharp hand honed edge.

Thick brass tsuba, fuchi, and kashira.

41.5 in. overall, 29.5 in. blade, 11 in. handle.
Package includes:
Completely handmade samurai sword.

Serialized with Certificate of Authenticity.

Oversized hardwood storage and presentation box with logo.

Colorful satin sword bag.

Sword Cleaning & Maintenance Kit.

About Musashi:

Miyamoto Musashi was a famous Japanese swordsman and is believed to have been one of the most skilled swordsmen in history. Musashi, as he is often simply known, became legendary through his outstanding swordsmanship in numerous duels, even from a very young age. He is the founder of the Hyoho Niten Ichi-ryu, or Niten Ryu style of swordsmanship and wrote Go Rin No Sho, The Book of Five Rings, a book on strategy, tactics, and philosophy that is still studied today.

Musashi writes about his first duel:
"I have trained in the way of strategy since my youth, and at the age of thirteen I fought a duel for the first time. My opponent was called Arima Kihei, a sword adept of the Shinto ryu, and I defeated him. At the age of sixteen I defeated a powerful adept by the name of Akiyama, who came from the prefecture of Tajima. At the age of twenty-one I went up to Kyoto and fought duels with several adepts of the sword from famous schools, but I never lost." -Musashi Miyamoto, Go Rin No Sho

It is notable that Musashi died of what is believed to be thoracic cancer, and was not killed in combat. He died peacefully after finishing the Dokkodo ("The Way of Walking Alone", or "The Way of Self-Reliance"), 21 precepts on self-discipline to guide future generations.

After his death various legends began to appear. Most talk about his feats in kenjutsu and other martial arts, some describing how he was able to hurl men over 5 feet backwards, other about his speed and technique. Other legends tell of how Musashi killed giant lizards in Echizen, as well as Nues in various other prefectures. He gained the stature of Kensei, a "sword saint" for his mastery in swordsmanship. Some believed he could run at super-human speed, walk on air, water and even fly through the clouds.


View all Musashi Swords


This is a True Swords Featured Full Tang product listing.
---
Customer Reviews
|
Average Rating: 4.38 out of 5
---
Hand-Forged San Mai Musashi Kobuse Harmony Sword
Reviewed by Dil on Apr 22, 2015
5 out of 5
This is the best sword ever! And my favorite sword in my collection with razor and I MEAN RAZOR sharp blades you can't ask for a better sword. Even Ninjas and Samurai are jealous. I would recommend you buying this sword because this is the highest quality sword you will ever buy it is perfectly balance I give five stars Thanks Budk .
---
Reviewed by Abngrunt275 on Mar 02, 2015
1 out of 5
Well, there always has to be one, and I guess I'm it. I got my sword today, and not quite impressed as the rest of the reviewers. I ordered my sword on a Thursday and paid the overnight and didn't get my sword until the following Monday. So, the extra 24.99 I paid was a waste. Then when I opened the box...I swear its not the sword that was advertised and that I thought I had ordered. It's suppose to be razor sharp...well not this one, there is no trace of a hamon or even an attempt to sharpen the blade...second it supposed to polished, it looks like someone took some sandpaper to the blade, and considered that polishing. Overall craftsmanship was ok, but not great...not at all what I expected from a $350.00 sword. I guess the value most come from the box and maintenance kit. Disappointed, I'm glad the other reviewers had better experiences, however for me it did not meet my expectations and not worth the cost of the sword and overnight shipping. I will be taking my business elsewhere. One final note: the ITO was poorly wrapped and it looked like the materials from a used nike shoe string.
Response: We are very sorry you were disappointed with your purchase. We do have a return policy and money back guarantee. Please contact our customer service department at 800-735-3326 for a refund or exchange.
---
Reviewed by Kelvin Pantaleon on Feb 05, 2014
4 out of 5
Oh where to start?

First of all, this is by far the most expensive piece I've bought here at True Swords. Is it worth it? Yes. I waited a while after I got the sword to let the novelty of getting the sword wear off and give it a fair and honest review.

When I opened the package I was greeted with this oversized box wooden box. It was smooth and sturdy. Great for storage and display.

I opened it and noticed one thing. The sword bag was black. Now, I was expecting it to be blue like the one in the picture but this one wasn't. Is that a bad thing? Not at all. I really enjoy the color on it and how it compares to the rest of the designs on the bag. If the color is a big thing for you then I would suggest contacting True Swords and making sure it's what you want.

Next was the sword itself. When I opened the bag and retrieved the sword the first thing I noticed was how light it was compared to my other ones. I thought that maybe the scabbard was made of a lighter material. It's a scabbard, nothing special to it. Just like any other hardwood scabbard with a piano finish out there.

When I pulled the blade out I was confused at what I saw. The blade was wrapped in plastic. It was the first time I've ever seen that but I'm glad it came that way. Once I pulled the plastic off I noticed that the blade was really oily (like REALLY OILY to protect it from rust during storage) and the wrap was preventing the inside of the scabbard from getting dirty. I liked that. One thing that's a problem is pulling the sword out and noticing more oil on the blade than when you put it in, this fixed that.

The actual sword itself was really light. The Manganese is lighter than I expected, this is by far the lightest sword I own now (Which isn't a bad thing).

Enough of the big things, lets get into the details of the sword. Lets start with the blade itself. Folded steel yields beautiful layers visible to the eye. The layers on this sword (Or at least mine) are very hard to see. It's most noticeable on the Kissaki (Point of blade) and even then you have to look close. This I believe is due to the fact that the blade is well polished, and I mean very well polished. Not something you see often in the $400 and under price range. It more noticeable on the Kissaki because it's less polished and it stands out a little bit more.

This is getting kinda long so lets finish it up with one tiny detail that I didn't like. The guard itself. I like the design and the way it looks but mine seems to have had a little bit of trouble in the making. There seems to be a line across it where the metal seems to not have properly joined (At least on the surface). Barely noticeable since it's on the underside of it but it's still there.

Also, the "Real ray skin wrapped grip" that is advertised isn't really "Wrapped". To me wrapped means fully going around the grip. This is not so for this sword (Or at least mine). Instead I got something common with a lot of swords and that's panels. 2 pieces of ray skin glued to each side. Again, this is not a big deal, many swords are done like this nowadays to cut back on costs. Just a small thing I thought needed to be brought out there.

Overall this swords gets a 4.1/5. It's beautiful, it's light, it's sturdy. The fittings on it aren't the cheap ones that many people use. It's a great buy for the price and definitely worth it. Whether it's used for display or light cutting practices this definitely isn't a bad sword to have around.
---
Reviewed by Kirk Pendzich on Dec 20, 2012
5 out of 5
This sword is absolutly beautiful. I just got it a few hours ago and opened the case and saw absolute perfection. This is my first katana and I would just like to say Trueswords you guys are epic!
---
Reviewed by Brian Johnston on Sep 13, 2010
5 out of 5
I received this sword extermly fast. When I opened it I know feel undeserving of the blade. It was imaculate. I lack the words to describe how beutiful it was. The forge lines were clearly visible, the finish was a mirror that reflected everything crystal clear. When I finally picked up the blade again I was shocked the blade was perfectly balanced to the point were it felt like a feather. just to see how good this blade was I held up a peice of paper and slid it along the blade. It was sliced in half almost instantly. If you buy any sword buy this one. Thank you true swords for this amazing blade
---
Reviewed by Ian Morgan on Jul 08, 2009
5 out of 5
This sword is definitely a good buy. the quality of the blade by itself is worth it, if all that was sold was the blade i still would have purchased it. but since it came with all the koshirae stuff i might as well review that.

the number one thing that's going to annoy you is the tsuka. when the specs say that the tsuka is same wrapped, it doesn't mean 'wrapped' they mean something closer along the lines of 'paneled' because the only places that the same is located on the tsuka is the visible portion. this causes the ito to slide around and it's quite a hassle if you are going to do any tsuburi or tameshigiri with it.

another thing about the quality of the tsuka is that the kashira came off because the tsuka ito wasn't tied correctly to it so i had to redo it.

the fact that there's a cleaning kit that came with the sword is phenomenal. the wood box that came with the package is also very nice. the tusba and kashira and all the fittings are very aesthetically pleasing.

as i said before, i would have just bought the blade for this price. the fact that all this extra stuff came with it is just icing on the cake. the fact that the tsuka ito slides around after every swing is going to annoy the hell out of you though. it's still a 5/5 in my book though
---
Reviewed by Bill Hu on Jun 12, 2009
5 out of 5
there is only one word to describe this blade, Beautiful.
The kissaki has a very defined yokote, and boshi. the hammon is beautful, and the tsuba is very well made. when you handle the blade it feels very substantial. for this price it can't get any better, anything more would cost you over 1300. if you have the money, and the skill, to obtain this blade i highly recommened it.

the sword bag that was included was very good, however the cleaning kit was unremarkable. very well stocked, but the oil included is NOT Choji oil, i wont use it, but i will keep the bottle.
---
Reviewed by Travis Lindsey on May 24, 2009
5 out of 5
Truly a magnificent value. And yes I realize I am saying that about a sword that costs $350.
 
 First impressions are that Musashi nailed the main details, are all very nice. The tsuba is thick, well made and very pleasing to the eye, I particularly enjoy the flower cutout and the raised and polished floral motifs, The fuchi and kashira are also very nice, the flower on the kashira is another elegant and well executed touch. the tsuka has a very tight wrap with a cord that feels like it's of a better quality than the cotton Ito on the 2 less expensive katana I ordered, The wrap has nice even diamonds. The ray skin same is a nice ivory color with fine evenly sized nodules. And all of the fittings are nice and tight. The saya is real wood but a fairly plain looking gloss black finish, it has a nice sageo (cord wrap) that uses a thicker and higher quality cord than the other swords I ordered. And the sword bag that it came with is really magnificent, it's just beautiful to look at. The wooden display box and sword maintenance kit are a couple more nice touches.

 The blade is really the showpiece on this sword, it has been made in the traditional Kobuse folding and lamination process as detailed on the description page and to find that on a sword this price is amazing. It's a very nicely shaped blade with an attractive taper and curve, solid thick and heavy, with no bo-hi, (grooves) the folding process has produced a very subtle hada (grain pattern) that is most easily viewed along the activity line of the hamon. The hamon has a somewhat turbulent wave pattern and really stands out on the well polished blade, the kissaki or point is very well formed and has a clear yokote line, it also has a nice boshi. It is very straight and looking down the polish there is not a hint of waviness along the length of the blade.

There are only 2 minor complaints I could make about this sword, the first is that the same wrap on the tsuka is not a full wrap, which makes it more likely that with heavy use the ito will shift around a bit, and the second is that seppa (spacers) are a notch below the rest of the fittings. And those are really minor issues on a sword this nice. I can enthusiastically say I give the Harmony a 5/5.
   
 I also have to say that I would rate Trueswords.com (http://Trueswords.com/) a 5/5 for the great customer service they have given me, the first sword I ordered came with some minor issues, they promptly cross shipped me another sword that came in great condition, and even sent me a return shipping label. Their shipping has been very prompt on all of the things I ordered and they have been very communicative in emails throughout the entire process. I thoroughly recommend that if you are looking to purchase a sword you look here first.
---