Mystery Deal - Fixed Blade Knives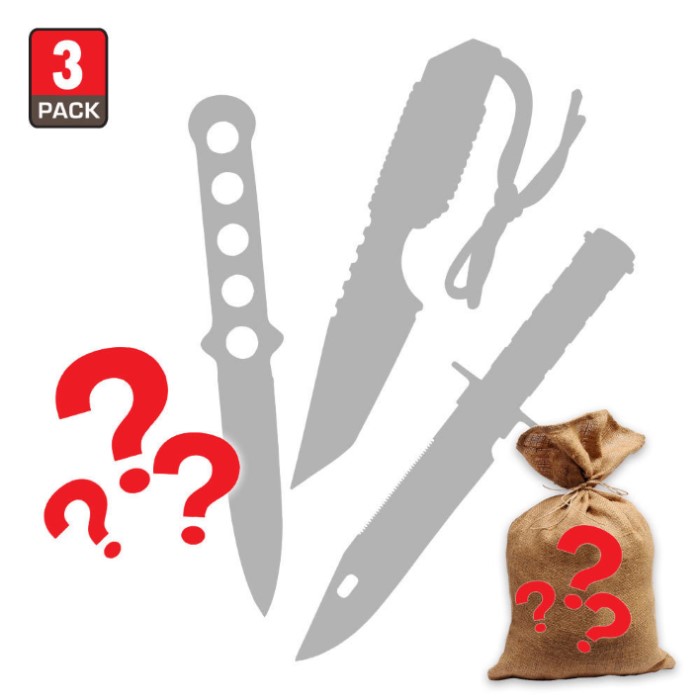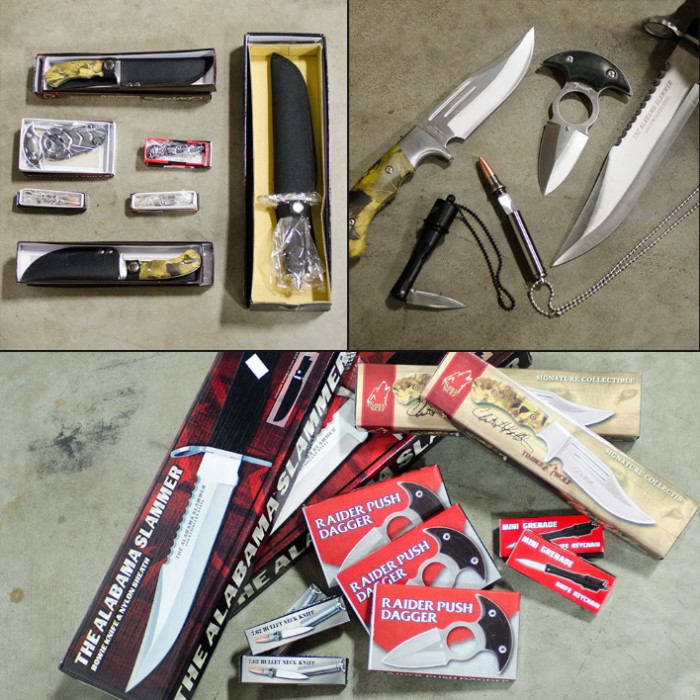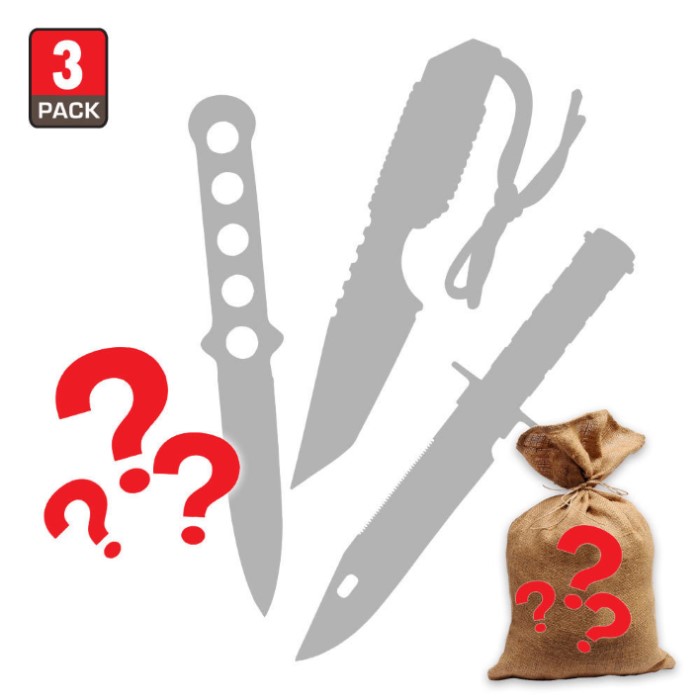 00 BKCK197
&nbsp
4.1
(
22
reviews)
Fast and Accurate Order Processing
We offer standard, 3 day express, 2 day express, and overnight express shipping options for your convenience. If you place your order Monday - Friday by 2:00 PM EST using one of our express shipping options, your order will be processed and shipped the same day it is placed!
Applies to delivery within the 48 contiguous states only.
Out of Stock Notification
---
E-Mail Address: Please Send Me Free Updates via Email


Product Is Unavailable For Purchase
3 fixed blade knives
Guaranteed value of more than you pay
Limited Quantities available
No returns accepted
This Item Cannot Ship to the Following States: NY
---
We've got another great savings opportunity for you with this Fixed Blade Knives Mystery Bag! For less than $20, you'll receive a combination of three fixed blade knives in this mystery bag. These products are brand-new, never-opened and we are selling them at this unbelievable discount rate because we no longer have enough of the individual products to maintain a location in our warehouse. So we mixed them altogether in a giant box and we just pull random items from the box until it's all gone. We will continually restock these with different products as our inventory levels change. We're excited about passing along this opportunity for incredible savings to you. The value of this bag is GUARANTEED to be more than what you pay. It'll be just like opening a present when your mystery bag arrives!
---
Customer Reviews
|
Average Rating: 4.14 out of 5
---
Excellent.
Reviewed by Joshua Bryan on Jun 30, 2016
5 out of 5
I received my Bowie, my jungle fighter blade and throwing knife set as well as my bayonet a day earlier than scheduled. I am very pleased with the outcome and would definitely recommend this to others as the blades were as though i had bought them on their own. My favorite was definitely a toss up between the Bowie and the Bayonet. Buy this! its worth it!
---
its a gamble
Reviewed by on Jun 20, 2016
5 out of 5
The knives that i received included a small medium and large knife, first was the coon knife which was sharp a nice knife that i may carry but might replace the leather sheathing on it due to it being a old type of leather. The second knife i got was a timber wolf stage dagger and i tell you it is my most favorite knife that i got out of the three. It has a perfect weight to it a sharp edge to cut small things but not sharp enough to cut straight through things, but the tip and point on it is quite sharp that i might use for hunting when i get the chance and it has a blood fill gap and the sheath is fantastic. The last item was a budk Bowie knife that i cant really say a lot of good things, it has a fake plastic sheath and the holding strap for the handle is a bit hard to place on, the tip was dull and the handle and blade had a few nicks and scratches. The knife i say that saved this to getting a five was the timber wolf dagger that which had a beautiful weight and design along side with the sharpened tip and edge, This was a great buy but when you do get this you will be gambling on getting good or bad knives it really depends on you if its something you prefer or would toss away. If you know what you want on budk then get it but if you want to let chance choose your knives then let it.
---
nice knifes, but dull
Reviewed by Trista Negele on Jun 08, 2016
5 out of 5
I got a skinner (forgot the name) with a a little bit of the leather sheath peeling, but that was fixed. I also got a very nice survival tanto with a paracord wrapped handle (green). The third thing was this urban defense concealed knife. Long, black, VERY sharp with a nice sheath that goes on the arm or leg. Overall I was really pleased with this. I would order it again, but for other's knowledge: It takes about a week for your stuff to ship. Expect about three weeks before it arrives, rather than the 7-10 days BUDK says on their website.
---
Happy!
Reviewed by on Apr 14, 2016
5 out of 5
I received the military blade with fire starter, a conceilable double edged straight blade, and the cat skinner. All seem to be great. The cat skinner seems of slightly less quality but still sharp. Good buy! Thanks!
---
It was ok
Reviewed by on Feb 29, 2016
3 out of 5
I got a couple of throwing knifes, a black legion knife, and a small knife. My only complaint is that all the knifes were dull out of the box.
---
Wonderful Deal
Reviewed by on Feb 26, 2016
5 out of 5
Got this in the mail this past Monday and I definitely lucked out. Got the black legion knife which is enormous and comes with a 30.06 bullet-knife, which is pretty neat. Also got one of the undercover knives which is really more of a throwing knife, but a few grinds with a sharpener and it makes for a good slim knife. Last was a cat skinner, which was razor sharp out of the box. It's a good thing a protective tip was on the edge, otherwise I would've cut my finger up good. Overall a sweet deal. I'll be the first to buy if you guys ever do a mystery bag on battle-ready swords!
---
bummer
Reviewed by Samantha Eaves on Jan 21, 2016
1 out of 5
bought this and a bunch of other stuff as a gift for my husband. received a buffalo cat skinner a hardwood coon skinner and a mini mercenary. The coon skinner is just plain garbage they could not sell. the mini mercenary got tossed in the kitchen junk drawer and the buffalo cat skinner is now a letter opener nice handle though. not one blade bigger than 4 inches or worth more than 5-7 dollars.
---
Another Great Deal
Reviewed by Douglas Sweeney on Jan 13, 2016
5 out of 5
I got 3 knives for less than $6.00 a piece. The first was the jungle defenders knife set, actually it is a 2 knife set. The second was French Foreign Legion style combat knife. And the third was the Mini Mercenary knife and fire starter. I have ordered these mystery knife sets before and this was the best deal yet. I will definitely do this again.
---
Reviewed by lance
Reviewed by on Jan 12, 2016
5 out of 5
Hey so I want to start off by saying that this was a great deal and that I got a survival knife with a fire starter with it so that was cool and then I got a buffalo horn cat skinner knife really sharp and great and the last one that I got was a Bowie knife so that made me so freaking happy
---
Reviewed by Kevin Knapp on Nov 13, 2015
5 out of 5
I received a black legion knife which has a little bullet knife in the handle so that was a cool little bonus. After that I got a jungle defenders two piece throwing knife set. And I guess there has to be a dud in there some where, the last one I got was a Buffalo Horn Cat Skinner. The leather sheath was detonated, the blade had nicks, the gold notch was broken and the bottom of the handle had a huge chunk missing. I give it full stars for the fact I actually got five knives total which is cool.
---