Dark Disruptor Ninja Sword w/ Throwing Knives & Shoulder Sheath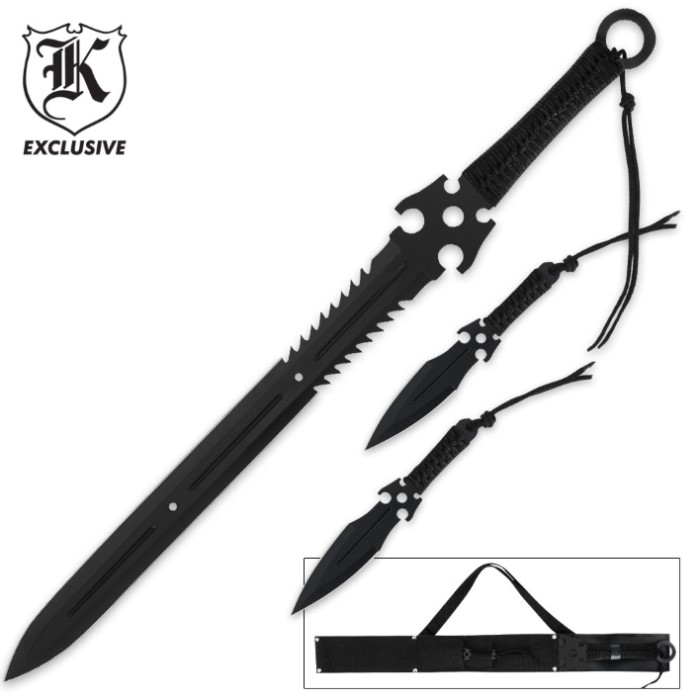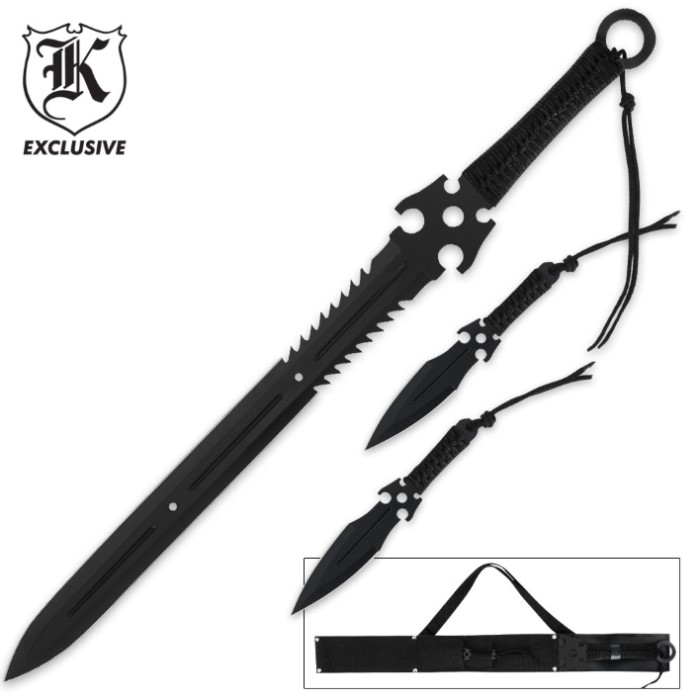 46 BK2440
&nbsp
4.8
(
24
reviews)
Fast and Accurate Order Processing
We offer standard, 3 day express, 2 day express, and overnight express shipping options for your convenience. If you place your order Monday - Friday by 2:00 PM EST using one of our express shipping options, your order will be processed and shipped the same day it is placed!
Applies to delivery within the 48 contiguous states only.
Out of Stock Notification
---
E-Mail Address: Please Send Me Free Updates via Email


Product Is Unavailable For Purchase
Black-coated stainless steel construction
Heavy-duty paracord handle wrappings
Razor-sharp edges and piercing points
Includes sheath with shoulder sling
Throwers: 5 ¾" overall
Sword: 27" overall
---
No stranger to disorder and chaos, the Dark Disruptor Ninja Sword has an intensely aggressive design.

Cloaked in black, this sword features a double edged blade with deep partial serrations, center grooves, and black nylon handle wrapping. The handle is protected by a minimalist style guard and topped off with a pommel ring.

This full tang sword is forged using a single piece of tempered 440 stainless steel.

Part of a versatile ninja package, this sword comes complete with two matching throwing knives. The throwing knives are suitable for both throwing and as close quarters daggers. Each thrower is forged from one piece of steel and features a cord wrapped handle.

All three weapons fit neatly within a single nylon sheath. Each thrower has its own compartment on the sheath, and a shoulder / chest strap is included for easy carry while on the move.

You will receive:

1 x Ninja sword: 27 in. overall, 18 in. blade.

2 x Throwing knives: 5 1/2 in. each overall.

1 x Dual purpose nylon sheath with shoulder strap and pouches for kunai knives.

This is a True Swords Featured Full Tang product listing.
---
Customer Reviews
|
Average Rating: 4.75 out of 5
---
pretty nice
Reviewed by Austin Restovic on Dec 05, 2015
4 out of 5
This is a rather impressive sword, as well as unique. It was my first sharp blade and it exceededhat I expected it to be. My only problem is that after drawing it and re-sheathing it a couple times the blade must have cut the string holding the shoulder strap on, so now it cannot worn on my shoulder, but everything else is just fine to me.
---
Ninja negotiator
Reviewed by on Nov 12, 2015
5 out of 5
This is my second blade and I could not be happier. The blade came very sharp and sturdy, the wrapping was a little loose but that was easy to fix. My only gripe is the throwing knifes are extremely dull, but they can really get the job done with a bit of practice. Thank you budk, I do hope you will test this one in the future
---
above decent
Reviewed by on Aug 30, 2015
4 out of 5
in my opinion its one of the best weapon sets i have but i did have a problem with the cord on the throwing daggers because it threw off the balance. but the saw edge and the hand guard are more effective in blocking than most swords. plus over all it just looks bad ass.
---
great blade
Reviewed by on Jul 24, 2015
5 out of 5
I had this blade four about 4 mothes and still great
---
Reviewed by Dexter Ray on May 13, 2015
5 out of 5
This was my first buy from Trueswords and an excellent one at that. This is an incredibly light and sharp blade that is NOT to be trifled with. The tang itself is astoundingly thin making it sharp but it holds up well and it came with an edge that meant business but I did a bit of touching up cuz why not. The sheath isn't suited to a ridged (those aren't serations cuz they won't cut or gut a thing) weapon and you have to draw the weapon with care. The Nylon on the handle of the throwing knives may as well be cut off when you get them because they'll break after about 15 minutes. Overall though this felt like a great sword with 2 right matching throwing knives. BEWARE: IT COMES WITH A EXTRA BANG FOR YOUR BUCK.
---
Reviewed by Michael Roberson Jr on Apr 06, 2015
5 out of 5
EXCELLENT SWORD! Its a light sword meant for slashes and stabs and is SUPER SHARP! The same goes for the knives. The cord on the sword handle is loose but nothing to toss a stone at!
---
Reviewed by Brigitte Lenihan on Mar 21, 2015
5 out of 5
I got this some time ago, and I must say, I do love it. It has a great intimidating design, is lightweight, and it feels nice in the hand. The daggers design add to the blade, and though the back strap broke on the bottom of the Nylon sheathe, that,s a quick fix and doesn't impact my opinion on the purchase. Yet another great quality item for an incredible price from TrueSwords!
---
it's ok
Reviewed by Clint Schultz on Feb 23, 2015
4 out of 5
had a customer by one, then my sister bought one. FOR ME........I would take a plasma cutter and trim what qualifies as a hilt back a bit so my hand doesn't constantly hit a semi sharp edge when holding it, then smooth it out with a dremel tool. I plan on buying more to sell, and carry one in the vehicle. it's semi sharp, and would like to see them sharper.
---
Reviewed by Dalton T on Feb 16, 2015
4 out of 5
Well the sword is great but I had a few issues. For one the chord around handle is very loose. The same goes for the knives and those chords broke off after about ten minutes of throwing. The back strap also broke after hanging for a while. However all of this said, the sword and knives are all decent quality well worth the price. The sword holds an edge very nicely. For 20 dollars this is a great deal. Just remember that you are getting a 20 dollar sword.
---
Awesome set!
Reviewed by Dave Hacker on Jan 06, 2015
5 out of 5
I just received my set and I am super thrilled with my purchase! The sword is super cool and was sharp out of the box. With my first swing I almost cut the shipping box that it came in- in half. The little throwers look just as mean as the sword. I got this on a free shipping offer last week and I cannot believe what a great deal this was. You have to have this in your collection! 5 stars!
---