SOG Fusion - Ninja Storm Throwing Knife Set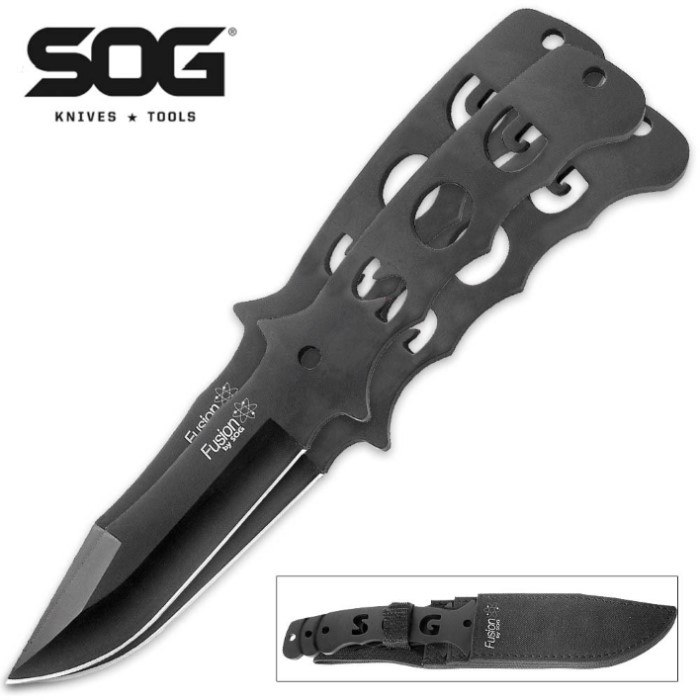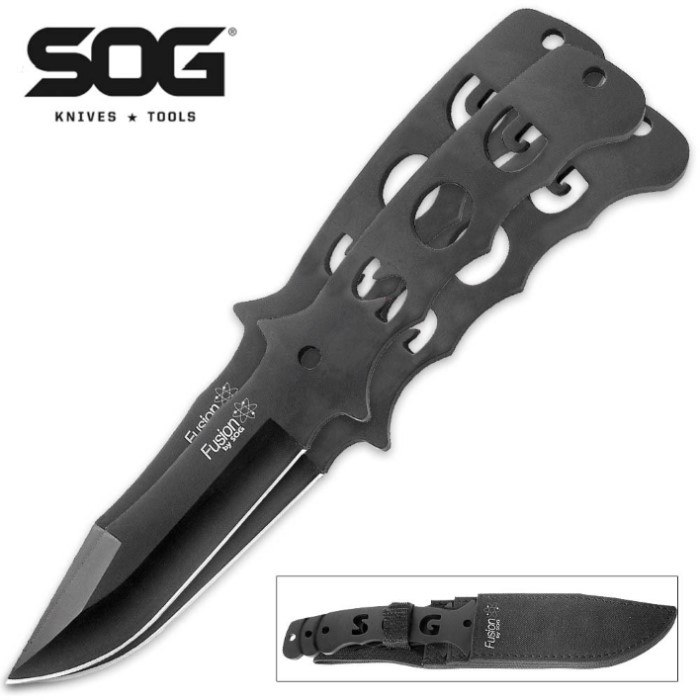 47 SGF04T
&nbsp
4.6
(
12
reviews)
Fast and Accurate Order Processing
We offer standard, 3 day express, 2 day express, and overnight express shipping options for your convenience. If you place your order Monday - Friday by 2:00 PM EST using one of our express shipping options, your order will be processed and shipped the same day it is placed!
Applies to delivery within the 48 contiguous states only.
Out of Stock Notification
---
E-Mail Address: Please Send Me Free Updates via Email


Product Is Unavailable For Purchase
3 total throwing knives
TiNi blade coating for durability
Includes durable nylon sheath
10" overall length
This Item Cannot Ship to the Following States: NY
---
These stylish knives are not only fun to sail through the air, they are practical as well. Completely protected by SOG"s Hardcased TiNi coating, they are extremely scratch resistant. Their balance, aerodynamics, and proportions make them great throwing knives. Wrap the handles with paracord or use as is and you have three knives for the price of one! Includes nylon sheath that safely carries all three. 10" overall.
---
Customer Reviews
|
Average Rating: 4.58 out of 5
---
Sog Fusion Throwing Knives
Reviewed by Clayton Black on Jul 28, 2013
3 out of 5
The SOG throwers are alright. They are a little to light for my taste and the handle design makes for a dificult release. Thown by the blade they work well. The sheath would get five stars from me. Good design. Good multi-purpose knives. I would not recomend for a begining thrower.
---
REVIEW IT PLEASE
Reviewed by tyler v on Jul 14, 2013
5 out of 5
man oh man. what a great set of throwers where do i start. first off they come nice and sharp right out of the box with a awesome sheath the knifes fit nice and snug. when i took them out to throw i was amazed with the out come i am a beginner thrower and i am not the best at sticking but with theses it was really hard to not stick them they have a good weight to them and fly super fast. just waiting for the next paycheck to get another set. GREAT JOB Budk keep up the good work
---
Reviewed by Christopher Gray on Jun 13, 2012
5 out of 5
This knife set is by far the best set of throwing knives i have bought so far. they are so easy to throw a child could do it. well balanced and very well made. all in all i give S.O.G. a big 'ol thumbs up for this product. if youre looking for a good quality knife set cuz youre tired of breaking those cheap ones you buy, then this product is definitely for you. and with a full lifetime warranty you cant beat the price. and if youre afraid to spend the extra money on them, believe me. ive owned quite a few sets and broke them very quickly.this set is well well well worth the extra cash.
---
Design Flaw
Reviewed by lotsafreetime on Mar 06, 2012
3 out of 5
I bought a set of these locally for about $30 and after throwing for a few weeks, started noticing some problems. The fist being that the guard of the knife make throwing Russian style with your finger on the spine of the blade difficult. The second is that being a knife you are trying to throw, the finger forms on the handle seemed counter productive, hindering a smooth release. The biggest issue I had that was after about two months of throwing, all three knives had broke. The fact that they have carved out the SOG in the handle means the integrity of the handle is compromised. All three knives broke along the S. Luckily, the sheath is great and holds my good set of knives so I don't feel as though I wasted the money.
---
Reviewed by christopher biggs on Dec 22, 2011
4 out of 5
Love these knives. Great throwing knives, and if you wrap the handle with parachute cord it becomes a more versatile knife and still throws great. Now as long as they don't break at the "G" I will b truly impressed.
---
Excellent knives!!!
Reviewed by Wild Bill on Dec 13, 2011
5 out of 5
These knives are great!!! Excellent weight and balance. Edges are sharp straight out of the box. The sheath is a good quality cradle for these blades. SOG has done it once again!! excellent throwers, and will take a load of punishment. When they hit, they hit hard. Excellent buy!!
---
Reviewed by Terrence James on Jul 01, 2011
5 out of 5
came very sharp, excellent weight, and stick very deep into things.
---
Reviewed by Blake Jensen on Jun 04, 2011
5 out of 5
These are my first throwing knives and I am very pleased with them. they look mean they feel awesome to throw and will stick into anything they hit. If you do throw these in dense forest areas make sure to put marking tape on them as they can be difficult to find but these could easily sell for much more the sheath they come in is great! The satisfaction of sticking these into something is awesome and I doubt you can throw them hard enough to dent them. I put this as my best buy yet from True Swords!
---
Reviewed by Brian Page on Apr 26, 2009
5 out of 5
Ok, first of all, I will tell you now that both me and my brother thoroughly tested these throwing knives out for about an hour, taking turns throwing them at my target board...with very poor technique and skill. However, even though we only managed to stick about 5 or 6 out of countless throws, the edge on these things are still sharp enough to slice through paper almost like butter. Given, when I first got them, they were literally hair-shaving sharp, but that's still pretty darn sharp.

I gotta admit, I seriously underestimated these knives seeing as they're only made of 420 stainless steel, whereas most good throwing knives (aside from Cold Steel's) are made of 440 stainless steel, which is a much better steel. But nope, these things held up to SOG's reputation. Whatever they did to these knives to make 420 stainless steel look so good...I don't know, but it works. The tips aren't even damaged either. They aren't chipped, or anything. There isn't even a scratch on the TiNi coating yet.

The balance on these knives are perfect too. They're perfect for both throwing by the handle or the blade, and they're even actually suitable for use as standalone fighting knives, if need be. The sheath is outstanding too. It's like three individual sheaths (one for each blade), all put into one combined sheath. It is very secure, sturdy, and reliable. I give this product full marks. Thank you True Swords.
---
SOG Fusion Throwers
Reviewed by Stan Brigan on Mar 03, 2009
5 out of 5
I have had several different type of throwing knives over the years and the SOG Fusions rank up with the best throwers I have ever used. I have recommended these to several friends and relatives. The sharp edge allows them to be used for more than just a thrower. The balance allows for either Point or Handle throwing. I dont think you would be disappointed with these knives. The sheath is also nice.
---