Musashi - 1060 Carbon Steel - Samurai Spirit Katana Sword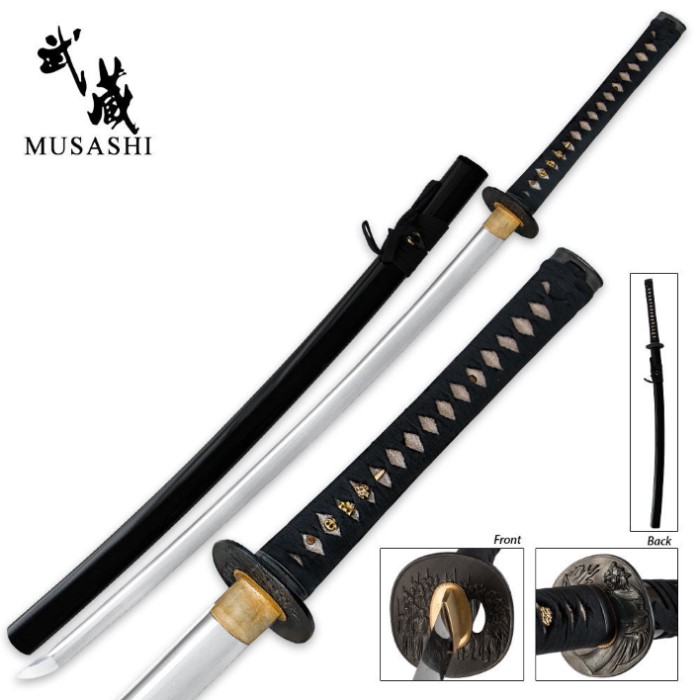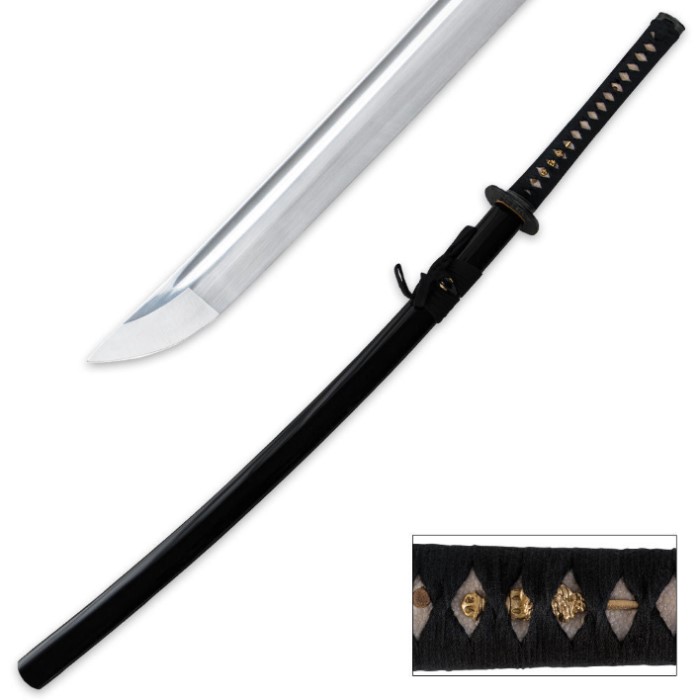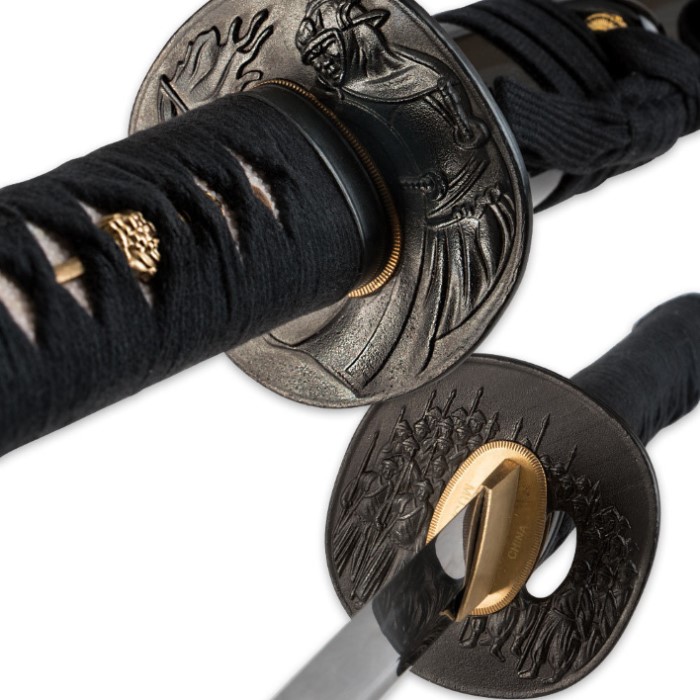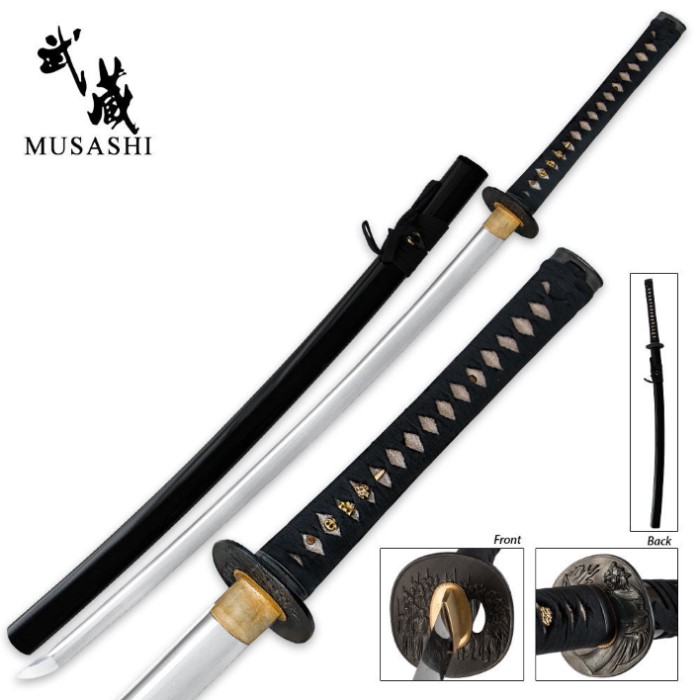 46 PCSS810BK
&nbsp
5
(
5
reviews)
$96.98
$109.99
Out of Stock!
Fast and Accurate Order Processing
We offer standard, 3 day express, 2 day express, and overnight express shipping options for your convenience. If you place your order Monday - Friday by 2:00 PM EST using one of our express shipping options, your order will be processed and shipped the same day it is placed!
Applies to delivery within the 48 contiguous states only.
Out of Stock Notification
---
E-Mail Address: Please Send Me Free Updates via Email


Product Is Unavailable For Purchase
27 1/2" 1060 high carbon steel full-tang blade with razor sharp edge
Hardwood handle with ray skin and cord wrappings
Hardwood scabbard with high quality piano paint finish
Steel tsuba with Samurai Spirit design
Dual bamboo peg construction for easy care
55 HRC blade hardness
Measures 39 3/4" overall in length
---


Handmade, the blade is thick and comes extremely sharp. Like the more expensive models this blade can even be bent 45 degrees. This sword is well balanced and the tight handle wrap feels great. Comes complete with a black cotton storage bag and Musashi retail box.

Materials and Way of Forge:

Traditional hand forge Muku-kitae method.

1060 High Carbon Steel.

55 HRC blade hardness.

Hamon and hardness created with temper process.

Real hamon, not wire brushed or printed.

Real ray skin wrapped grip with black cotton cord wrap.

Extremely sharp hand honed edge.

Steel tsuba, fuchi, and kashira; Brass habaki.

Can be disassembled for care or display.

Dual bamboo mekugi (peg), hardwood handle.

Hardwood scabbard with high quality piano paint finish.

39 3/4 in. overall, 27 1/2 in. blade, 10 3/4 in. handle.

Includes black cotton sword storage/carry bag.


About Musashi:

Miyamoto Musashi was a famous Japanese swordsman and is believed to have been one of the most skilled swordsmen in history. Musashi, as he is often simply known, became legendary through his outstanding swordsmanship in numerous duels, even from a very young age. He is the founder of the Hyoho Niten Ichi-ryu, or Niten Ryu style of swordsmanship and wrote Go Rin No Sho, The Book of Five Rings, a book on strategy, tactics, and philosophy that is still studied today.

Musashi writes about his first duel:
"I have trained in the way of strategy since my youth, and at the age of thirteen I fought a duel for the first time. My opponent was called Arima Kihei, a sword adept of the Shinto ryu, and I defeated him. At the age of sixteen I defeated a powerful adept by the name of Akiyama, who came from the prefecture of Tajima. At the age of twenty-one I went up to Kyoto and fought duels with several adepts of the sword from famous schools, but I never lost." -Musashi Miyamoto, Go Rin No Sho

It is notable that Musashi died of what is believed to be thoracic cancer, and was not killed in combat. He died peacefully after finishing the Dokkodo ("The Way of Walking Alone", or "The Way of Self-Reliance"), 21 precepts on self-discipline to guide future generations.

After his death various legends began to appear. Most talk about his feats in kenjutsu and other martial arts, some describing how he was able to hurl men over 5 feet backwards, other about his speed and technique. Other legends tell of how Musashi killed giant lizards in Echizen, as well as Nues in various other prefectures. He gained the stature of Kensei, a "sword saint" for his mastery in swordsmanship. Some believed he could run at super-human speed, walk on air, water and even fly through the clouds.


View all Musashi Swords


This is a True Swords Featured Full Tang product listing.
---
Customer Reviews
|
Average Rating: 5.00 out of 5
---
Reviewed by Joseph Richards on Dec 09, 2013
5 out of 5
Amazingly sharp and well done blade a master piece for the right price!
---
Reviewed by Kaleb Stinehart on Oct 20, 2013
5 out of 5
Beautiful sword. Had it in.display for a year and the only problem was one.rust spot where the.blade touched the rack. Sturdy, beautiful, it feels perfect.
---
Reviewed by Justin Wells on May 16, 2012
5 out of 5
I'm giving this a full rating because of the price. I just received this Katana today and I must say that I love it. it's just so solid! If you are planning on buying a quality carbon steel sword for cheap, musashi is the way to go. Make sure not to touch the blade with your hands though, because the oils in your hands can cause corrosion of carbon steel. Buy some sword oil as well. The only thing about this katana that i found is that it isn't quite as sharp as the description suggests. I have a kitchen knife that's sharper (however, I sharpen it every time I use it), but it is still quite sharp enough for you to cut yourself. I'm planning on getting a Cold Steel Katana next to see how the two compare.

p.s.
I was thrilled that this came with a certificate of authenticity!
---
Reviewed by Jeff Smith on Nov 29, 2011
5 out of 5
right when i opened the box and saw the MUSASHI sign on it, i automaticly knew it was going to be a good buy. after opening the musashi box, and seeing the sword bag, it was like x-mas day, i pulled the sword out of the bag and took it out of the sheath, and the reflection and attention to detail is amazing, the best sword i have to date. i will deffinatly be buying another MUSASHI from Trueswords. its sharp as hell too. Great buy!
---
Reviewed by Timothy Weston on May 17, 2011
5 out of 5
Price to quality is phenomenal. Unfortunately I have to make a koshirae-nuki in order to remove the blade from the tsuka. Minor paint wear on the fuchi. Habaki a little too long on one side along the mune. Hamon is very defined!

Customer service was AMAZING, answered questions super quick. Will be a repeat customer come this payday!!!
---