Shinwa - Ninja-to Dragon Wakizashi Sword w/ Damascus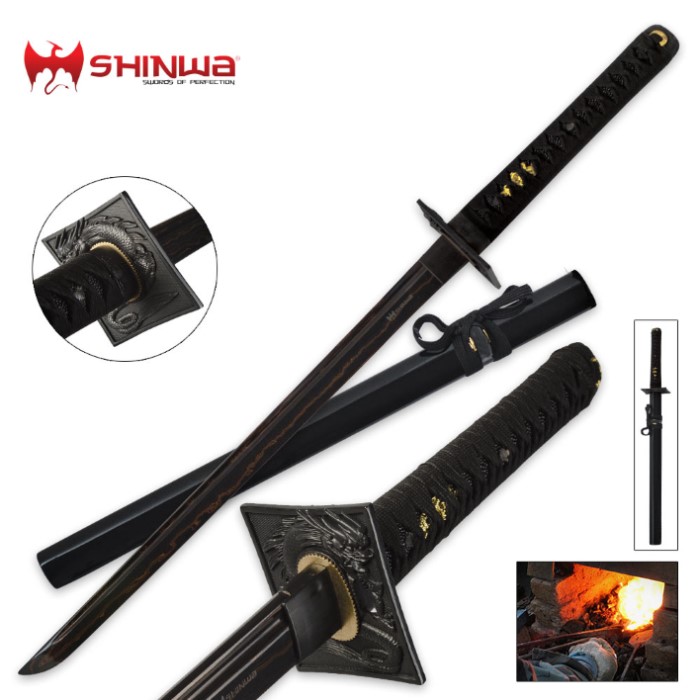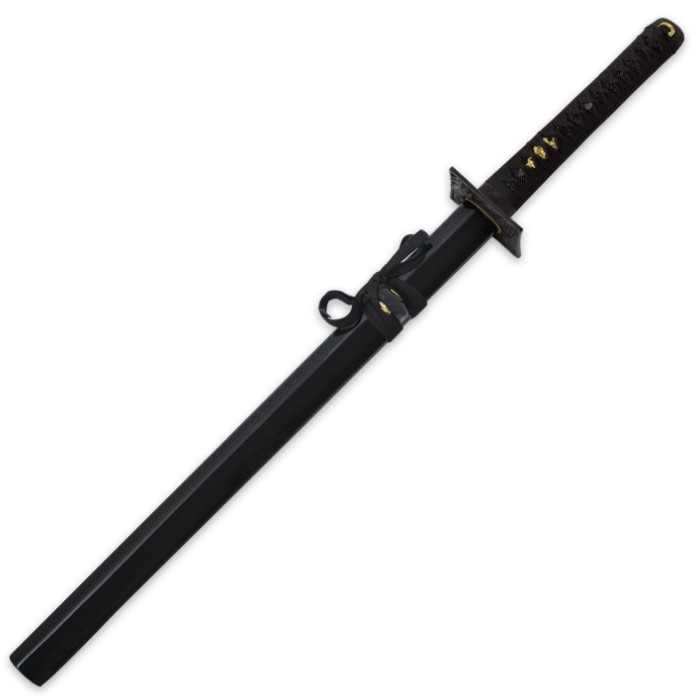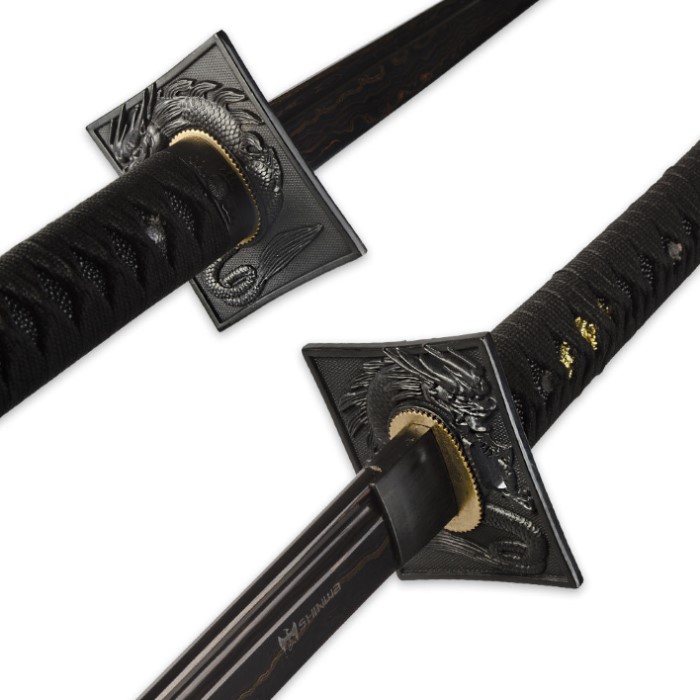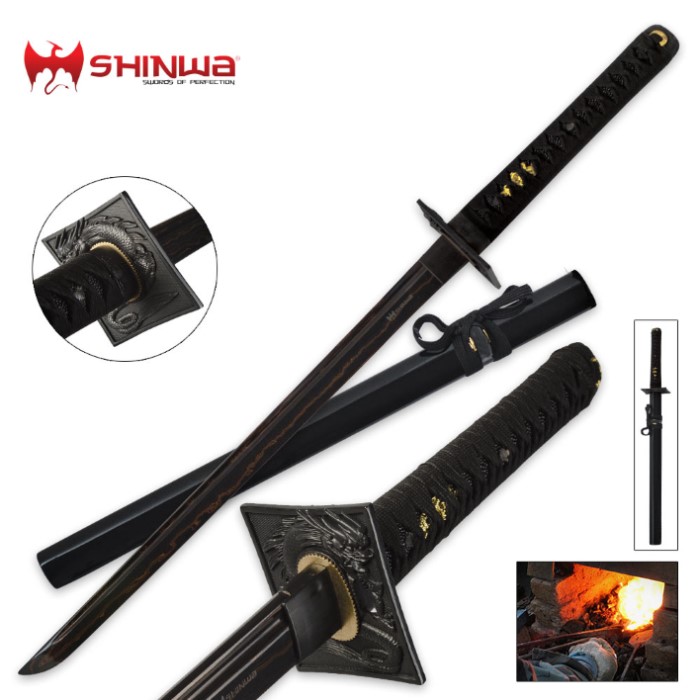 46 KZ747BDM
&nbsp
4.8
(
12
reviews)
$39.98
$149.99
Out of Stock!
Fast and Accurate Order Processing
We offer standard, 3 day express, 2 day express, and overnight express shipping options for your convenience. If you place your order Monday - Friday by 2:00 PM EST using one of our express shipping options, your order will be processed and shipped the same day it is placed!
Applies to delivery within the 48 contiguous states only.
Out of Stock Notification
---
E-Mail Address: Please Send Me Free Updates via Email


Product Is Unavailable For Purchase
Hefty Damascus steel blade
Deep blood groove spans blade
Cast dragon tsuba
Brass-plated menuki
Faux ray skin and cord wrapped handle
Hardwood lacquered sheath
31" overall length
---
Also known as a Samurai Sidearm, the wakizashi sword is the medium sized, more tactical brother to the katana sword. At 31 in. overall, the wakizashi is better suited for close quarters use than a katana (including home defense) due to its nimble size.

Our Ninja-to Dragon Wakizashi Sword has been hand crafted by the Shinwa forge. It features a carbon steel Damascus blade with black finish, traditional full tang construction, brass habaki, metal Dragon tsuba (guard) and all metal fittings. The folded blade includes a blood groove, straight ninja style geometry, and comes hand sharpened.

The full tang construction is secured with dual bamboo pegs into the hardwood handle. A matching scabbard with high gloss black finish is included.

Measurements: 20 1/2 in. blade, 31 in. overall.

Want to build the perfect daisho sword set? Pair this wakizashi with its katana companion: Shinwa Black Damascus Katana.




About Shinwa:

Shinwa swords are made by hand using traditional methods in the ancient sword-making township of Lonquan. The sword-making history of this town can be traced back to the twentieth year of the Guangxu in the Qing Dynasty ­ exceptional sword making continues there still today. The swordsmiths of Lonquan can apprentice for up to six years before they begin to forge these functional works of art on their own.

Each Shinwa sword is hand forged at temperatures of up to 1,100 °F and continuously heated, folded, hammered and shaped before being oil quenched and then straightened. Damascus steel blades are folded as many as ten times to yield up to 2,056 layers of premium Damascus steel. After quenching the blade is then ground and hand sharpened and polished by the swordsmith on a series of wet stones. Each set of these wet stones contains a finer level of silicate particles, which produces an even sharper edge. In the final stages of this painstaking process, the tsuka is wrapped and tsuba and other fittings are added before a thin coat of oil is added to the blade to prevent corrosion.
---
Customer Reviews
|
Average Rating: 4.75 out of 5
---
Pretty cool
Reviewed by Ivan Duran on Jan 08, 2018
5 out of 5
This is a pretty cool little sword. Everything is tight. Nothing is loose. No rattle. Blade is beautiful. All black with little copper lightning bolts running up and down the blade. Semi sharp but I can fix that. Only problem is the scabbard. It's full of wax! The blade get covered in it every time I put it away. Also, it barely fits in it's scabbard. Super tight. At least it won't fall out on its own. Overall, nice new piece for my collection. I have it resting on a single sword stand above my dresser. Looks great. Thanks BudK!
---
4 stars
Reviewed by on Dec 30, 2017
5 out of 5
Just opened: one minor but noticeable issue. A loose splinter of steel along the edge where it was either warped and baldy patched or just neglected during packaging. However, the construction overall is very solid and well arranged. For the price this blade is a steel (get it?). I can overlook minute blemishes. Kudos BudK!
---
Nice for the price
Reviewed by SCOTT HICKS on Dec 27, 2017
5 out of 5
First lets remember this is a 50 dollar sword before I go any farther. Now keeping that in mind, the sword very nice, fit and finish good, tight with no rattle, balance is nice, saya is tight almost too tight but I'm sure it will work in. The "Damascus" is nicely done, not too much of the reddish color which I could do with out. I would call this a technically functional fantasy piece., moderately sharp, which could I believe be used for light cutting, but over all I feel it is best as a display piece. overall very nice for the price. I've always been a fan of cheesy Ninja films so this is a nice addition to my collection.
---
Impressed...
Reviewed by on Jun 25, 2017
4 out of 5
Sword was sharp out of the box. Should have bought two. During deer season while skinning a deer i wanted to see just how good this blade is. Cut clean through the bone knicked the blade a bit but cut through it. I'm sure every sword is a little different but mine was black and red bent the blade a bit but I bent it back and got the blade back to somewhat what it was. Wish I would have gotten another though for display. It is/was a beautiful blade.
---
It's Functional
Reviewed by Eamon Cusic on May 24, 2016
3 out of 5
The product looks nothing like the pictures on this website. The sword I received is over 80% orange. I wouldn't care about this, but it was a gift for someone who liked the black and it looks cheesy. Other than the deceptive pics, the Saya(sheath) is loose and filled with a white material that smears on the blade when you sheath it. I've seen this complaint on trueswords as well. The blade is sharp at least and the tang seems solid. I wish the sword was $100 and the issues were handled.
---
Can I rate my Shinwa a "6?"
Reviewed by on Apr 27, 2016
5 out of 5
This is beyond what I wished for when I was a teen! When I was a active MA practitioner, I dreamt of one day having the 1000's of $ needed to commission a ninjato with a Damascus blade. What was beyond me was the idea that a black Damascus blade with incredible workmanship my Shinwa blade has and the dragon tsuba is great touch. Michionne would be jealous ??
---
Outstanding Quality
Reviewed by Gary "Mick" Lazer on Jan 31, 2016
5 out of 5
When I received mine, the first thing I noticed was the care in packing the sword. Double boxed and suspended in the 2nd box. The sword was of amazing quality and the scabbard was flawless black lacquer. A substantial feel to the sword, I knew that I was handling a work of art. To say the least, I am happy with the sword and still cannot believe what I paid for it! :)
---
It's beautiful!
Reviewed by Michael on Mar 17, 2015
5 out of 5
One of the best swords I've ever purchased!
---
Nice
Reviewed by Joe on Mar 03, 2015
5 out of 5
Damascus means nothing unless you know which steels were folded together. With that said I have no idea what the true quality of this sword is. Without any test cutting my guess is thats its made from relatively low grade 1045 carbon steel at best, based solely on the $80 price mark alone. What I can tell you for sure is that this is a full tang sword, it'n not super cheap stainless steel, and it certainly looks and feels great. All of the fittings are tight and there is no rattle. The only thing I would see different is the golden accents be painted to black, the golden plastic accents make this look like a children's toy. I love ninja swords, although not historically accurate the short blade, square tsuba, and regular length handle this piece offers, screams Ninja and thats why I bought it. I feel that this price is just right for what you get, another $10-$15 I would most defiantly expect some changes like a higher quality ito (handle wrapping).
---
Reviewed by Lord Notakatana on Feb 15, 2015
5 out of 5
This is the first item I've bought from TrueSwords, I was quite impressed by the folding pattern in the steal and the level of craftsmanship that went into this. However it could have been sharper, I tried water bottles, and later I even ran my finger across it without even a cut. (I found it actually made a better stabbing weapon), but if you know what you're doing a dull blade is an easy fix. other than that its fine, very sturdy construction, dose not rattle at all, however if its going to be a "ninja" sword I'd take a note from Musashi and leave out the fuller. Nice looking sword, solid construction, could be sharper, Ill probably use it for ninja costumes
---