Throwing Axe - 11in Tri-Point Sure Shot Thrower - Satin Edition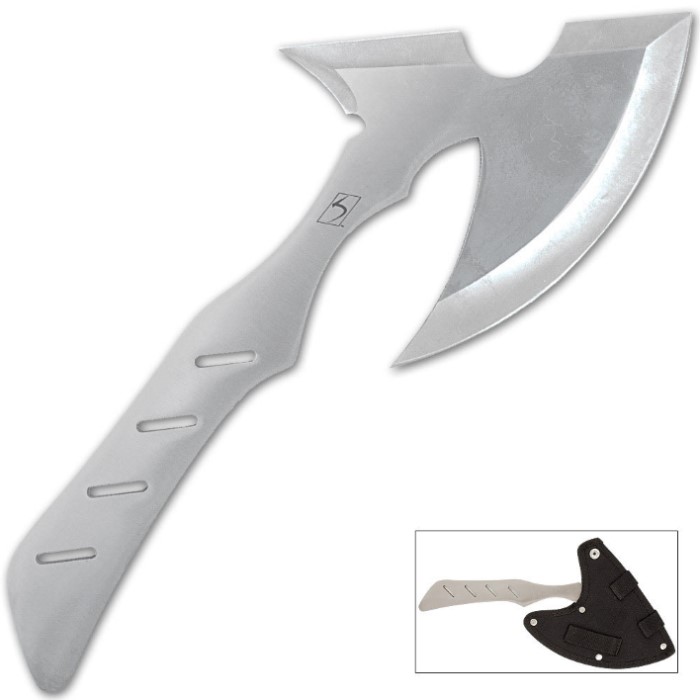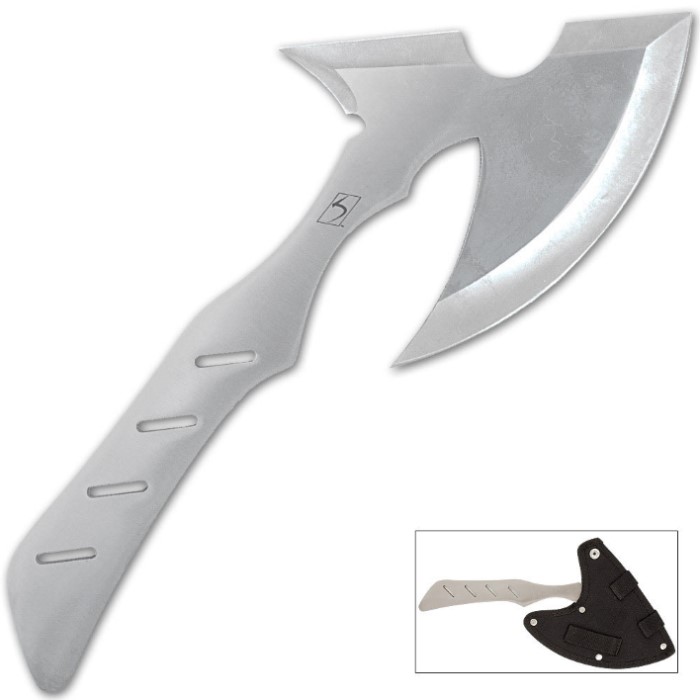 47 RS23
&nbsp
4.6
(
50
reviews)
$7.98
$18.99
Out of Stock!
Fast and Accurate Order Processing
We offer standard, 3 day express, 2 day express, and overnight express shipping options for your convenience. If you place your order Monday - Friday by 2:00 PM EST using one of our express shipping options, your order will be processed and shipped the same day it is placed!
Applies to delivery within the 48 contiguous states only.
Out of Stock Notification
---
E-Mail Address: Please Send Me Free Updates via Email


Product Is Unavailable For Purchase
One piece stainless steel construction
Perfectly balanced for throwing
3 separate tips for penetration
Includes a custom fitted sheath
11 3/8" overall length
This Item Cannot Ship to the Following States: NY
---
Crafted from a single piece of AUS6 stainless steel and finished in classic satin/silver, this throwing axe is designed to slash through the air and nail the bulls eye with ease. Includes black nylon sheath. 5 3/8 in. blade, 11 3/8 in. overall.

Also available in black finish: Throwing Axe - 11in Tri-Point Sure Shot Thrower
---
Customer Reviews
|
Average Rating: 4.64 out of 5
---
Wicked
Reviewed by on Feb 07, 2016
5 out of 5
I sharpened this bad boy up and it throws great! Sticks into wood easily and throws like a knife
---
not bad
Reviewed by on Jan 08, 2016
5 out of 5
Has a good edge and feels good in the hand. Would recommend this
---
Bad azz
Reviewed by Rhonda Cody Brown on Dec 05, 2015
5 out of 5
Bought a dozen of these on a BOGO to add to my bug out bags. WICKED SHARP!! As usual from BUDK, I am very pleased. Wrapping handles in paracord to double them as a survival hatchet.
---
Reviewed by Jay on Aug 08, 2015
5 out of 5
I got two of these and after a couple of hours of throwing they are still in great shape I would highly recommend this product
---
Fun!!
Reviewed by Brady on Jul 06, 2014
5 out of 5
I got this after the handle on my m48 hawk broke, and I had to replace it. So, no more throwing the m48. This was an excellent replacement thrower (the handle won't break,) and is a lot of fun for bujinkan training. The stainless steel makes a satisfying thwack & ringing noise when it hits the target, and It sticks in the target often. If you like throwing stars/knives, this is an excellent addition to your arsenal.
---
A Fun Thrower
Reviewed by Larry on Jun 06, 2014
4 out of 5
I gotta say, wasn't expecting much for just $10. I was astonished at the quality of this tomahawk. Gotta say, to find any flaws in the workmanship you have to look HARD. If it weren't for the uneven and dull edge that came out of the box, this thing would get 5 stars. I recommend this to anyone looking for a good throwing hawk at a good price.
---
teach and learn tool
Reviewed by Don on May 20, 2014
4 out of 5
these little guys are perfect for learning or teaching the art of throwing an axe. The bogo deal makes it even better. a great learning tool for someone with smaller hands, not so heavy to tire out the thrower, but too light for much more than soft target practice. Get a couple of them from the BOGO section and just have a little back yard fun.
---
BOGO makes lightweight flyerca heavyweight deal
Reviewed by Ocala Jack on May 10, 2014
4 out of 5
This is the lightest, most petite tac ax ever, which is both it's greatest strength and worst weakness. As a flyer, it is so light it often fails to stick when striking directly on the belly of the blade. Further, the light weight caused it to float at the longer distances (4+ rotations). It throws a lot more like a bent nosed knife than a tomahawk. I've lost them, broken them, bent them, but who cares. BOGO makes them cheap and cheap is one of the most important virtues of any thrown weapon because thrown weapons are expendable. Buy 'em, throw 'em, stick 'em. What more do you want?
---
Not bad for price.
Reviewed by Ed.T.III on May 06, 2014
5 out of 5
Getting theses on bogo makes them well worth the price. Actually there a steel on bogo. I think of theses axes as more of really big throwing knives simply because they are smaller then your average hand axe but larger then your average throwing knife. Over all they work good and are fun to throw. They sharpen up easy and stick into a target board easy. I wouldn't try throwing them into a tree because like I said they are smaller then a normal hand axe and not as heavy, but if you have a good target then there awesome!!!
---
Best Throwing Axe
Reviewed by Christian on Apr 30, 2014
5 out of 5
I have bought 6 of these axes because they are so good. They are inexpensive and they have a good weight and I can get them to stick easily. Thanks BudK!
---