Throwing Knife - Timber Wolf Gen 2 - 3pc Set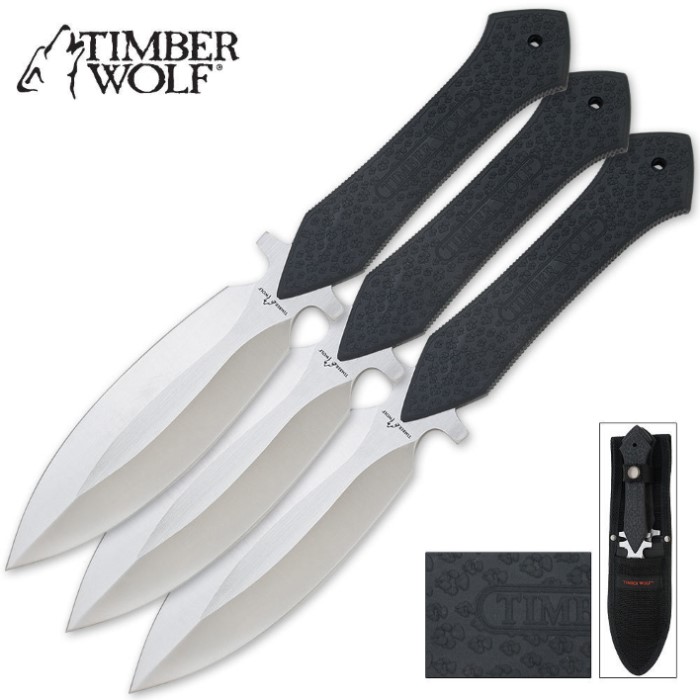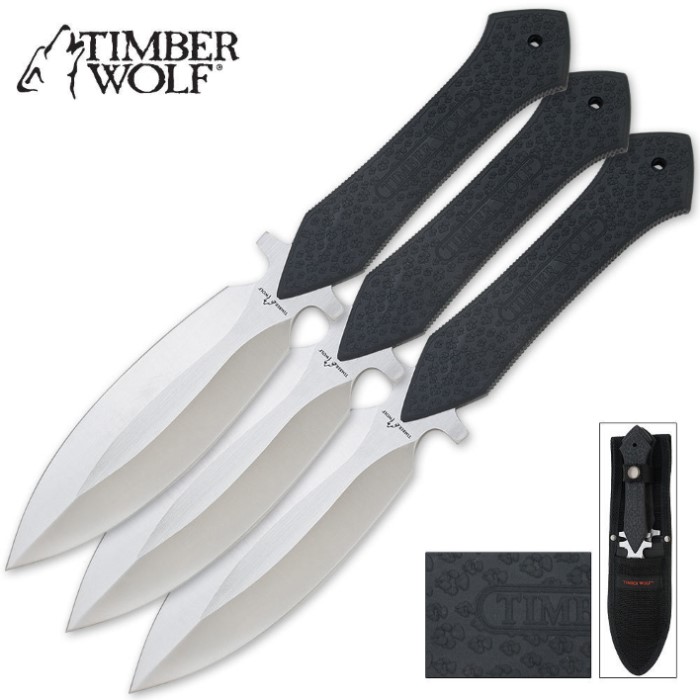 47 TW89
&nbsp
3.4
(
10
reviews)
Fast and Accurate Order Processing
We offer standard, 3 day express, 2 day express, and overnight express shipping options for your convenience. If you place your order Monday - Friday by 2:00 PM EST using one of our express shipping options, your order will be processed and shipped the same day it is placed!
Applies to delivery within the 48 contiguous states only.
Out of Stock Notification
---
E-Mail Address: Please Send Me Free Updates via Email


Product Is Unavailable For Purchase
3 total throwing knives
One piece stainless steel construction
Includes a durable nylon sheath
10 7/8" overall length
This Item Cannot Ship to the Following States: NY
---
These precision throwers are constructed with a 5 in. stainless steel blade and a solid rubber handle. Includes a nylon sheath that houses all three throwers and a target. 10 7/8 in. overall.
---
Customer Reviews
|
Average Rating: 3.40 out of 5
---
What r u throwing at?
Reviewed by Peter LaRochelle on Sep 26, 2014
5 out of 5
I bought this set and a friend liked them so much he stole r Them and is now in jail. I found them to be more boot knife than thrower, as the edges were razor sharp and the point too delicate. I did throw mine a few times but I have Hibben throwers that have the proper temper because the 'ping' was too high when they hit and that means bad temper for throwing, but I still NEVER broke one at all and think y'all been throwing too damned hard at unsafe targets with inadequate back stops and ground cover for bounce back from the targets. You really don't need to do the kung-fu death grip power blast when you throw, relax! Don't torture the blade, you should keep these bad boys for dress up at comic con and try old hickory' green River knife. It is cheap and easy to use and doubles as a utility knife. So please, don't beat the hell out of these knice boot stickers, save them for skinning or takedown. And try to get it into the target point first over soft turf or rugs.
---
junk
Reviewed by corey on Feb 25, 2014
1 out of 5
these knifes look good feel good throwing them....BUT ARE JUNK .. FIRST THROW OUT OF THE BOX BROKE BLADE OFF RIGHT AT THE HOLE FOR RUBBER HANDLE..I BOUGHT 2 SETS WITH IN AN HOUR OF OPENING THEM I HAD 6 BROKEN KNIVES... JUNK
---
Good but...
Reviewed by Natjan on Dec 23, 2013
4 out of 5
I made post a while ago but after a couple years of getting use to throwing them I found out that they are very good knives but... Have a weak spot where the blade joins the handle. They drilled a hole where they connected the rubber on both side through the hole and so when the rubber starts to peal (which they started to do at the ends) the rubber holds better. I broke two of them due to this poor design but I welded them made the weight even and took the rubber handles off and rapped them and I am still getting use to throwing them with the new handles
---
Reviewed by Robert Clark on Mar 19, 2012
5 out of 5
beautiful knives, very nice product value, was not disappointed in the least
---
timber wolf gen 2
Reviewed by K.p.H on Feb 03, 2012
1 out of 5
I have been throwing knives and axes for years. The gen.2 are some of the worst I have thrown, too light and real flimsy. Save your dough for some Hibbens ,John Bailey's and Cold Steel can't go wrong with these.
---
Nice
Reviewed by Nate on Oct 06, 2011
5 out of 5
Really nice I cut my self right out of the box. Anthony Howe must have just got a bad set Because mine I by mistake whipped it against the our shed and it barely had a scratch. Good balance, over all a very good Knives.
---
Good Thrower
Reviewed by Roberto Herrera on Sep 17, 2011
4 out of 5
I didn't know what to expect after reading the other reviews but I must say that these are very good throwers. They have very good weight, they are well balanced with good grips and a great sheath. They come very sharp but the only downside is that they lose their sharpness and their tip rather quickly. Nothing that can't be resharpened but you will have to do it often.
---
Great for looking, poor quality steel
Reviewed by anthony howe on Aug 13, 2011
2 out of 5
This set looked and felt great when I received them. They were sharp right out of the box. I threw the set 3 times before the first knife blade broke off. Right at the hole where the rubber for the grip mounts to the handle. I thought perhaps it was a fluke, but after another half hour another blade snapped off. This time right across the blade itself right before it joined the handle. I use soft pine wood targets. I have been throwing knives for three years and have purchased several cheaper sets that are still going strong. If you are only going for looks than these are beautiful knives. If you actually plan on throwing them you might want to try something else. Maybe I just got a bad set?
---
timber wolf gen 2
Reviewed by jtlies1 on Oct 05, 2010
4 out of 5
awesome 8/10, for the price, this website has nothing that compares.
---
Reviewed by Nate Penazek on Jan 23, 2009
3 out of 5
at a first glance the knives are a 5 out of 5 for looks and sharpness, but these knives are not meant to be looked at, after throwing around 75-100 times, certain things happen to the handle. rubber falls off, rubber breaks when hits target, handle is too heavy and causes the throwing arch to be too high, and the flight being not straight but wavy, further study is needed to see how these knives can be thrown properly.
---