Ninja Spike Three Piece Throwing Knife Set w/ sheath, 6 In. Overall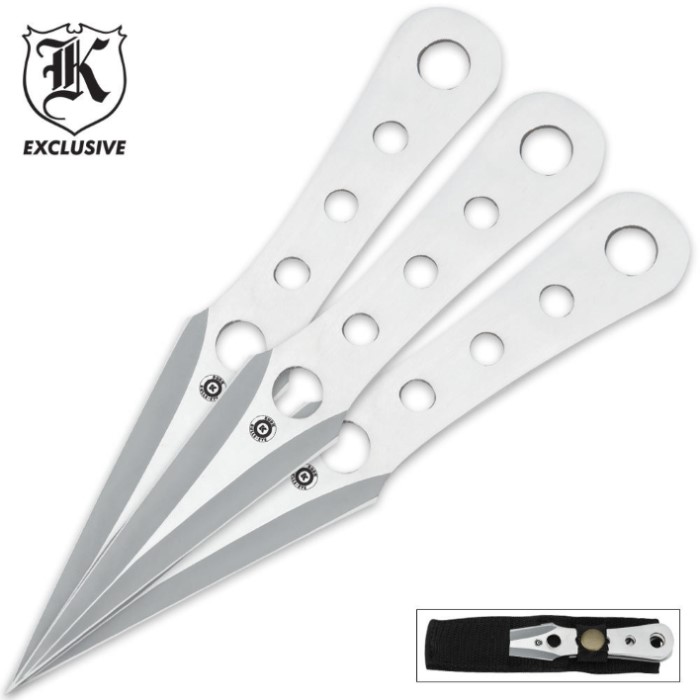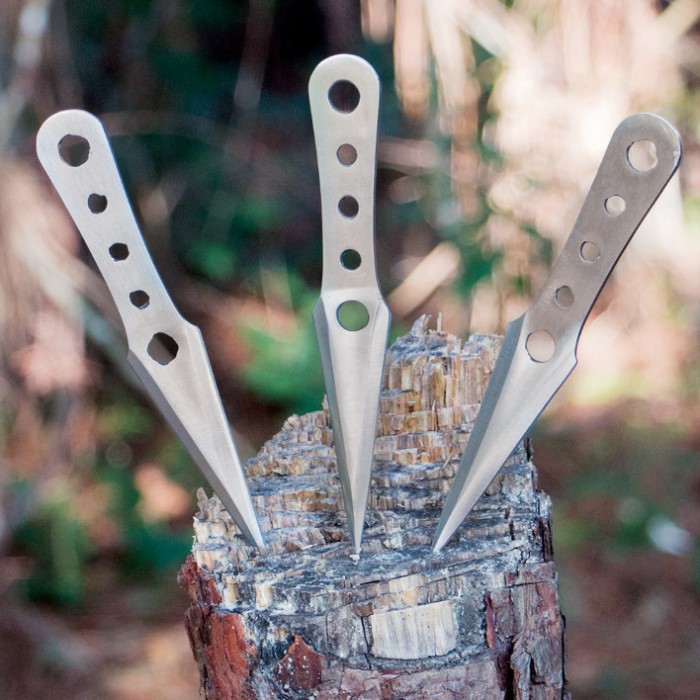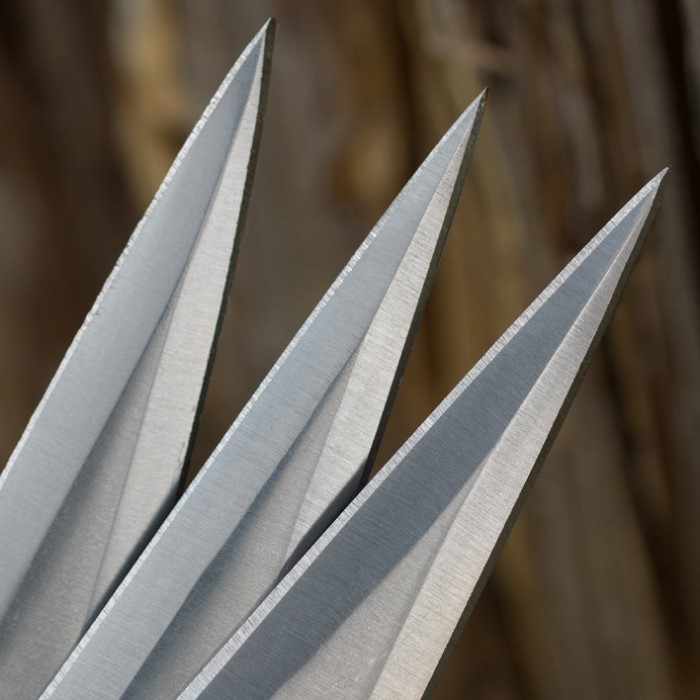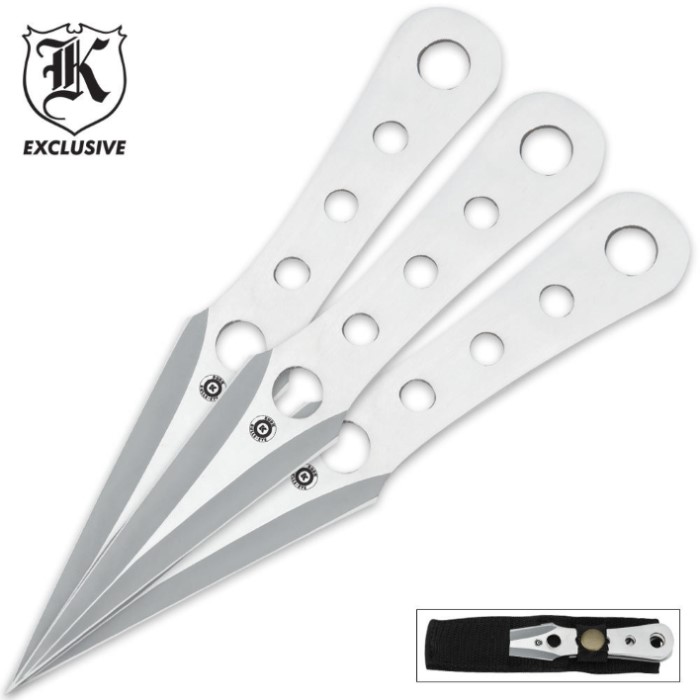 47 BE128
&nbsp
3.3
(
14
reviews)
Fast and Accurate Order Processing
We offer standard, 3 day express, 2 day express, and overnight express shipping options for your convenience. If you place your order Monday - Friday by 2:00 PM EST using one of our express shipping options, your order will be processed and shipped the same day it is placed!
Applies to delivery within the 48 contiguous states only.
Out of Stock Notification
---
E-Mail Address: Please Send Me Free Updates via Email


Product Is Unavailable For Purchase
Three throwing knives
Blade: razor-sharp stainless steel
Handle: stainless steel cut-out design
Each thrower measures 6" overall
Includes nylon sheath
This Item Cannot Ship to the Following States: NY
---
You'll cause three times the stir with our three-piece ninja spike throwing knife set. These one-piece stainless steel throwing knives are double edged with piercing points for maximum target penetration with every throw. The cut-out wind holes help to provide excellent balance and improved accuracy. These throwing knives have a unique shape reminiscent of ninja spikes. A nylon sheath is included for easy transport and convenient storage options.


One-piece stainless steel construction
Cut-out wind holes
Includes nylon sheath
6" overall length
---
Customer Reviews
|
Average Rating: 3.29 out of 5
---
Poor Construction
Reviewed by William Fields on Feb 16, 2016
2 out of 5
As many others said since the price is low and they are BOGO you should know that the item is not gonna be the greatest. But even the holes drilled in the blades are ridiculous. They are misshapen and look like a child made them. Also not much weight to the item either. A gust of wind will throw them off course. I figured that the item would at least look good but as I said the holes where poorly drilled. Not an attractive item at all.
Response: We apologize for the condition of the product you received. This is unacceptable and we'd like to make it up to you. Please contact customer service at 866-246-7164 and we will refund you the purchase and shipping amount or we could send you a replacement if you'd prefer. We are truly sorry for this inconvenience. Sincerely, BUDK Customer Service
---
Don't get these
Reviewed by Shawn on Dec 14, 2014
1 out of 5
I got these knives BOGO with free shipping so I can't really complain about the price, but with thes, you get what you pay for. These knives were only sharp at the tip, and had manufacturing errors. One of the knives was so deformed, I couldn't use it. The counterweight of the knives are off, so you only hit the target about 1/10 (I'm not a beginner. I've successfully thrown knives before). The sheaths are complete garbage. The knives tear right through them and fall out the bottom. My recommendation is to get them BOGO with free shipping, or don't get them at all. There are much better sets.
---
You get what you pay for.
Reviewed by John Hanson on Nov 12, 2014
2 out of 5
I bought these as the BOGO with free shipping so I only paid $5 for 2 sets of these "Undercover Ninja 3-Piece Throwing Knives" to the door... which would be the only way I could recommend them to anyone. They are nowhere near being razor sharp as the ad claims. Actually, the only part of them that are actually somewhat sharp was just the tip, which dulled very quickly after 20 minutes of use. The quality of the 2 sets (6 knives total) that I received had very poor quality. The holes that were drilled through the handles were not cleaned up and still had burrs that would catch on everything, including the flimsy nylon sheath and the skin on my hands. A couple of the tips also had burrs remaining on them which made re-sheathing them nearly impossible due to snagging on the nylon. The laser-etched logos on them were barely still there by the time I received them and weren't legible whatsoever. You truly get what you pay for when it comes to these throwing knives. The only reason I am giving them 2 stars and not 1 is because they haven't broke yet. And because I got them on a BOGO deal with free shipping. Also, the 2 sets I received all measured out to be 6.25" overall. So if you want a set of these just to have them as "beater" throwers or for training/practice, wait for the BOGO with free shipping. That's the only way to buy them. Otherwise, it isn't worth it.
---
Good starter set
Reviewed by Chloe on Oct 27, 2014
3 out of 5
Nice set, sharp out of the box with a fine point. After a few throws, the tip does buckle and break off. At BOGO free, you can't complain. The sheath isn't much good. It needs to be reinforced on the bottom. The tips of the knives go right through the sheath. Good for the beginner.
---
Not bad, but not God either
Reviewed by Troy on Oct 10, 2014
1 out of 5
I mean, it's good for the price, but after I threw them only a few times the tips became blunt
---
good quality
Reviewed by virgil on Aug 26, 2014
4 out of 5
these are good quality blades i bought two packets and they are great throwers my only complaint is they are a little small spun too much for my taste but otherwsise great throwers for a first timer
---
Awesome Lil Throwers
Reviewed by David Knight on Apr 16, 2014
5 out of 5
These are some awesome little throwers. Been practicing a few times a week and getting better and better each time. Great price for them too.
---
amazing
Reviewed by jake on Apr 04, 2014
5 out of 5
These are amazing throwing knives! They sail right through the air and stick with ease. I think if you want knives that are easy to throw and stick,these are the way to go. Also they would be great to practice with for the undead apocalypse.
---
Good for Starters
Reviewed by J on Feb 15, 2014
3 out of 5
I picked up a set of these about two years ago as my first ever set of throwing knives. They were cheap so I wasn't expecting much, but they were still rather disappointing. The sheath is complete garbage and the knives stab straight through it (got scars on my leg to prove it) so you'll either need to reinforce the sheath or make your own. They do bend rather easily but can be fixed very easily as well with a vice and sharpening stone. They come razor sharp out of the box but dull VERY quickly. My biggest issue is that I notice, as I sit here looking at them, that every square cm of these are rusting. The stainless steel was only stainless for about 10 months. If you're looking for a cheap first set, go for it but don't expect too much.
---
FAIR BUY
Reviewed by KENZOOTAK on Dec 17, 2013
3 out of 5
THESE THROWERS ARE A GOOD BUY FOR THE PRICE. AND THEY STICK WELL TOO. HOWEVER THEY ARE MUCH TOO LIGHTWEIGHT, AND THE POINTS EASILY BEND AND BREAK OFF. BUT YOU COULD BUY SEVERAL SETS OF THESE FOR THE PRICE OF HIBBENS.
---