Skip to main content
Skip to footer
Date Published: 2016-01-08
Top Sword Predictions for 2016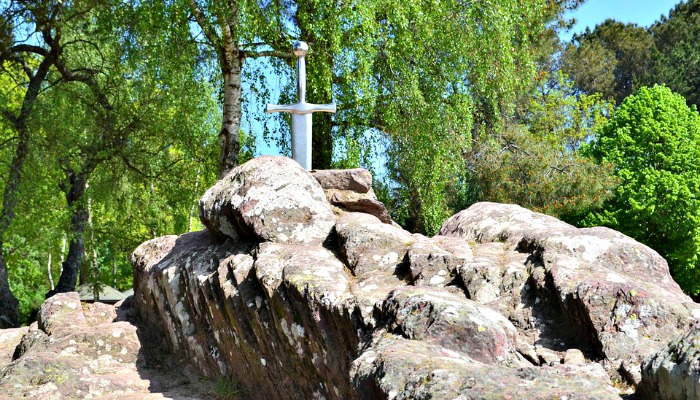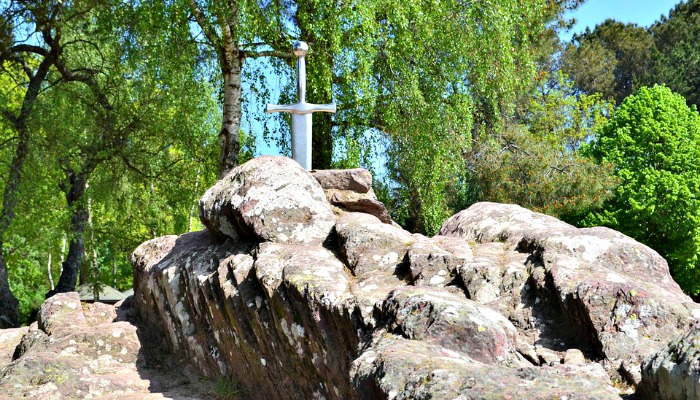 By Adelia Ladson
I've been looking around our warehouse and our website, here, at the end of the year, and it really made me excited thinking about the New Year and what it would bring. We have so many incredible swords, now, and I look forward to the new ones that will be arriving over the coming year. I get to see each and every one of them and it's like unwrapping a gift each time. There are so many different styles with a variety of shapes, sizes and color that are, not only pleasing to the eye, but awesome to try out. I am literally surrounded by a candy store of swords, so, it is virtually impossible for me to pick my favorite. However, I thought that maybe, just maybe, I could predict your favorites for this year. Let's see how I do. Here are my top sword predictions for 2016:
Kit Rae Gold Axios Sword Cane
Fantasy meets function with Axios, Kit Rae's entry into the realm of sword canes and this one is really stunning in gold. Out of the other Axios Sword Canes, I really believe that the
Kit Rae Gold Axios Sword Cane
is my favorite and I think it has a really bright future (pun completely intended) ahead of it this year. Just a push of a button at the base of the handle and a gentle lift reveals the hidden sword blade within. Forged from tempered 1045 carbon steel, the double edged blade comes sharpened and features etched scrollwork on the side to compliment the ornate L-shaped cast metal handle. This is a real beauty!
Naruto Black and White Sword
Naruto, the popular anime series, was the inspiration for this replica of the Grass Cutter, the
Naruto Fantasy Black and White Sword
. Truly, if you are a fan of this series, you will really appreciate the minute details that are apparent in this incredible reproduction. To me though, the best part is that it does have a 27 1/2" carbon steel blade that is razor-sharp and rust-resistant. So, it is totally functional, as well, as elegant. The black and white painted wooden scabbard, that sheaths this marvelous sword, bears the markings that are specific to the original.
Needle Sword of Arya Stark
The officially licensed
Needle Sword of Arya Stark
is a complete must-have for your "Game of Thrones" collection! Arya Stark is as tough as nails and her weapon of choice compliments her in every way. Just like this painstakingly crafted replica will compliment your reproduction collection. An incredibly detailed reproduction of the prop used in the popular series, this sword is individually serialized. It features a 22 1/2" stainless steel blade and a leather and antiqued brass handle. A wooden display plaque bearing the Direwolf sigil is included so that you can proudly display this hero-worthy sword.
Shinwa Battle Hero Sword
< Is there a Hero inside of you just wanting to get out? I know when I picked up the newest Shinwa sword, the
Battle Hero Sword
, it just exuded the majesty and grace that you would expect to find in a sword fit for a hero. The 27 3/4" 1045 carbon steel blade is honed to an incredible sharpness. The handle is wrapped in leather and faux rayskin with brass ornamentation. A wooden semi-gloss finished sheath compliments its elegance and a wooden stand is even included so you can proudly display this hero-worthy sword.
Night Watchman Cane
If you are looking for a practical self-defense tool that you can count on, then look no further than the
Night Watchman Self Defense Sword Cane
. Whether it's to assist you in walking or as an extra measure of self-defense, this sword cane will take care of you. It has a 25" SK5 carbon steel blade. The shaft is black, hard-coated aluminum and the handle is a sturdy fiber filled nylon. The rubber toe keeps the cane from slipping so that you will always be sure on your feet. It is 39" in overall length. Now, folks, you need to get one of these for your Granny!
Excalibur Sword with Gold Finish
From our Medieval Collection, the
Excalibur Sword with Gold Finish and Scabbard
features excellent attention to detail, a metal guard and pommel, and a mirror polished stainless steel blade. A hardwood scabbard is included with faux leather covering and polished metal accents. It is really a stunning compliment to the sword. The bright finish and size make this sword a great choice for coming of age ceremonies, stage props, weddings, or for display at your home or the office.
Combat Commander Saber Sword
You will be absolutely combat ready with the Combat Commander Saber Sword in your hands. The saber has been a tried and tested battle weapon for more than 1,000 years and I believe this one will take us through the next 1,000 years. The full-tang, 30" sharp blade is of 1050 carbon steel and has a black hard coating finish, which makes it quite impervious. The handle is fiber filled ABS with a soft textured TPR covering and is as tough as they get! A nylon sheath with a protective PVC liner lets you house it with ease. This amazing saber is 36" in overall length.
Honshu War Sword
This new edition to Honshu's exceptional sword line, the Honshu War Sword, is sleek with a modern overall look. I know it will be a favorite in the coming year. Our Honshu line always gives you the absolute best quality and look. The 21 1/4" blade is of 1065 manganese steel with a black coating. The hand guard has a satin finish and the handle is a TPR injection which gives you a secure grip when you're wielding it. Consequently, you won't want to put it down, I didn't. The sword is 30" overall and a heavy-duty sheath completes the package.
Kit Rae Luciendar Sword
A classic from the Sword of the Ancients collection returns! Truly, this is the top-of-the-line in fantasy swords and that's a no-brainer because it was designed by the master, Kit Rae. It was so popular the first time, so, we brought it back. Engraved on the hilt are sacred writings that give the wielder power to become invisible to his enemy. The sword also holds a crystal in its clawed pommel, which is said to give the user vision to detect the unseen or shadowed. Everyone should hold that kind of power in their hands!
Sokojikara Clay Tempered Katana
It just doesn't get any better than the
Sokojikara Clay Tempered Royal Blue Katana
. You are getting 28 1/3" of sheer beauty and power in a blade. The process of clay tempering this T10 carbon steel blade gives it the strength and flexibility, which is the hallmark of a high-quality sword. Through this differential hardening process, clay is used to create the difference in temperature on the edge and the spine of the blade to achieve a blade that is a masterpiece of perfection. The handle is ray skin and cord-wrapped in a soft blue. The katana is further elevated by the keen attention to detail in the iron tsuba's design and features a brass blade clip and menuki. Its perfection is completed with the royal blue lacquered wooden saya that sheaths the incredible blade. It is 41 1/3" in overall length.
Shop All Swords Here
Related Products