Medieval Warhammer Of Destruction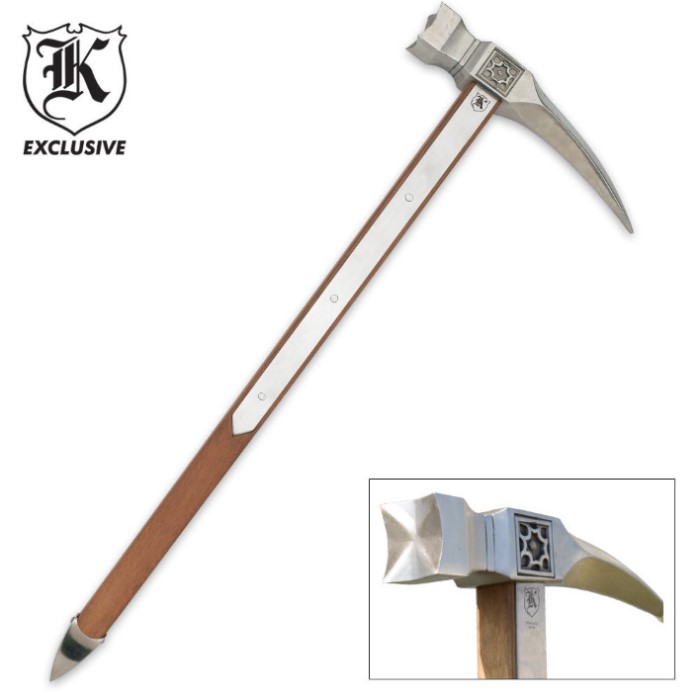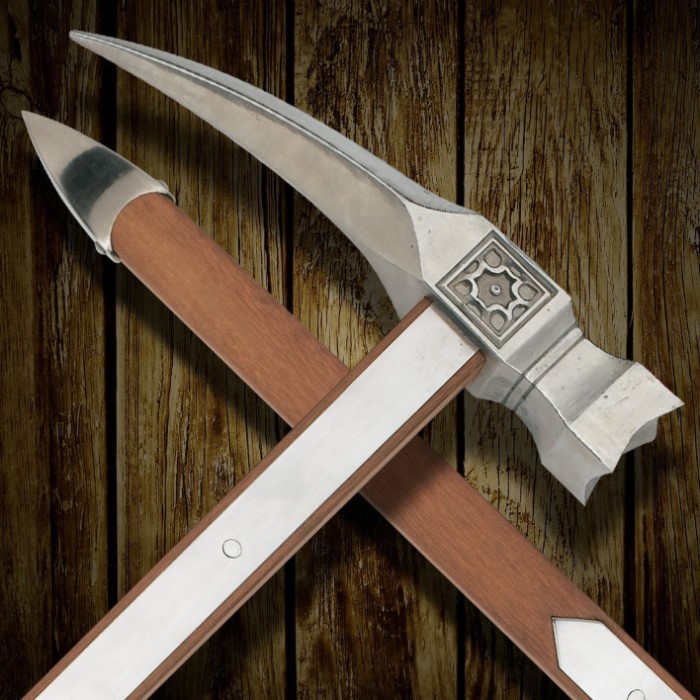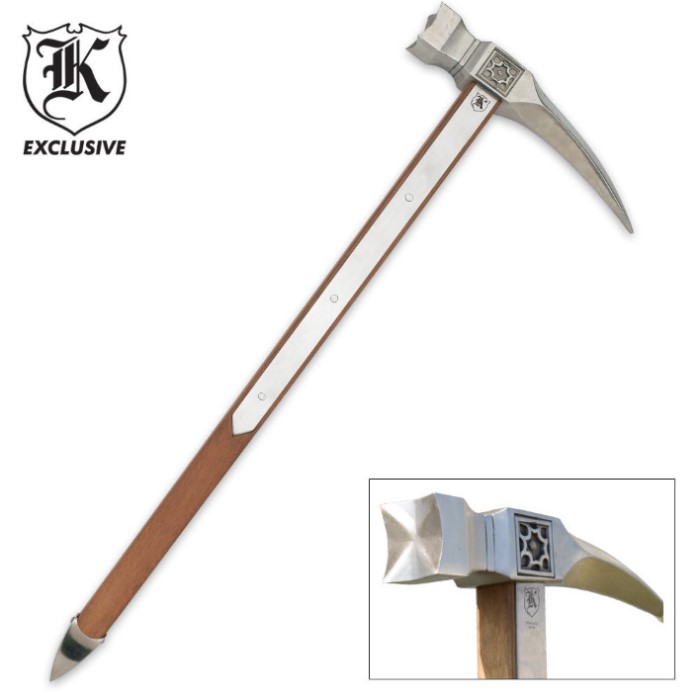 06 BK627
&nbsp
4.5
(
17
reviews)
$39.98
$49.99
Out of Stock!
Fast and Accurate Order Processing
We offer standard, 3 day express, 2 day express, and overnight express shipping options for your convenience. If you place your order Monday - Friday by 2:00 PM EST using one of our express shipping options, your order will be processed and shipped the same day it is placed!
Applies to delivery within the 48 contiguous states only.
Out of Stock Notification
---
E-Mail Address: Please Send Me Free Updates via Email


Product Is Unavailable For Purchase
Stainless steel cast hammerhead
Cast metal hardwood handle
27" overall length
---
An exact replica of the war hammer used as a dominant weapon for piercing armor in the 15th century. The solid stainless steel axe head offers piercing point and unique detailed engravings. The hardwood handle is accented with cast metal plated and carbon steel tip. Stretches 27" overall.
---
Customer Reviews
|
Average Rating: 4.53 out of 5
---
Well worth it!
Reviewed by JASON GASPER on Mar 03, 2016
5 out of 5
Bought this on a whim, used it in a Scottish "live steel" historical re-enactment group. Held up amazingly well to regular practice against stage-combat broadswords and lasted the run of the festival before taking sufficient damage to need to be retired. Considering I have had swords costing 3x as much last a fraction of the time, well worth the cost. Just ordered another for this year's performance!
---
Reviewed by James Matar on May 28, 2015
4 out of 5
Really great hammer and it came very quick. My only problem is the head is kinda wobbly on it. I've made many purchases from Trueswords but this is the first time I've seen a defect on any of the weapons. Not a big deal though I love Trueswords and will continue to purchase.
---
Reviewed by John Kevin Roberts on Nov 18, 2014
5 out of 5
This war hammer is solid! No issues with mine, and as a matter of fact it seems very well made, especially at this price. Maybe the manufacturer has improved quality control, maybe people are just more likely to review an item when there are problems. Whatever the reasons, I can highly recommend this, 5 stars! As usual, price and service at trueswords is best, bar none. I've made a dozen purchases here over the last couple of years and always come back. Whenever I've had a question I always get an immediate response.
---
worthless handle, but
Reviewed by zach on Feb 19, 2014
3 out of 5
So I must be Hercules my hammer broke almost instantly, three hits on n old stump in my yard and the handle was in pieces. The head is worthy though, I took a two foot piece of square stock and wielded them. I also tried to rivet the "lagnets" to the steel but they rattled and popped the rivets in a few hits. So as you receive the hammer it is an ornament, but with some work mine is now functional.
---
Very Good War Hammer
Reviewed by John Ion on Jan 27, 2014
4 out of 5
I purchased a pair for use in our EMAAknights curricula. Overall they are very good War Hammers. The only flaw that was apparent on arrival was that the glue that held one head on the haft was loose, causing the hammer to "rattle". This was fixed by using epoxy on the haft and riveting the head to the haft. No more rattle! Pros: Long haft Solid Steel head Buttcap spike Impressively long and dangerous looking beak. Hammer gives solid strikes and feels good in the hand (gloved or bare - but use gloves). Cons: Langets are not attacked to head. Head and langets are pinned to the haft (not riveted - BUT this can easily be corrected and I have not had an issue with the langets coming loose.) Haft is made of lighter weight wood than I had expected ,but I do not know what kind.(So far it has held up to use.) Beak is longer than most war hammers. This is not an issue for me, just be careful. I give this weapon 4 Stars because it is a decently made weapon. It performs better than I would have expected and is not just a display piece on my wall. I've personally used this in my medieval arms classes. For the price it is a steal as well as a bargain.
---
Best thing at budk
Reviewed by Eric on Jan 09, 2014
5 out of 5
This was a great surprise, I had low expectations but was very happy with this product. Very heavy duty. I would use this on any intruder instead of the many guns I own.
---
Medieval War Hammer
Reviewed by John D on May 04, 2013
5 out of 5
Firstly, I'm not sure why this weapon is not categorized with the rest of the Medieval Weapons. I found it by accident. Aside from that, this is an excellent product! I used the spiked end on two layers of heavier gauge sheet metal, it penetrated up to the handle with no problem!!!
---
Reviewed by Devin MacPherson on Nov 18, 2011
4 out of 5
Definitely a good buy. The one complaint i have is that its butt cap is really loose
---
Reviewed by Meg Morse on Aug 05, 2011
5 out of 5
boght this for a friend birthday and was amzingly impressed. despite it not being brand name and some minor issues it fixed up amazingly nicely.
the key problems were:
the head was a little loose( but on closer inspection it is in fact held in place into the wood by a metal pin, so loosenes is merely an annoyance)
the "support strips" that run down the sides for strength were a little loose also
the but cap was loose and wobbled
the wood handle was poorly sanded and uncomfortable in the hand due to the fact that its SQUARE.
BUT ALAS!
i fixed each and every one of these problems easily, all that i did was used loads of superglue on the head to stop it from noticeably moving, same with the support strips and the butcap.
now the handle was a little tricky to figure out, what i ended up doing was i sanded it with a 500 sandpaper for a while untill it was nice and smooth and felt good in the hand, then i heavily oiled the whole thing, wood and all, wiped the oil off and there it was, a beutiful, deadly weapon that my friend now calls "the can opener" , due to what it would do to armor.
---
feeling of power
Reviewed by danny mazzoni on Feb 09, 2011
5 out of 5
I was extremely impressed with the quality of this product. When you hold it in your hands it feels like a functional weapon. It seems sturdy as well as durable. One of the best in my collection.
---