Shinwa Regal Makaku Wakizashi / Samurai Sword - Hand Forged Damascus Steel - Custom Cast Macaque Monkey Tree Tsuba - Genuine Ray Skin; Hand Lacquered Saya - Fully Functional, Battle Ready, Full Tang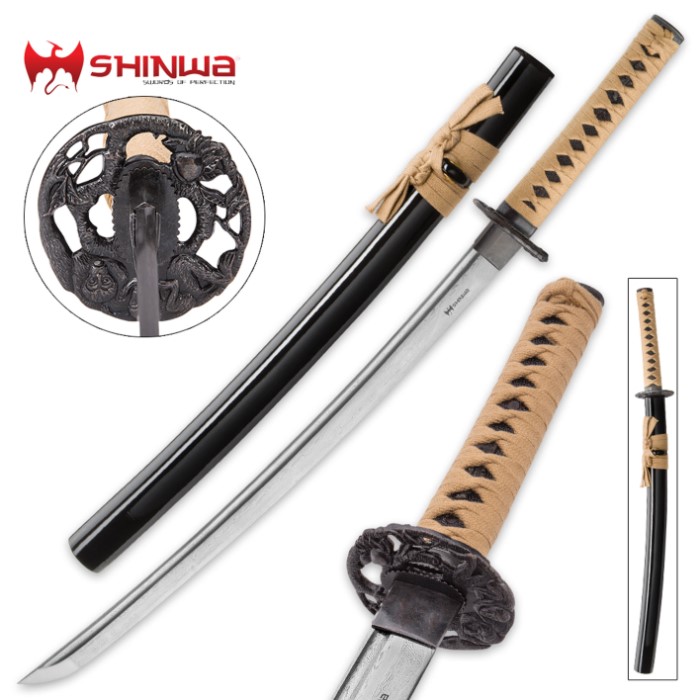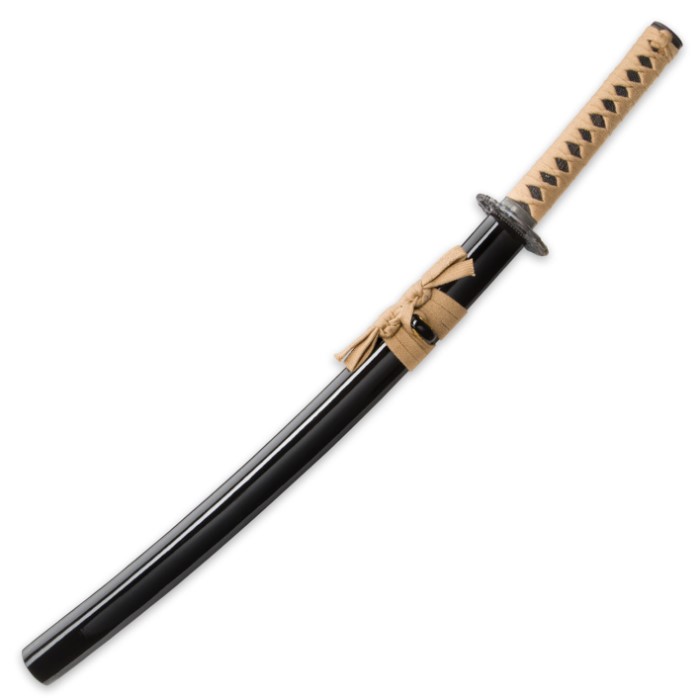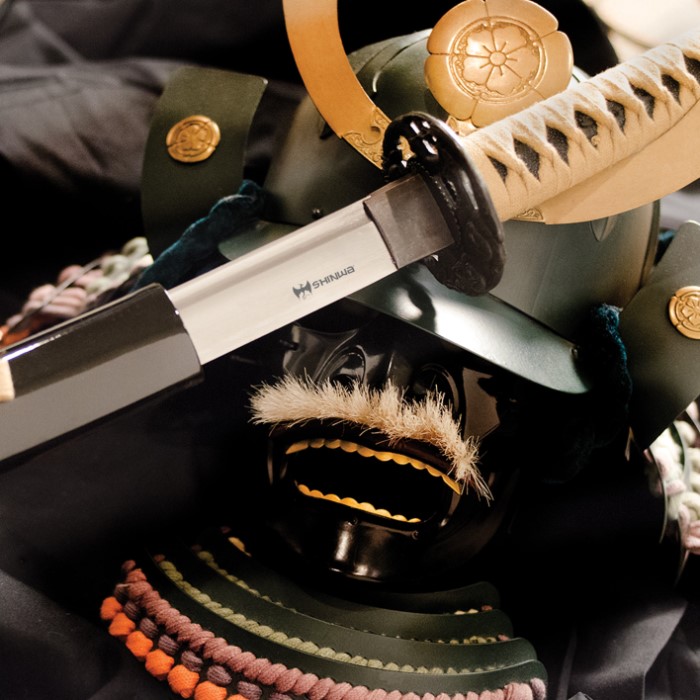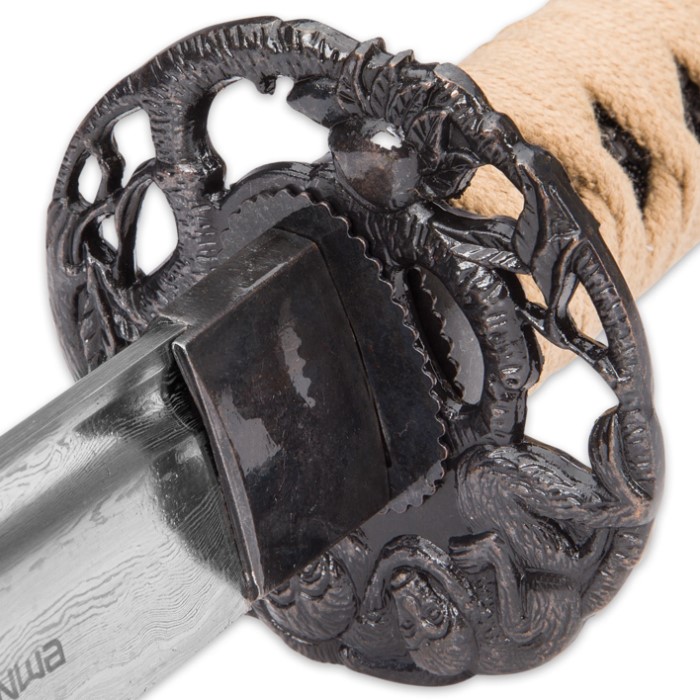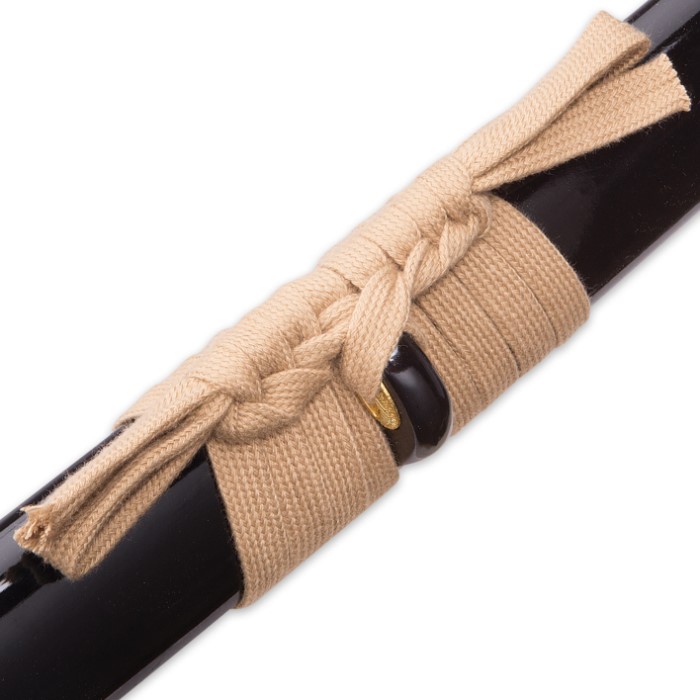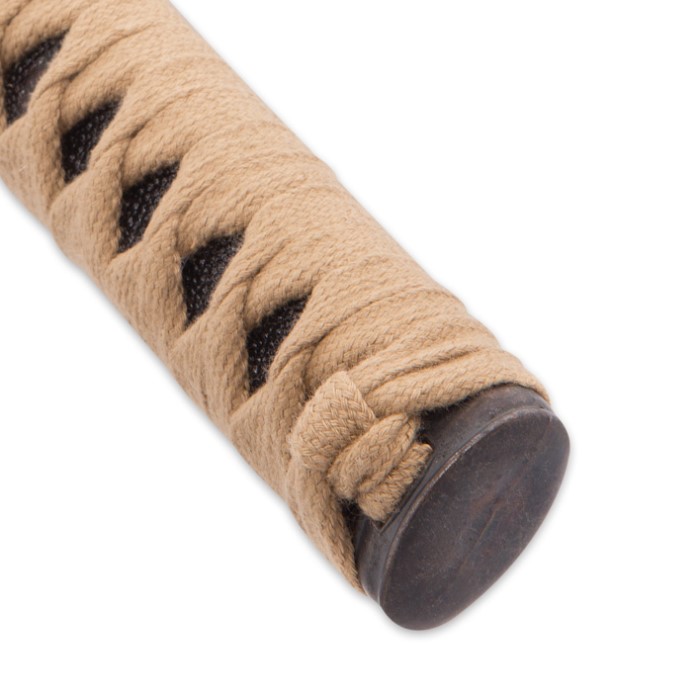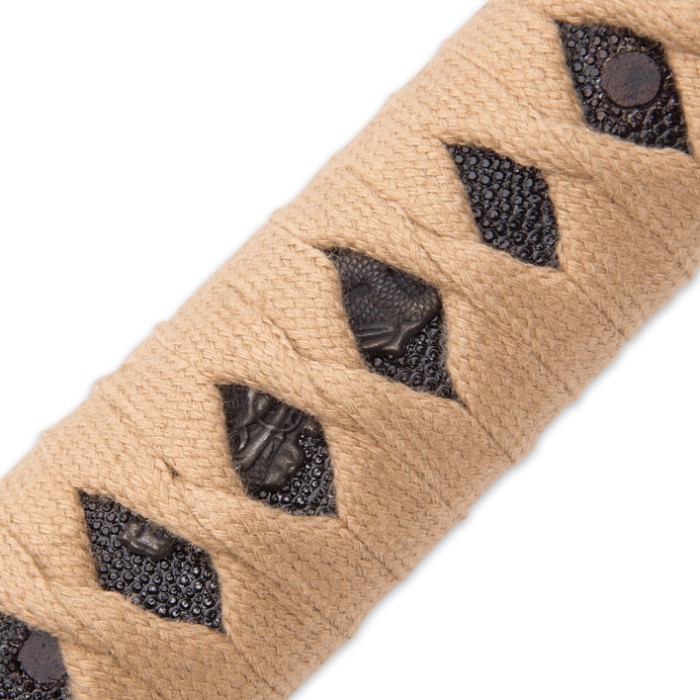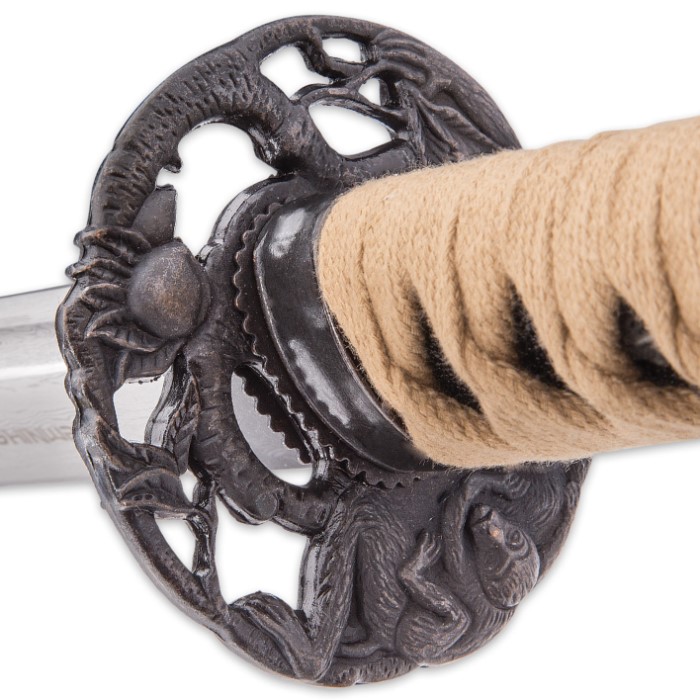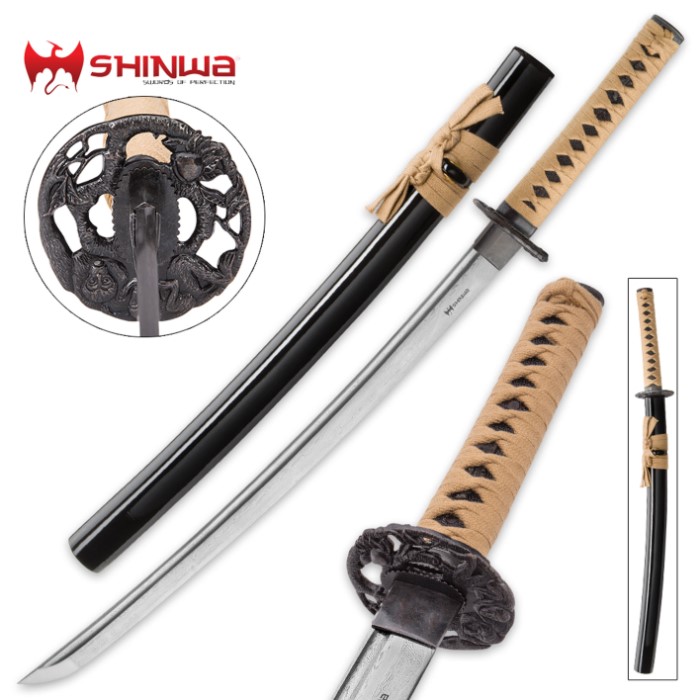 46 KZ6202DTM
&nbsp
4.7
(
10
reviews)
$62.98
$89.99
Out of Stock!
Fast and Accurate Order Processing
We offer standard, 3 day express, 2 day express, and overnight express shipping options for your convenience. If you place your order Monday - Friday by 2:00 PM EST using one of our express shipping options, your order will be processed and shipped the same day it is placed!
Applies to delivery within the 48 contiguous states only.
Out of Stock Notification
---
E-Mail Address: Please Send Me Free Updates via Email


Product Is Unavailable For Purchase
Genuine masterpiece of traditional Japanese swordcraft, handmade by seasoned artisans with meticulous attention to detail
Hand-forged full tang 21" Damascus steel blade boasts both beauty and brawn; impossibly sharp edge, tough spine; display-worthy allure, yet powerful enough for any real-world cutting task
Master swordsmiths painstakingly and repeatedly fire, fold, hammer-weld two high carbon steel varieties to yield Damascus steel's breathtaking layering; acid etching highlights vivid contrasts
Handcrafted tsuka cloaked in delicately textured genuine ray skin same and soft tan ito; traditional wooden mekugi provides stability, classic touch
Flawlessly cast tsuba, kashira, menuki - tsuba features ornate three dimension macaque-in-tree; menuki a scaly dragon motif; all three bathed in a rich dark glazed patina
Coordinating black hardwood scabbard gingerly hand-lacquered, polished to stately gloss; offset with tan sageo that matches like-colored tsuka ito; also includes fine wooden presentation box
Overall length: 29 1/4" - ideally sized for covert operations and fast-paced combat
---
Inspired by revered Japanese macaque, the Regal Makaku will inspire you
Shinwa's "Regal Makaku" Wakizashi pays homage to Japan's revered macaque – or "makaku" – a revered, mystical, "regal" mokey and a central figure of traditional Japanese myth and folklore. The "Makaku's" impeccably cast custom tsuba is adorned with two of these stately simians, their hands clutching the branches of a Japanese plum tree. With their haunting, near-hypnotic gazes, the exquisitely detailed macaques possess a certain cryptic, almost enchanting aura, while the rustic, leafy tree branches on which they're perched impart a sense of earthy charm to the sword's clean, tastefully simple overall aesthetic design. The level of detail present in the tsuba is nothing short of breathtaking, it's beauty rivaled only by the Regal Makaku's stunningly figured tanto blade.

History, time honored tradition preserved in carbon steel
Hand forged from Damascus steel, the Regal Makaku's bewitching blade is a tumultuous sea of contrasting lines, waves, swirls and other mesmerizing patterns. For all its wondrous visual allure, the blade is also amply formidable, thanks in no small part to the painstaking technique by which it's forged. Each line is a distinct variety of steel - hammer welded and hand folded repeatedly to yield the more than 1,000 layers in each Makaku blade. Though its earliest history is shadowy and little-known, the unique Damascus metalsmithing technique is at least many centuries old and possibly well over a millennium. Today, as in ages long past, it's still painstakingly performed by seasoned hands – no automation, no mechanization.

Made of blood, sweat, tears and legendary Damascus steel
To make each Regal Makaku blade, a Shinwa master swordsmith fires a stack of steel blanks - each piece a different alloy - in a white-hot forge until the metal glows red hot. He then removes the stack and hammers it until it's around half as thick as the original. Then he folds the metal onto itself lengthwise and hammers each half together. The process is meticulously repeated – hundreds of times in some cases – until the desired layering effect is achieved, at which point a final quenching strengthens the resulting blade blank and an acid etching highlights vivid contrasts in the layers. And the slow, laborious process itself it just the beginning!

Swordcraft artistry only seasoned hands could produce
In order to achieve sufficiently dramatic contrasts, Shinwa's master smiths must expertly select an appropriate combination of steel alloys of varying color, luminescence and other visual qualities. For the sake of strength, resilience and countless additional blade factors, the smiths must also must consider each alloy's distinct melting point, proper stacking order, forge temperature and myriad other variables. Simply put, an unbelievable quantity of blood, sweat and tears goes into every Regal Makaku blade. Furthermore, like a steel snowflake or fingerprint, the patterning on no two is exactly alike.

Beauty beyond the blade
Few - if any - Damascus swords at this price point can match the Regal Makakus's formidable cutting clout. But like all Shinwa swords, the Makaku is every bit as much a "beauty" as it is a "beast." A vicious wild animal adorned in the trappings of royalty, the Regal Makaku dons all the aesthetic hallmarks that make traditional Japanese cutlery so visually appealing – hardwood tsuba cloaked in genuine ray skin same and embellished with classic braided ito; brass habaki; ornate menuki, fuchi and tsuba; and a hand lacquered, sageo accented saya to protect the fine Damascus steel blade.

Built to be treasured generation after generation
Whether for tameshigiri, display or collecting, Shinwa's Regal Makaku Wakizashi is up to the task, with performance that can go toe-to-toe with many far more expensive swords. It has everything the serious swordsman and/or collector looks for in a top-shelf Wakizashi, but you won't pay close to "top-shelf" prices for this exceptional handmade Damascus steel masterwork! The Regal Makaku represents one of the best values on the fine sword market, and once you wield it once, you'll never want to put it down. Like the fabled, revered Japanese macaque, the eponymous Regal Makaku sword deserves a place of high honor and esteem in your collection; it's an heirloom quality piece built to be enjoyed generation after generation – your legacy preserved in hand forged Damascus steel.

---
Customer Reviews
|
Average Rating: 4.70 out of 5
---
Hmmm.
Reviewed by on Feb 20, 2018
3 out of 5
First off ill just say that the blade is verry well balanced and cuts well. It isnt exeptionally sharp or strait but the over all geometry makes up for it. Right out ouf the vox the kissaki was well formed but extreamly blunt. Like wasnt even polished to an edge. This was easily remedied with some sharpening. Over all it is a good blade but i wouldnt call it top shelf either.
---
Sweet!
Reviewed by Ivan Duran on Feb 17, 2018
5 out of 5
I have the katana so I had to get the matching wakizashi. Looks great. Feels great. Nice and sharp. Straight. Comes in a nice wine red storage box. Thanks Budk!
---
AWESOME
Reviewed by on Dec 29, 2016
5 out of 5
I LOVE THIS ITEM
---
Gorgeous!
Reviewed by Michael Hackett on Oct 29, 2016
5 out of 5
I wasn't sure what to expect from my first "real" sword order from True Swords. This one is as beautiful as I had hoped - I'll be using it in book cover images for my upcoming vigilante novella series. But holding it feels so right - the balance is wonderful, and when it swings, it sings. I couldn't be happier about having this beauty in my new collection of blades. A lovely Wakizashi.
---
Truly a work of art.
Reviewed by on Oct 25, 2016
5 out of 5
If you were looking for a good samurai sword you found one. I was not disappointed with the functionality or workmanship of the sword. I mostly use mine to cut milk cartons filed with water. I recommend only using it on moist substances I'm not sure how well it works on dry substances. Awesome sword thanks budk!!!
---
Superior
Reviewed by Robert Gallant on Oct 14, 2016
5 out of 5
Not over joyed at delivery. Took 10 working days. Now to the good stuff. This blade is sharper and better quality than any of my other blades. This includes my $940 Thaitsuku.
---
Great Sword
Reviewed by Shelley Gibson on Oct 05, 2016
5 out of 5
This well balanced Samurai Sword, came to me last week, and I began to study up on Wakizashi... I'm impressed by the craftsmanship... The blade was not sharped at the end tip) of the blade, other than that, the blade is a steal... As soon as the price goes down alittle, I'm buying another one...
---
Awesome Wakazashi!!
Reviewed by Skyler Polk on Aug 18, 2016
5 out of 5
Please read this before buying!!! This is NOT A katana. It is a wakazashi which is a short katana. Now, that we ahve clarified that. This was a great sword. Real demascus steel that was very sharp. Only complaint i had was the blade near the point of the wakazashi was not at all sharpened and has where it was not worked out at all.nothing a little bit on a whetstone wont work out. It comes in a very nice wooden presentation box that has red and black silk dragons on it with latches. The inside will be yellow silk and there lies your new wakazashi. Mine came very sharp and other than the true swords famous " muck on the blade" it was great.
---
Sturdy and functional
Reviewed by on Jul 12, 2016
5 out of 5
I received this item today and in only two working days, thanks True Swords! Not a bad piece for the money. I did think it could have been a bit sharper, but after ten minutes with my hand sharpener brought the edge in shape. All fitting were tight to include the Saya with no blade rattling when the blade is in the scabbard. The Damascus was quite nice and made for an attractive appearance. My only negative comment was the last inch or so of the blade was not sharp and needed more work than the rest of the blade, however I couldn't justify marking down the overall rating on this sword.
---
Overall Good Piece
Reviewed by on Jan 06, 2016
4 out of 5
This was my 10th sword from TS. With my initial reception of this Wakizashi, I was very pleased with the look and sharpness. However, when you held it upright and moved it side to side, somewhere in the Tsuka was a metallic ringing sound much like the old metal triangles used to call people to dinner. The dual mekugis were in tight and everything seemed solid, but… In true TS fashion a call to customer service had a return shipping label emailed to me in rapid fashion. I returned it for a replacement. The replacement arrived today. This time there was no ringing. All pieces were tight. The blade came a bit dirty and it was not honed at all. It took more than the usual whetstone work to put a respectable edge to it. The Damascus blade has a nice pattern. The overall weight and balance are very nice. The Tsuka is wrapped well and the Tsuba has some unique looking monkeys. Those are the positives. The negatives, if I would call them that, are minor…at least for me. Upon arrival and unboxing the decorative storage/display box was well done and it did come with the black cloth storage bag which was folded neatly inside the box. The Saya was pretty dirty. That poor black scabbard looked as if someone had gotten it wet in a dusty place and then let it air dry. There was a spotted layer of dirt all over it. Now, it cleaned up quickly with a damp paper towel and is glistening in the light as one would expect, but I am surprised it shipped that way considering the Sageo and Ito were pristine. And staying with the Saya; it is loose. The blade rattles inside and there is only the slightest snug fit between the Habaki and Koiguchi. When held upside down, the blade does not slip out unless you give it a slight shake. If my first one had not rung like a bell, I would rate this at the full 5-stars. The replacement is a 4-star for the reasons stated above. Is it still worth the price? I'd say so. Once I got the edge right, it cut just as well as my other pieces and it looks great in the stand along with them. I have other Shinwa swords and I find them to be hit or miss. I have some very nice ones straight away and others that had to be replaced. If you are looking for a nice Wakizashi at a reasonable price, I would recommend this one. Pick it up when there is a sale going on and it is an even better value.
---