Skip to main content
Skip to footer
Date Published: 2015-11-01
Top Five Gift Ideas for Sword Lovers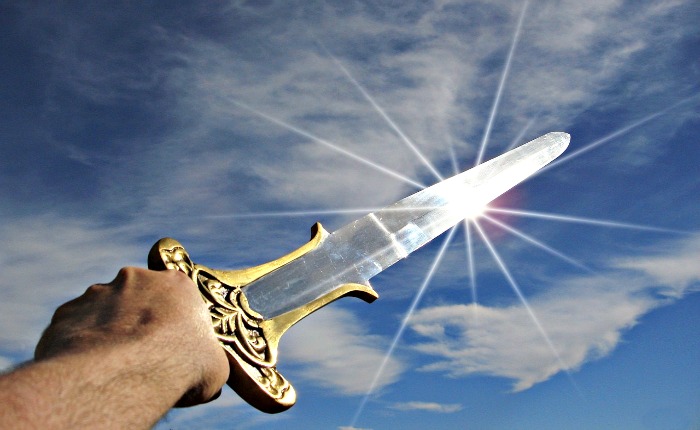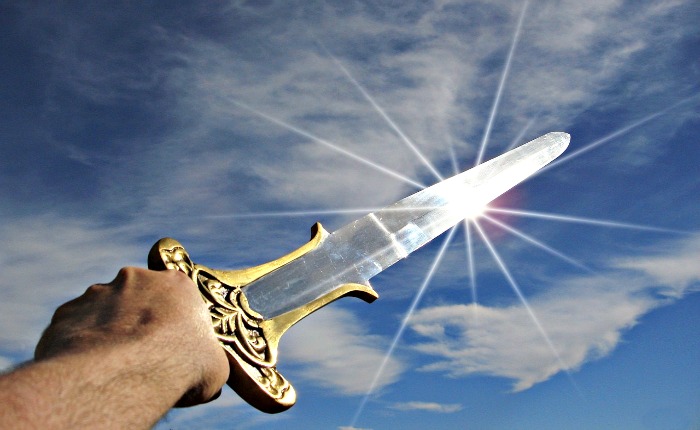 By Adelia Ladson
With the holidays approaching it's time to start thinking about gifts. You want to get that perfect present for each of your loved ones and friends. If you have a sword lover in your family, let us make it simple for you. I guarantee you will find the perfect gift, here, at True Swords. Here are a few suggestions to get you started.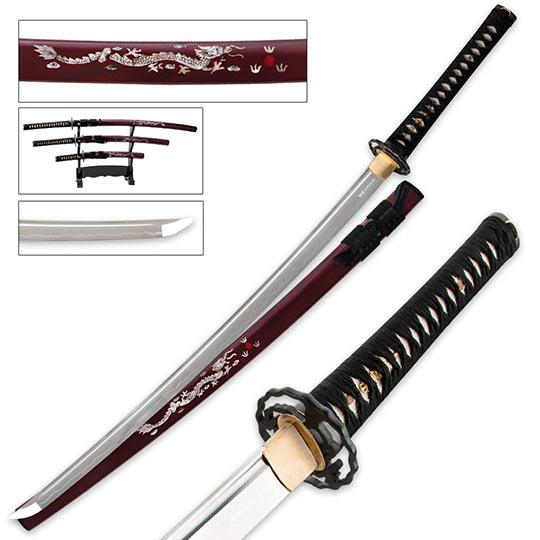 This is an exquisite sword set.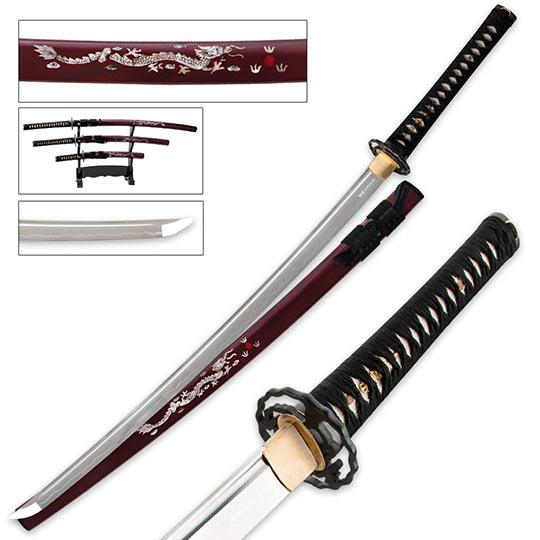 This is an exquisite sword set.
If your sword lover is a connoisseur of Samurai Swords, then, the Shinwa Three-Piece Samurai Sword Set is a stunning and elegant choice. From their inlaid mother-of-pearl dragon designs on their scabbards to their hand-forged, full-tang carbons steel blades, these traditional Samurai swords are exquisite. This set includes a katana, wakizashi and tanto. A three-tiered hardwood display stand completes this incredible gift package.


And speaking of display stands, a great, easy no-brainer gift for any sword lover is always going to be a display stand. If you don't feel secure getting them a sword because you're not sure which one they will like, then a display stand like the
Samurai 16 Sword Display
is your go-to gift. This is the ultimate because it is designed to hold 16 swords and is made of sturdy hardwood. A cast metal medallion depicting a Samurai warrior accents this sleek display, which stands 42" tall.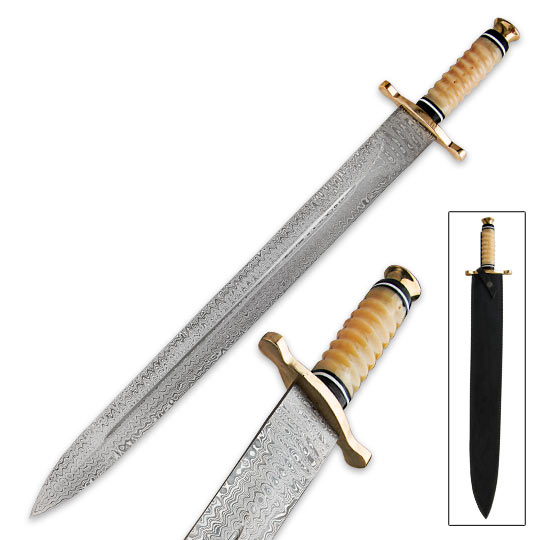 This bone-handled sword is striking.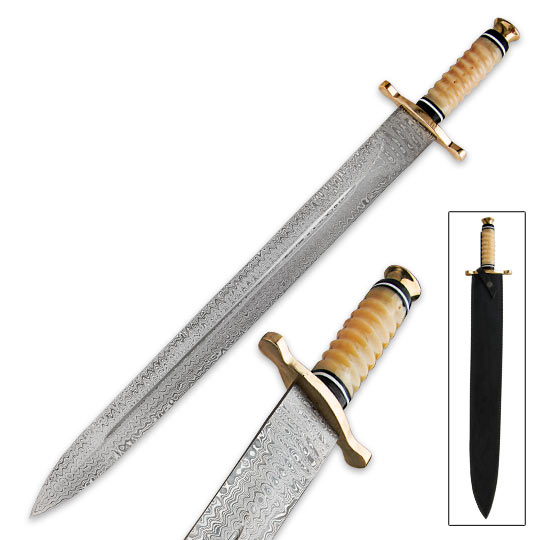 This bone-handled sword is striking.
Sword lovers are as varied as the swords they choose to collect. The Massive Premium Bone Handle Damascus Sword would please any historical sword enthusiast. Inspired by ancient times, this ornate sword features a Damascus steel blade and a genuine bone handle. The inlaid rosewood spacers in the hilt and the solid brass guard and pommel make this sword an elegant tribute to the art of sword-smithy. This sword is 28 3/4" in overall length and comes in a leather sheath.
Another great gift option is the
Shinwa Traditional Sword Cleaning Kit
. It has everything necessary for your sword enthusiast to clean and maintain his favorite swords. All of the tools area contained in a handsome wooden box. Included in this kit is a brass awl and hammer, rice paper, powder ball, choi oil and a plastic container to store oiled cloth. Every sword collector knows that it is important to maintain their precious swords. The Shinwa Cleaning Kit just makes it that much easier.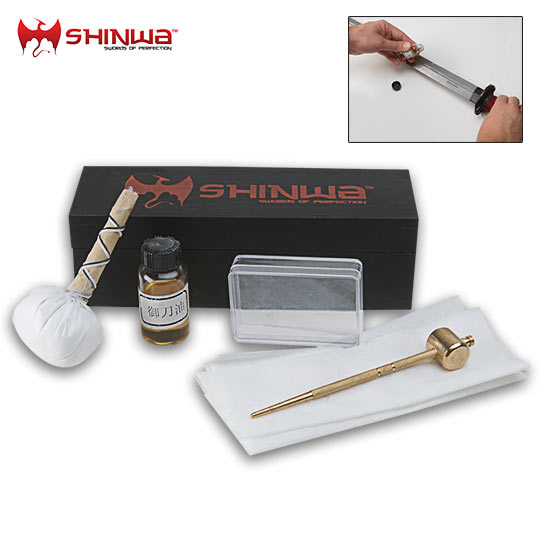 Every sword collector needs one of these.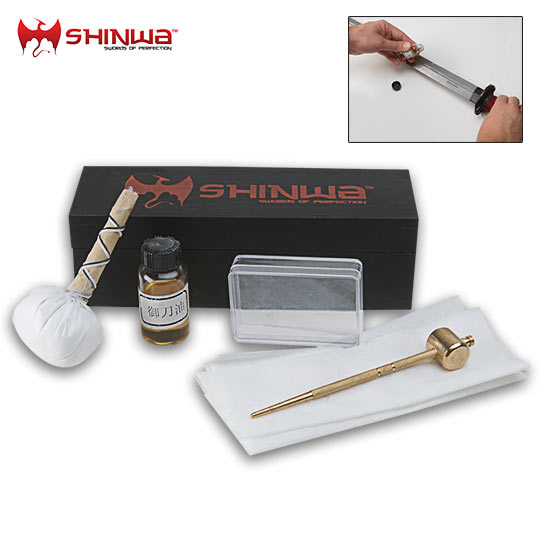 Every sword collector needs one of these.
What I like about this gift idea is that it can be used outside the realm of sword collection, as well. The
Accusharp Sword Sharpener
is really the standard when it comes to the easy and most effective way to keep a sword nice and sharp. However, the added benefit is that, of course, it works on all bladed instruments and tools. It's like the gift that keeps on giving. This sharpener has a large ergonomic handle that fits either hand. The sharpening blades are of diamond-honed tungsten carbide that will provide years of use. Honestly, you just can't go wrong with this gift.
Shop All Swords Here
Related Products