Skip to main content
Skip to footer
Date Published: 2015-04-08
Why Own a Handmade Sword: Benefits of Hand Crafted Weapons
Sure, we love swords! We love playing with them, cutting stuff up, and plain old putting them up on the display shelf. Through movies and TV shows, we have seen hero-brandishing swords in epic duels carried out in spectacular fashion. These scenes have continued to become increasingly popular, creating a massive following of enthusiastic fans who can't seem to get enough sword action. One particular movie sword-wielding hero took his popularity a notch higher, clinching the seat of Governor of California! See, there are sword lovers in high places!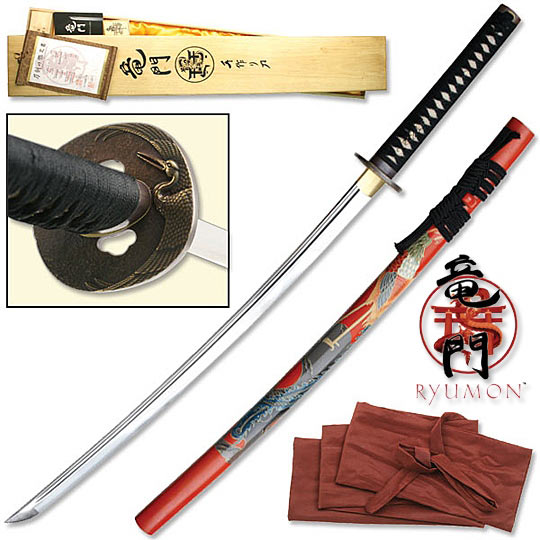 Aesthetic patterns and special touches give you a beautiful sword like the Phoenix.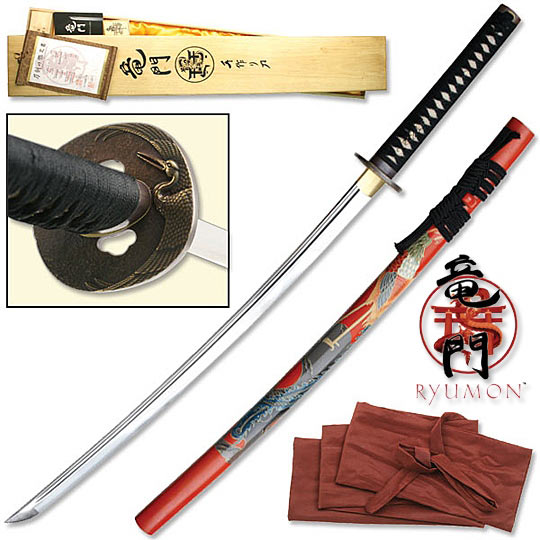 Aesthetic patterns and special touches give you a beautiful sword like the Phoenix.
Heroes aside, a lot of time and energy is spent in forging handcrafted swords. Today you are bound to find a lot of cheap knock-offs and replicas that are not quite up to our standards. An experienced sword collector can easily tell the difference between a sword that is carefully and meticulously handcrafted and one that is not. Here are some of the reasons that every collector you should own a handmade sword.


Technique
The art of Swordsmithing requires a lot of physical and mental energy to deliver the perfect sword. It may even take weeks, months or years to complete the carving, forging and finishing stages of top-quality handmade swords. Forging a battle-ready, functional blade can only be achieved successfully by a master sword smith. Steel forging at high temperatures refines the structure of the steel, and hammering the steel gives the sword smith the ability to shape the blade while increasing its toughness and refining the grain structure. Japanese wet stones are then used for hand sharpening and polishing the blade before finely honing its edge. The traditional art of folding steel greatly eliminates impurities, creating a strong and solid blade that will deliver superior performance year after year. Damascus steel is especially great as it is made of several quality layers of steel, resulting in mesmerizing forging patterns and a distinct, one-of-a-kind look and feel with each blade.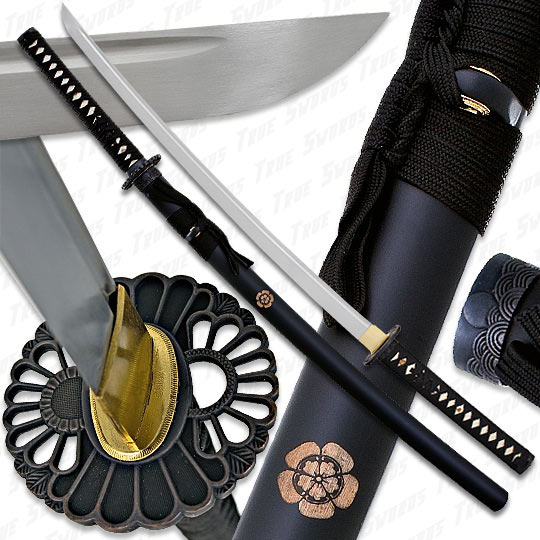 Forging a battle-ready, functional blade is achieved by a master sword smith.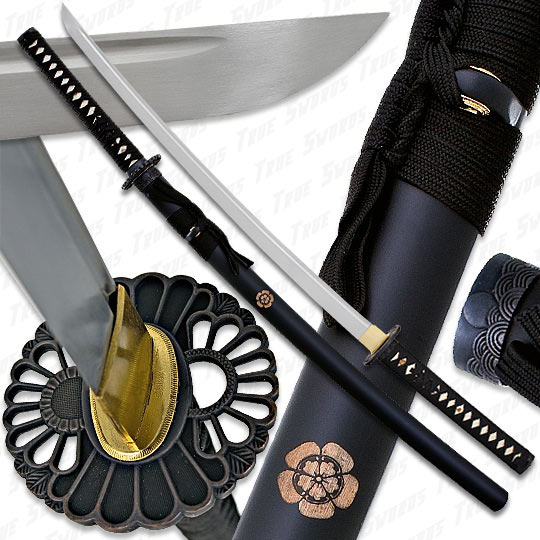 Forging a battle-ready, functional blade is achieved by a master sword smith.
Tough Blades
Many of our customized blades feature high-performance, fully functional designs combined with a truly impressive aesthetic presence. We like to see rock-solid, razor-sharp blades complemented by attractive finishes and accents you just don't get with machine-blanked imitations. Forging these blades by hand allows the sword smith to oversee the attention to fine details and deliver a blade that is not only powerful, but also impressive to behold and stunning to look at. Handcrafted swords often differ in shape, balance, curvature and proportion. The blade's shape, weight and size determine the swordsman's agility with the sword and ability to move quickly at different angles. Smiths often choose from a variety of high-quality carbon steel, Damascus steel, tempered stainless steel and many other modern steel alloys.

Damascus steel swords such as those from Shinwa are hand forged and sharpened using ancient artisan techniques to create a truly impressive, functional work of art with each production piece. These premium Damascus steel swords are truly among the best around, and each one has the look and feel of a custom-commissioned piece without the excessive price tag.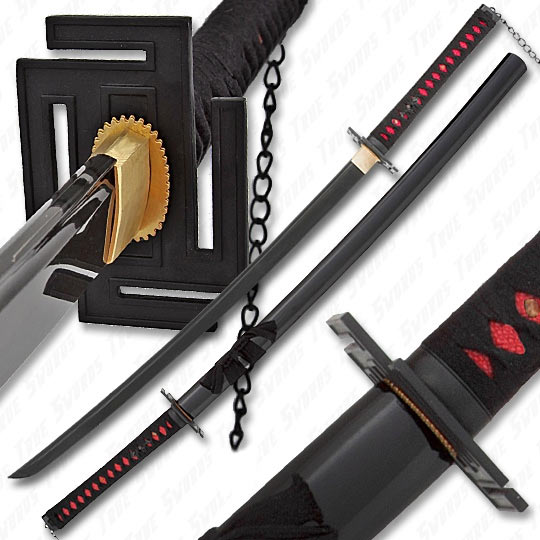 Rock-solid, razor-sharp blades complemented by attractive finishes make a sword stand out.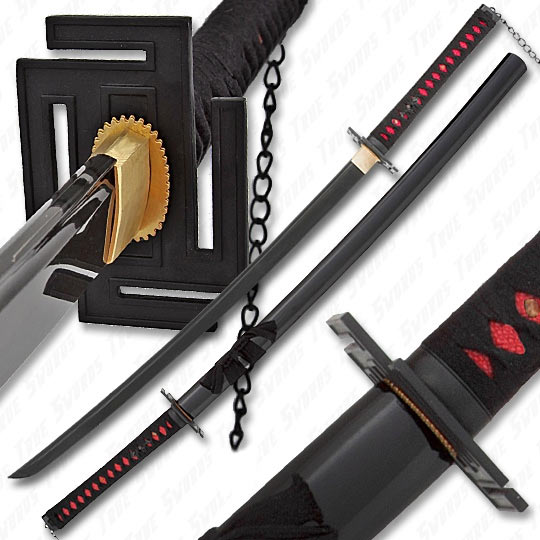 Rock-solid, razor-sharp blades complemented by attractive finishes make a sword stand out.
Customization
Make your sword your own by making a unique imprint on it. Handcrafted swords can be forged to have your name, initials or special symbol engraved. Aesthetic patterns and special touches can be added to custom-designed hand-forged swords, allowing you to have a true one-of-a-kind sword. Art and symbolism help attach special meaning to your sword. You can be creative with these special details! Honor your family by having a family name, crest or coat of arms added to your blade. You can also experiment with different accents and embellishments by customizing your tsuka (handle) with ray skin, cords, silk, etc. Other fine accents often include brass elements such as a habaki (blade sleeve), menuki (handle ornament) and kashira (pommel). Different finishes like high-polish, antique or even oxidized add lots of character and charm to your handmade sword and distinguish it further.


Symbolic Meaning
A specially handcrafted sword speaks to the unique character of the owner. In ancient Japanese culture, only the bravest samurai warriors could possess a customized sword. The swords had to go through a long, painstaking smithing process to ensure the sword befits the owner.

Swords have always held a special mystic significance in Japanese culture. They are a symbol of respect and acknowledgement of one's status as a warrior. Samurai warriors played the role of protectors, serving the whole community. Samurai warriors strictly lived through a code of honor known as the Bushido code, and would have gladly chosen death before dishonor.

The ancient handcrafting tradition continues today. Generations of swordsmiths have been taught the ancient art along with the special meaning attached to the craft. Today owning a handcrafted sword bestows you with great honor just like it did the swordsmen of centuries ago. Each one symbolizes centuries of time-honored traditions and perpetuates the honorable, differentiated status of possessing a handmade sword.
Shop All Swords Here
Related Products