Skip to main content
Skip to footer
Date Published: 2015-05-13
How to Clean a Samurai Sword
By Adelia Ladson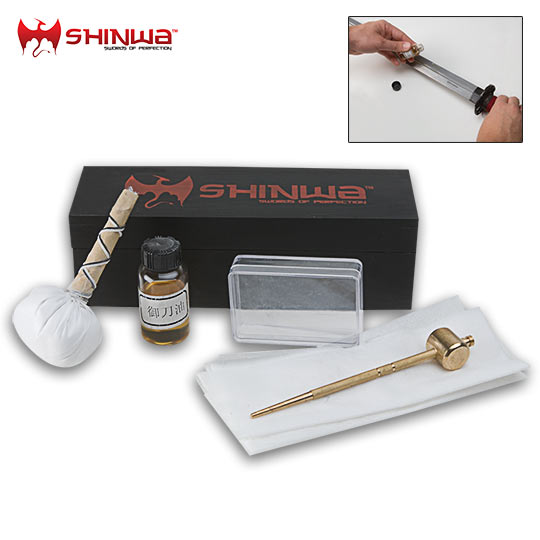 This is a complete sword cleaning kit.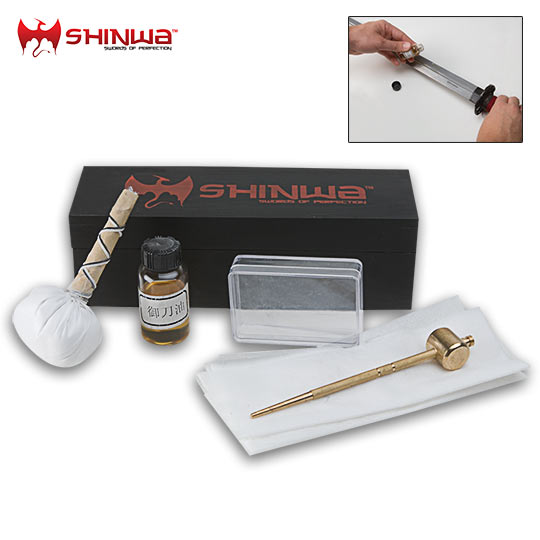 This is a complete sword cleaning kit.
If you have invested your time and money in choosing and purchasing the beautiful
Samurai Sword
, of your dreams, the first thing I know that you're going to want to do is learn how to properly maintain and take care of it.
Here is a step-by-step guide on how to do a routine cleaning of your sword. No dismantling is necessary:
I suggest that you use the
Traditional Sword Cleaning Kit
by Shinwa, because everything you need is in it in a nice storage box. So, once you have your kit, open it and lay out everything, including your sword, on a clean, flat surface.
The items you will find in your kit are:
Brass awl and hammer to easily dismantle your sword.
Rice paper for cleaning oil from the blade, polishing and spreading oil on the blade.
An extra, large uchiko (powder ball), the pad contains non-abrasive powder that absorbs extra cleaning oil.
Bottle of choji oil, to prevent rusting.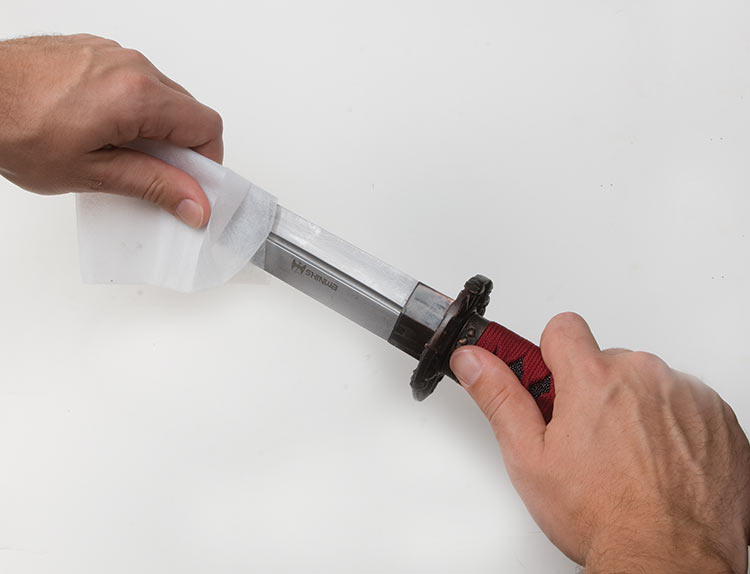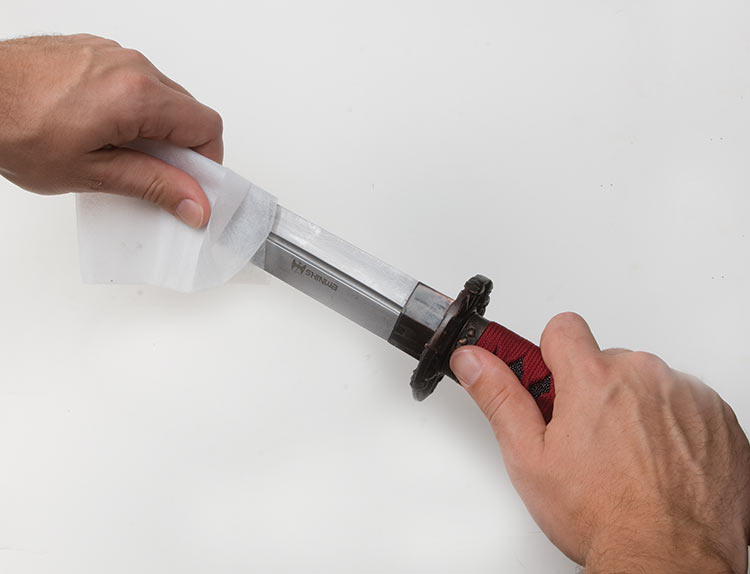 Removing Oil
Using a sheet of the rice paper, remove any oil that is still on the blade from previous maintenance. Grasp the sword firmly by its handle with the edge pointed away from you. This is not a race so work slowly and carefully to avoid cutting yourself. Important: You may also use a soft cotton cloth as a substitution for rice paper.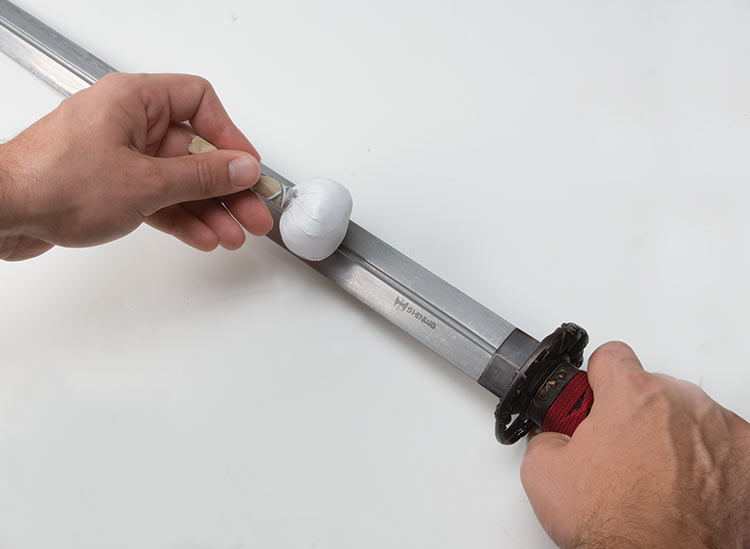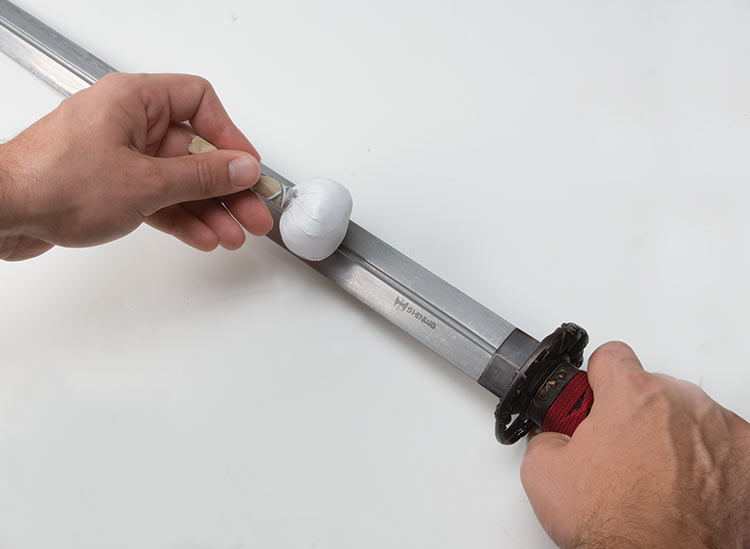 Polishing Blade
Take the powder ball and tap it lightly against the blade about every two inches or so along its length. In this way, dust the blade lightly with the powder. You may have to tap the ball against the blade a couple of times to start the powder flow through the cloth of the ball. Take a fresh piece of the rice paper and carefully rub the powder over the blade to polish it. Do this until both sides of the blade have been polished and the powder completely removed. Important:Do not inhale the powder.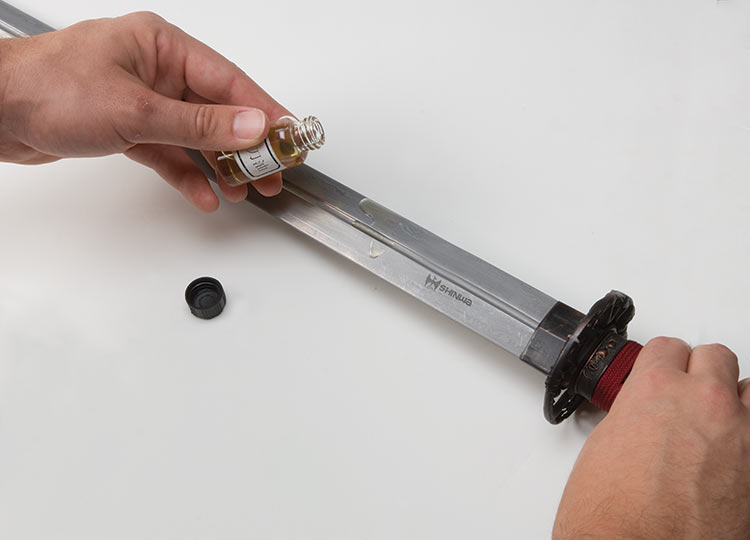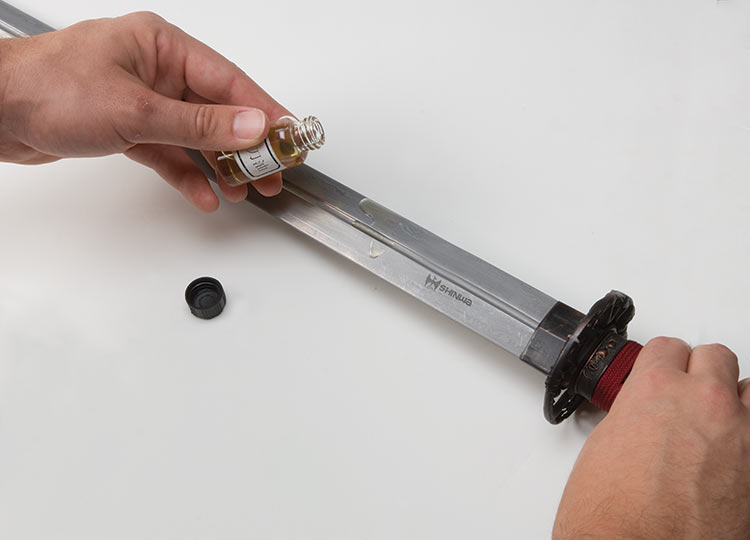 Oiling Blade
Now, take your bottle of oil and apply a few drops along the length of the blade on each side. Use a fresh piece of rice paper to spread the oil evenly on the blade. Important: Do not touch the blade again before resheathing it in your scabbard.
It is important to realize that since a katana is made out of metal, it has the inclination to want to rust. You can help prevent this by vigilantly caring for your sword. When you touch the blade of your sword, your fingers will leave oils and salts, so, really, it's just best not to touch the blade. Afterall, it has a handle. If you do touch the blade, wipe it with a clean, cotton cloth to remove your fingerprints. If you do find a rust spot, it can be taken care of. Here is a link to a very good article about that: Sword Care

If you take care of your Samurai Sword, it will take care of you.
Shop All Japanese Katana Here
Related Products