Scorpion Stinger Twin Sword Set w/ Back Sheath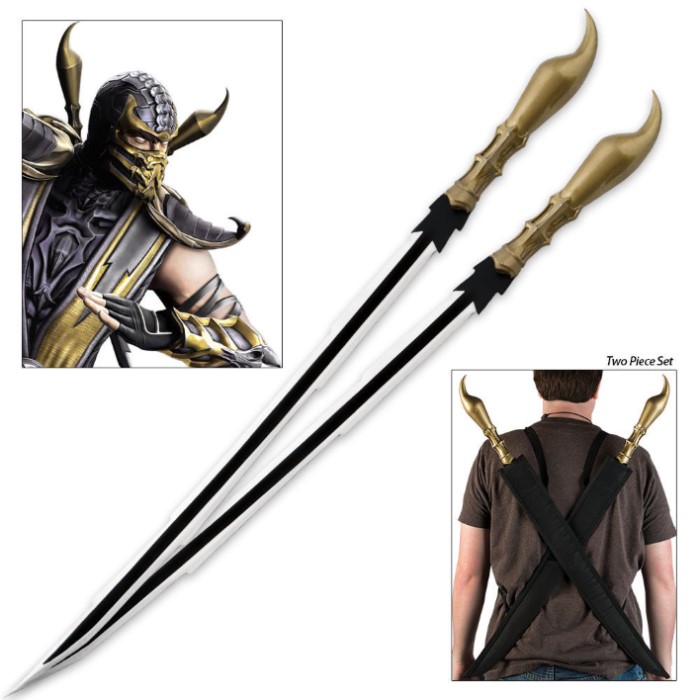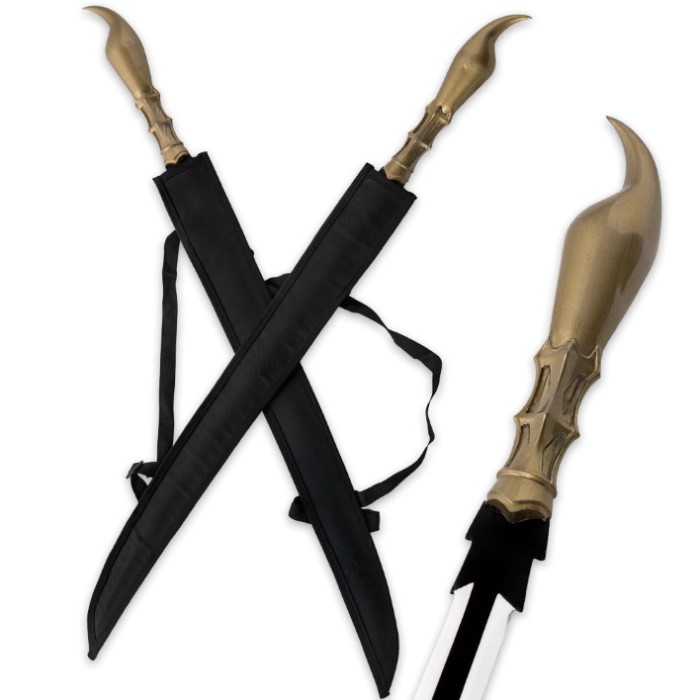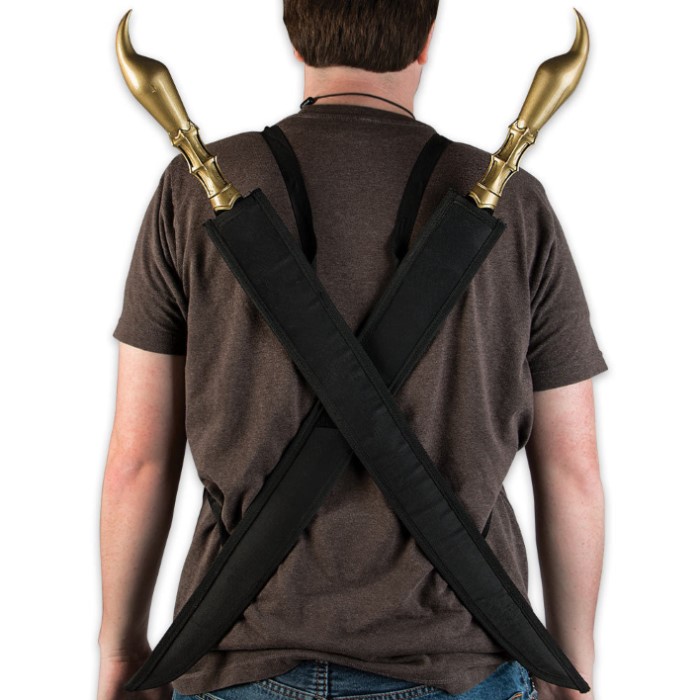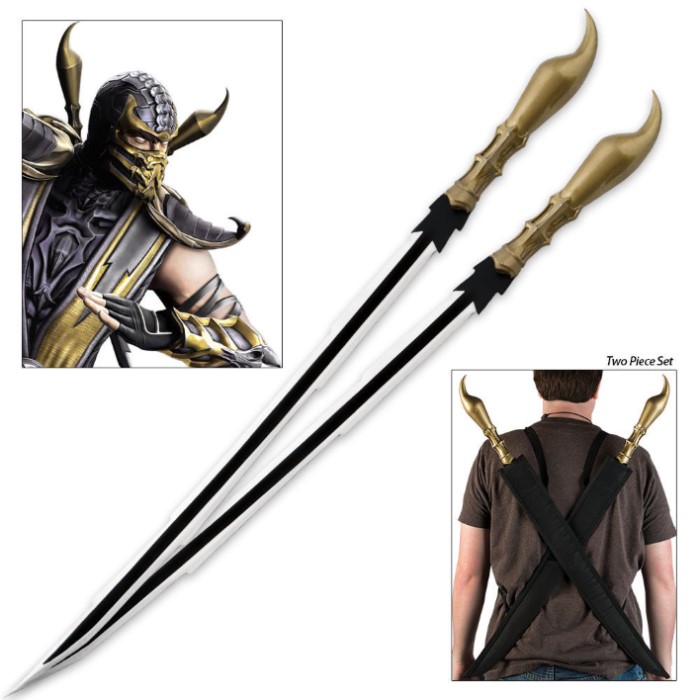 43 BK2664
&nbsp
4.4
(
22
reviews)
$33.98
$39.99
Out of Stock!
Fast and Accurate Order Processing
We offer standard, 3 day express, 2 day express, and overnight express shipping options for your convenience. If you place your order Monday - Friday by 2:00 PM EST using one of our express shipping options, your order will be processed and shipped the same day it is placed!
Applies to delivery within the 48 contiguous states only.
Out of Stock Notification
---
E-Mail Address: Please Send Me Free Updates via Email


Product Is Unavailable For Purchase
440 stainless steel blades
Two-tone finish
Stinger-shaped handles
Individual shoulder harnesses
33" overall length
---
Perfect for duel wielding, these excellent quality twin swords have an intense Scorpion design.

These unique swords will definitely stand out in your collection. The three-dimensional handle is crafted using solid ABS, beautifully shaped to mimic the stinger of a scorpion, and includes a molded grip with rubber accents.

Each blade is forged from 440 Stainless Steel, doubled sided, and features multiple scorpion barbs spaced out along the edges.

The two-tone blade is finished in black with satin edges and tapers to a well defined tanto point. While shipped unsharpened, the edges appear highly aggressive in person and can be honed to a sharp edge depending on your usage needs.

Includes a black nylon sheath for easy storage and transport of your twin sword set. Each sword is 33 in. overall and has a 24 1/2 in. blade.


---
Customer Reviews
|
Average Rating: 4.36 out of 5
---
Bent tip
Reviewed by Shoua ma Yang on Feb 26, 2017
3 out of 5
The Swords were great but tips came bent.
---
Excellent quality
Reviewed by Corey jameison on Jul 13, 2016
4 out of 5
The swords are perfect and exactly what I expected, however, the sheathe is too long for the blade itself and leaves a descent amount of space between the blade tip and the sheathe tip.
---
sharpness teSt
Reviewed by on Apr 23, 2016
5 out of 5
Just need to sharpen A little, then, it will cut
---
Awesome
Reviewed by Lucas Sommer on Mar 05, 2016
5 out of 5
I bought 2 sets of these for my friend and for myself. As soon as we got them we couldn't have been happier. The swords are freaking sweet. My only complaint is that the sheathes don't really fit me, they fit my friend but one of his swords cut through the sheath. Overall I'm extremely happy with these
---
Not that great
Reviewed by on Feb 20, 2016
3 out of 5
When i unboxed the swords the tips of them were bent.
Response: We apologize for the condition of the product you received. This is unacceptable and we'd like to make it up to you. Please contact customer service at 866-246-7164 and we will refund you the purchase and shipping amount or we could send you a replacement if you'd prefer. We are truly sorry for this inconvenience. Sincerely, BUDK Customer Service
---
Matthew
Reviewed by on Aug 28, 2015
5 out of 5
These swords are not from Mortal Kombat X they are from Mortal Kombat 9 that is why they look different but any way these swords are amazing
---
These are Scorpions swords from Mortal Kombat X
Reviewed by Finish Him! on Apr 15, 2015
5 out of 5
These swords are awesome, they are almost identical to scorpion's swords from Mortal Kombat X. The blades are a little different but when I'm slicing through water bottles at lightning speed, you can't even tell. Thanks BUDK for these awesome Scorpion replica swords at an unbeatable PRICE!
---
Reviewed by Houston Russell on Dec 31, 2013
4 out of 5
Great look! But not sharp at all.
---
Reviewed by joshua king on May 23, 2013
5 out of 5
these have some weight to them. they seem solid, but i'm not intending to swing them at anything overly sturdy.. like a tree. the sheaths are nice, with a strip of velcro in the middle. i am not certain if i like that the sheaths are connected together by the straps.. i could cut one end of each strap and sew them together to make single sheaths, if wanted later. i don't know why the did not use a clip mechanism. i got mine on sale so that made them that much better.
---
Reviewed by Talha Mukhtar on May 05, 2013
2 out of 5
THESE ARE DISPLAYS PRIMARILY!!! I bought these swords back when I thought the only important factor in buying a sword was how cool it looked. Being a bit less stupid now, I've decided to write this review to help future sword-swingers like myself. First, look at the metal used to make the blade. Stainless steel, of which these blades are made, is very nice for display swords, as it does not lose its luster. However, it is terrible for actual swords, as it is very soft due to a rather low concentration of carbon. Optimal blades are made of 1060 carbon, or 1045 or 1090 carbon, though 1045 is a bit softer and prone to bending, while 1090 is more rigid and thus more likely to shatter with misuse. Anyway, these blades aren't high carbon, and thus not at all recommended for actual use.

Perhaps more importantly, the hilts are of a of very uncomfortable mould, and are made of ABS plastic. While I was able to look past the stinging corners of the grips, the plastic was a fatal flaw for me, as the hilts of both swords snapped in my hands after a few good swings, because ABS plastic is too weak to take the force exerted on it by the tang of the blade when the blade makes contact with anything.

These swords are fine display pieces, though there is no included method of display other than the sheaths, which conceal the coolest part of the swords, and get a 4/5. As real swords, they get a 2/5. They don't get a 1/5 because i still use one of them, as enough of its hilt remains that I was able to wrap nylon cord, duct tape, and packaging tape around it to fashion a makeshift hilt that is actually more comfortable than the original; whenever the blade bends, I just bend it back to a (somewhat warped) semblance of its original shape.

Cool to hold, cool to show, bad to use, remember to oil them.
---