Skip to main content
Skip to footer
Date Published: 2015-04-03
The Top Five Swords
Nobody knows swords like True Swords, and we are proud to be the premier retailer of the world's best selection of top-quality swords. We like any sword we can get our hands on, but there are a few sword makers that stand out, especially among our buyers. What sets these five brands of handmade swords above the rest of the group is their superb attention to fine detail and unrivaled quality. Each sword serves its own individual purpose, whether it is for functionality, play and fun or simply display, but there's just something special about these top brands that sets them apart. These customer-top-rated sword brands all offer fully functional works of art that will take precedence among sword collections worldwide. Year after year, these are the most sought-after customer favorites. Here are a few reasons why we all love them so much.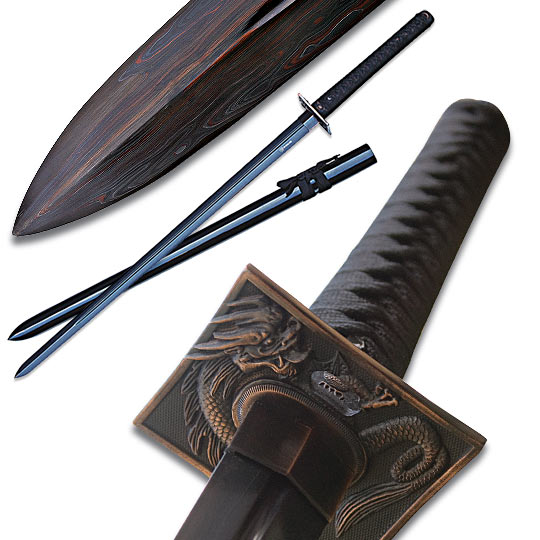 Shinwa swords are made using time-honored forging techniques.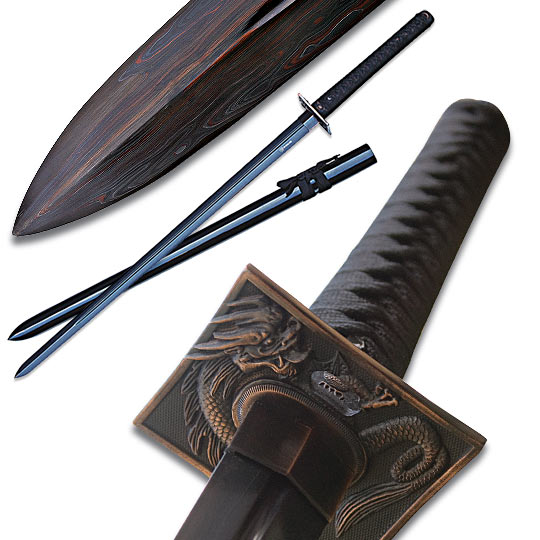 Shinwa swords are made using time-honored forging techniques.
Shinwa
Shinwa swords are all made by hand using ancient, time-honored forging techniques from the renowned township of Longquan in mainland China, which is famous for its sword smiths and porcelain artisans, often regarded as the finest in the world. Shinwa swords are made using only high-quality forged carbon steel or hand-folded genuine Damascus steel. Each blade is meticulously hand forged at temperatures of up to 1100° F and methodically heated, folded and hammered into its shape. The blade is then oiled and polished before being hand sharpened and honed to a razor-sharp edge just like the ancient samurai swords of centuries past. Particularly labor intensive, Shinwa's premium Damascus steel blades are folded up to 10 times to yield as many as 2,056 layers of mesmerizing Damascus steel. These blades are among the sharpest available today and provide excellent edge retention and precise slicing power. It's not just the blades we love on Shinwa swords; every detail is thought out in exquisite fashion. For instance, ray skin handles, heavy cord accents, and cast brass or alloy fittings add an attractive elegance factor to Shinwa's handmade sword lineup. Traditional lacquered scabbards house the blades in classic samurai fashion. If you want attention to detail and well-respected quality, Shinwa is the solution.


Ten Ryu
Also made in Longquan, which is often referred to as the "City of Treasure" for swords, Ten Ryu swords are all hand crafted using age-old traditions and skills that have been passed down generation by generation for centuries. These full-tang swords are ready for battle, featuring full-size high carbon steel blades that have been meticulously hand forged with keen attention to detail. Most often, the Ten Ryu master sword makers use 1060 high carbon steel for superior blade strength and its ability to achieve and maintain a ferociously sharp edge. These mid-range swords are all hand sharpened and finely honed right out of the box. Many of these already-high-end swords are forged using centuries-old clay tempering techniques that make them even more desirable. Again, they are usually dressed up with fine accenting features like solid brass fittings, genuine ray skin tsukas and heavy silk wrappings with coordinating lacquered scabbards. Each Ten Ryu sword tells the story of a fine handmade sword!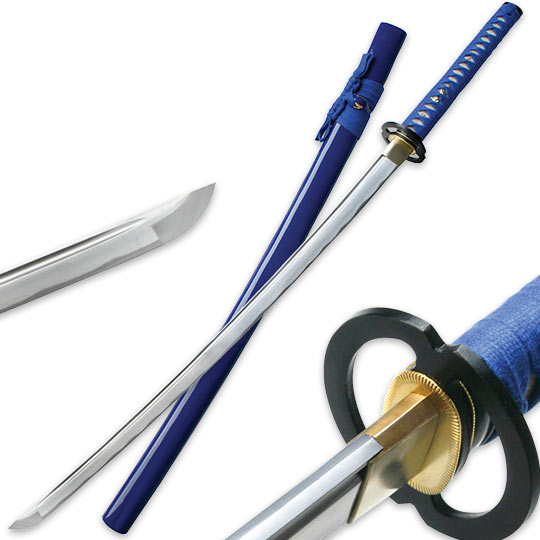 The Ten Ryu is a full-tang sword ready for battle.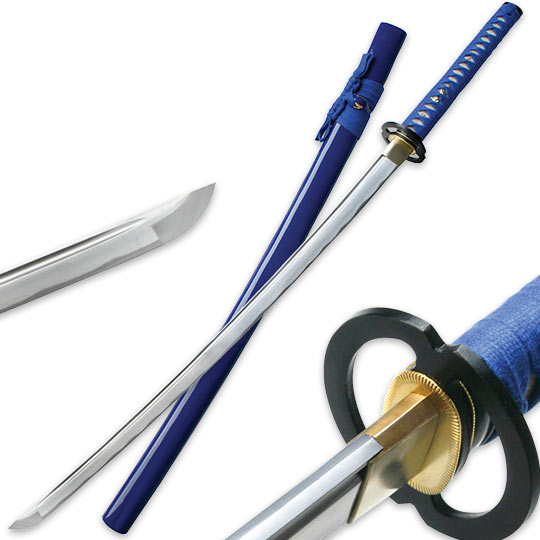 The Ten Ryu is a full-tang sword ready for battle.
Ryumon
Ryumon has quietly but decidedly risen to the highest ranks of the sword realm, now regarded as the cream of the crop when it comes to handmade katana swords and setting the standard for the most discerning collectors who want only the very best. Each heirloom-quality Ryumon sword features a high carbon steel blade, often 1095 high carbon steel that has been forged to impressively mimic the appearance of the finest Damascus steel. Like Damascus steel swords, each Ryumon blade has its own unique forging patterns so that each sword truly is a one-of-a-kind design. They are tempered by the best sword makers in the world, oiled and polished, and honed to a hair-slicing razor's edge. Fine-quality finishes complete every Ryumon handcrafted sword. High-end fittings made of copper, brass or bronze alloys are usually used on these swords, and each one comes with a hang tag, silk dust cover, cleaning kit, detailed reference guide and certificate of authenticity attesting to its prestige. It really doesn't get any better than a handcrafted Ryumon sword.


Masahiro
Masahiro is a great choice for everyone, whether you're looking for your first, entry-level handmade sword or simply building upon your collection of Japanese katana swords. Masahiro swords bring you great handmade quality with nice finishes at everyday, attractive prices. Each one is fully functional with a custom design and hand-forged blade. Carbon steel is usually the choice for Masahiro sword blades, and each one is carefully crafted, sharpened and honed using ancient, often secret, techniques of master Masahiro sword makers. Ray skin and cord handles usually complete the design of Masahiro swords. The traditional touches like a decorative cast tsuba, menuki and kashira add even more charm to Masahiro swords. If you're looking for a quality handmade katana at an affordable price point, Masahiro is definitely worth considering.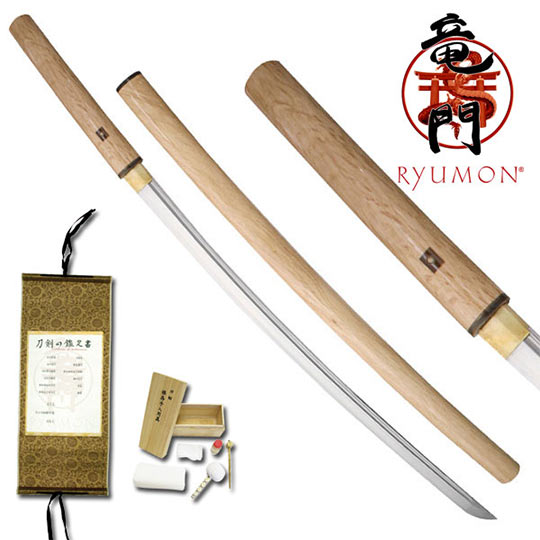 The Ryumon is regarded as the highest standard when it comes to handmade katana swords.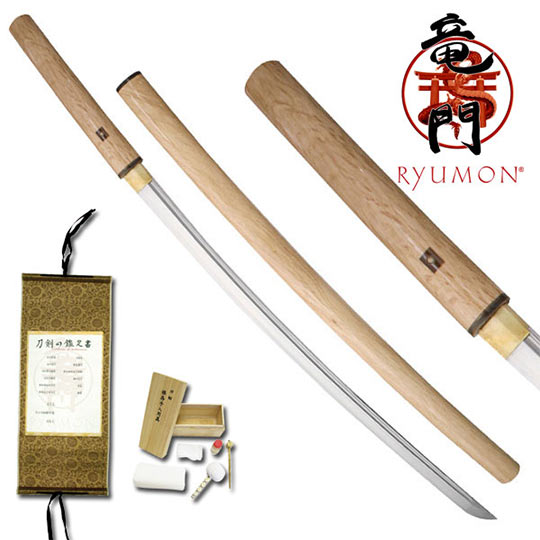 The Ryumon is regarded as the highest standard when it comes to handmade katana swords.
Cold Steel
Cold Steel brings a modern interpretation and contemporary, western approach to old-school Japanese sword designs. For example, most Cold Steel swords retain the shape and style of traditional Japanese swords, but they highlight contemporary manufacturing methods and bring a refreshing aesthetic to each piece. Cold Steel uses the highest quality high carbon steel and even spring tempered steel, bringing you the best modern swords that money can buy. In contrast to many of its modern attributes, Cold Steel swords generally feature traditional fittings, often solid brass or bronze, such as a habaki, menuki and tsuba to pay tribute to the old-school predecessors of these modern, western creations. Ray skin and cord-wrapped handles are also usually the go-to for these swords. No other brand does a better job of marrying the best of the old and the best of the new than Cold Steel.
Shop All Swords Here
Related Products