Skip to main content
Skip to footer
Date Published: 2015-04-17
United Cutlery Brings TolKien Weapons to Life
By Casey Tate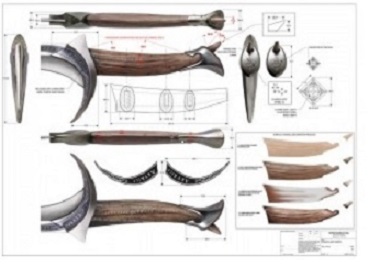 Orcrist drawings and renderings.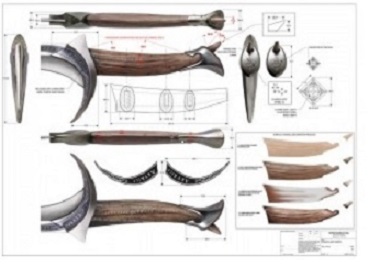 Orcrist drawings and renderings.
Over the course of the past two decades, United Cutlery has brought to life a well-loved story, in vivid detail, by manufacturing an impressive selection of weapons and arms replicas from the blockbuster "Lord of the Rings" series and "The Hobbit Trilogy." They have a long-standing history of creating the finest officially licensed replicas from television, video games and even motion pictures but this exclusive lineup of officially licensed replicas are what United Cutlery has become known for.
To help facilitate the design and manufacturing process, United Cutlery turned to well-known fantasy designer Kit Rae, who is one of the most well-respected and sought-after designers of fantasy and collectible weaponry in the industry.
Following a unified vision — to create the most accurate and visually stunning replicas possible using modern materials and production methods at a price that is affordable to the average person — Rae and United Cutlery company went straight to the source of the actual filming props used on set, Weta Workshop of New Zealand.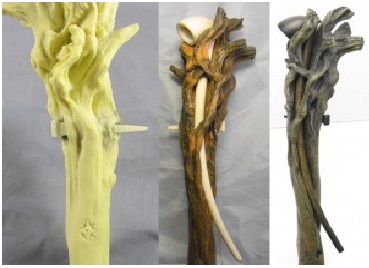 Production mold and prototype of Gandalf's staff.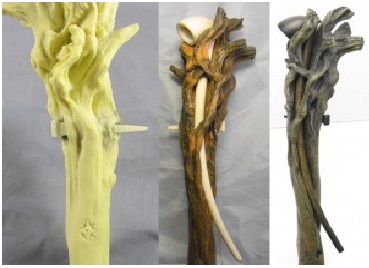 Production mold and prototype of Gandalf's staff.
"Rather than simply creating a semi-accurate replica based on prop master photographs, as is often done, we prefer to have the actual props in hand to photograph, measure, take molds from, or make 3D laser scans," said Rae.
Rae wanted to ensure that each replica matched the actual prop as exactly as possible. After being sketched and photographed extensively, the renderings were used for the tooling process and for making molds for each piece.
According to Kit Rae, "Sometimes it is a simple process, and other times we run into problems where something that was done by hand on the original prop cannot be replicated exactly in a production replica. In those cases we try and get as close as possible."
After a sample was milled and tailored to the correct specifications, it was hand finished to match the actual prop, then photographed as a final production prototype. The prototype was then intensely scrutinized throughout the various stages of quality control and assurance to make sure it stood up to United Cutlery's strict quality standard. Each prototype was then sent to the licensor, Warner Brothers, for final inspection to ensure authenticity and quality before mass production began.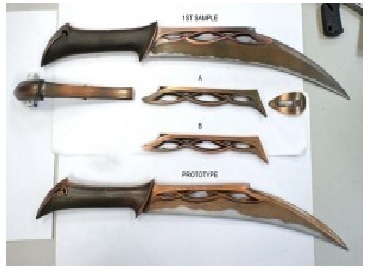 Finishing techniques on Tauriel's daggers.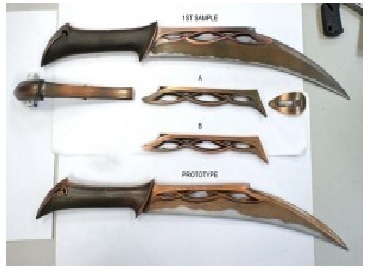 Finishing techniques on Tauriel's daggers.
While most of the weapon replicas were crafted and machined from steel, other replicas such as the staff of Gandalf were made of poly resin. In these instances a mold was cast for the prototype, often using the actual filming prop. After the replica was cast, each piece was hand painted and finished to match the original prop as closely as possible. An interesting point to make is that the actual props used for filming are handmade using simple, lightweight materials like aluminum and rubber that are painted to appear as they do in the films. In contract, the replicas produced by United Cutlery bring you the look and feel of the film prop in an actual functional piece. At the end, however, United Cutlery's commitment to excellence is the common denominator for every Lord of the Rings and Hobbit Replica.
"We consider our film replicas heirlooms that fans of the licensed property will cherish for many years beyond the life of the film, and as a fond memory of the world created in the film," said Rae.
In keeping with this sentiment, each officially licensed replica is laser serialized for authenticity and also includes a certificate verifying its authenticity.
Shop All Movie & TV Replicas Here
Related Products