Skip to main content
Skip to footer
Date Published: 2015-10-20
Musashi Himself Would Carry These Swords
By Adelia Ladson
Miyamoto Musashi built and left an incredible legacy in the art of swordsmanship. Much of his knowledge he imparted in his "The Book of Five Rings," which is still required reading in many martial arts schools today. I encourage anyone to pick this book up and give it a read. You don't have to study martial arts to find his philosophy applicable and the Musashi Forge has taken these teachings very seriously in relation to the crafting of their swords.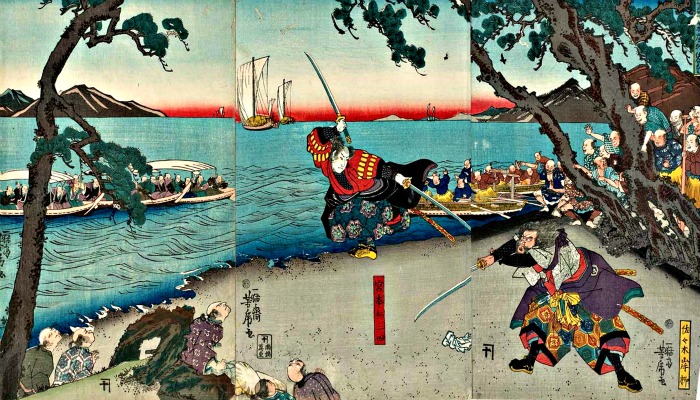 Miyamoto Musashi was a legendary Samurai.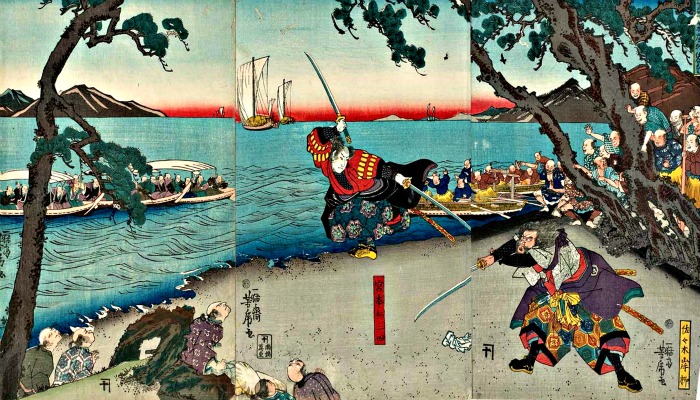 Miyamoto Musashi was a legendary Samurai
Miyamoto, who was the orphaned son of a Samurai, won his first single combat victory when he was thirteen years old. It was against a Samurai of a noted martial arts school. This set the tone for the rest of his life, living as a Ronin (an unsponsored Samurai) in pursuit of enlightenment through the Way of the Sword. To say he was successful in combat would be an understatement, as he defeated scores of opponents in wars and duels. He was a hardened warrior tempered in the heat of battle and, much like our Musashi Swords, named in his honor, he was a masterpiece in his own right. I believe Miyamoto Musashi himself, he would alive today, would carry these swords that the Musashi Forge is expertly crafting.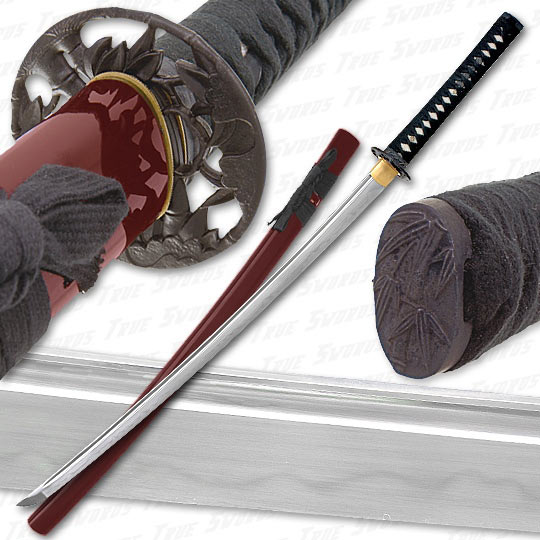 The Bamboo Warrior is perfectly balanced.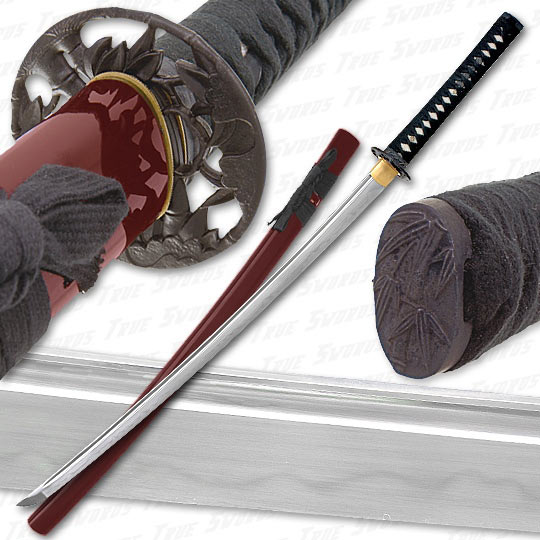 The Bamboo Warrior is perfectly balanced.
In "The Book of Five Rings", the first volume titled "Earth" explains that a sword should be wielded with only one hand. With that in mind, the Musashi Forge crafted swords like the
Bamboo Warrior Sword
to be perfectly balanced with a tightly wrapped handle to give the wielder a secure and comfortable grip while maneuvering it. The 1060 high carbon steel blade of this katana has been differentially hardened through a clay tempering process and then hand-honed to an extremely sharp edge that we know Miyamoto would appreciate. He admonished his readers that, like the carpenter, they should make it their habit to maintain their tools' (swords) sharpness.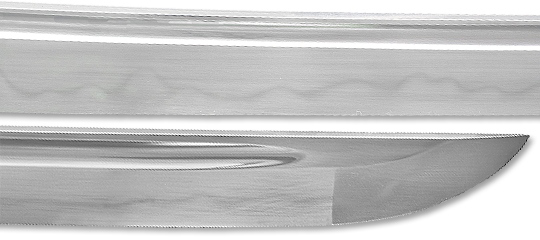 Musashi swords have a layered hamon.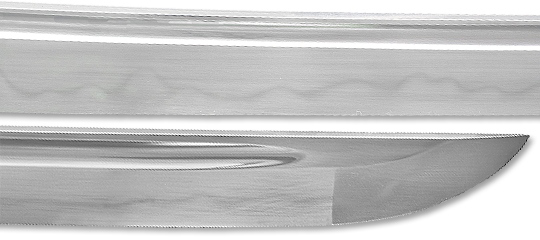 Musashi swords have a layered hamon.
The
Elegant Crane Katana
has, like all of our Musashi Forge hand-forged swords, the flexibility built into the blade's spine that hearkens to the venerated Samurai's lesson of keeping your sword hand flexible because stiffness should be avoided in both your sword and hand. This comes from his volume, "Water", which also teaches that the mind should be fluid, as well. All you have to do is look at the beautiful layered wave of this sword's hamon to be reminded of that. The Musashi Forge achieves this through folding two high carbon steels together eleven times.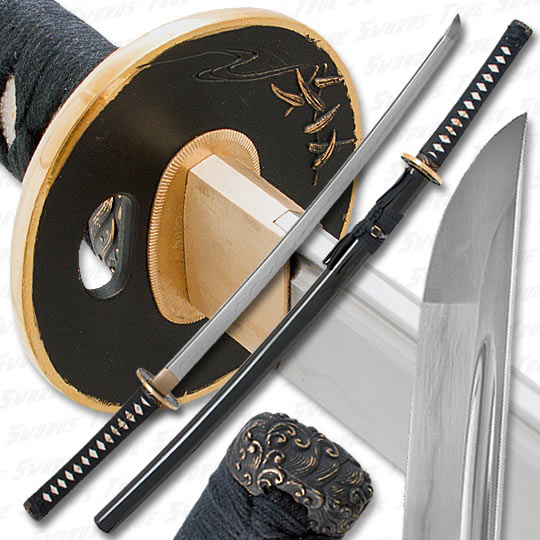 The Musashi Elegant Crane is flexible.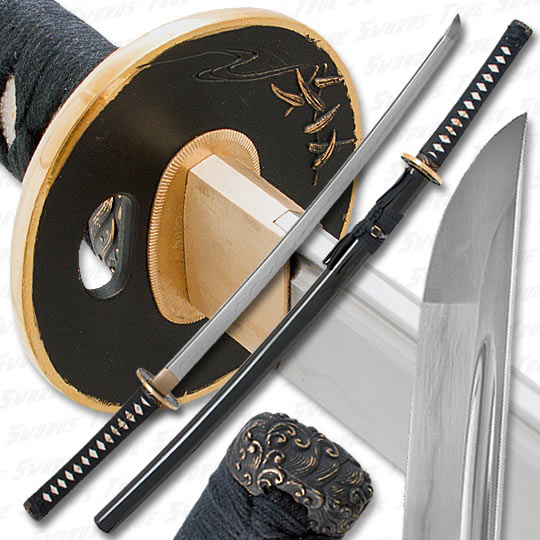 The Musashi Elegant Crane is flexible.
Miyamoto's "Fire" volume compares fighting to fire because of its fierce nature whether big or small – whether battle or duel. Our
Clay Tempered Dragon Katana
bears a fierce fiery dragon on its tsuba that is a reminder of the master's lesson. Taking that lesson and adapting it to production values, Musashi Forge swords are each given the same intensity of design whether they make one or 100.
The
White Falcon Katana
is the perfect illustration of a functional and elegant katana, which is a hallmark of the Musashi Forge's tradition of excellence in sword crafting. In the volume titled, "Wind", in "The Book of Five Rings", Miyamoto speaks of traditions of strategy. It is the Musashi Forge's strategy to constantly raise the bar, using traditional methods, of creating swords that have amazing inherent value. Taking the Samurai's lesson to heart of training diligently, Musashi Forge strives diligently to produce swords that are designed to be collection show-pieces but fully-functional, as well.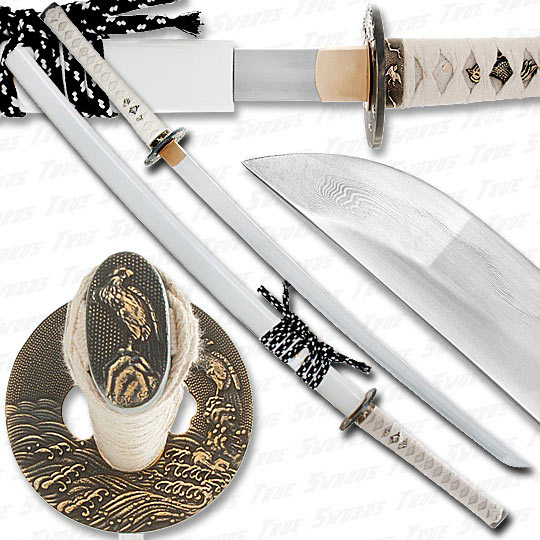 The White Falcon Katana is pure art.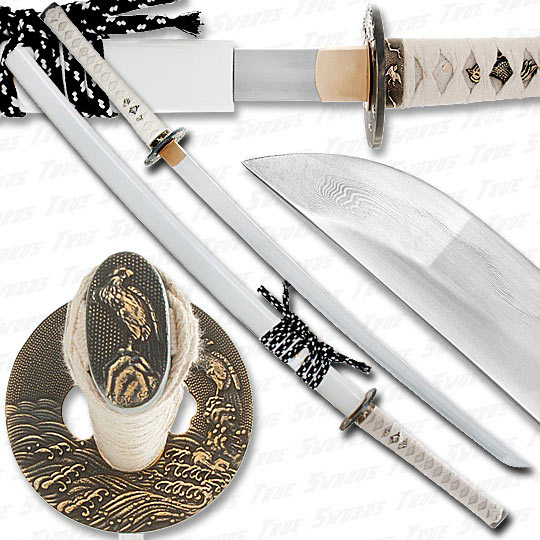 The White Falcon Katana is pure art.
The last and final volume of Miyamoto's book is titled "Emptiness" or "Void" and, in it, he cautions against deviating from the Way of the Warrior. Our
Best Miyamoto Musashi Sword
, which has the tsuba design of the swordsman himself, was crafted with the goal of offering the same quality for a lower price. To help keep the cost down, the tsuba was machine crafted instead of being hand-crafted. However, the Musashi Forge did not deviate from its path of hand-forging a blade with the same proven method it uses for all of its swords. The blade is razor-sharp high carbon steel that has been hardened through differential tempering. Hand-forging the most perfect blade that we can every single time is our Way of the Warrior.
Shop All Musashi Swords Here
Related Products