Skip to main content
Skip to footer
Date Published: 2015-04-15
Top Ten Movie Swords
By Adelia Ladson
Listen up all of you sword collectors out there! True Swords has gathered together some of the most exceptional movie replica swords that you will ever see in one location. You will not find the variety in style, shape and form in a collection anywhere else online. If you don't take a look at the magnificent swords and bring a few home with you, you are seriously missing out on a wonderful opportunity to increase your collection with quality pieces. If you are not a sword collector, per se, but have a love for specific films or just action films in general, pay tribute to them by proudly displaying one of these amazing reproductions.
Here are the top ten favorite movie swords that our customers have purchased. The range of style from katana to fantasy is truly incredible.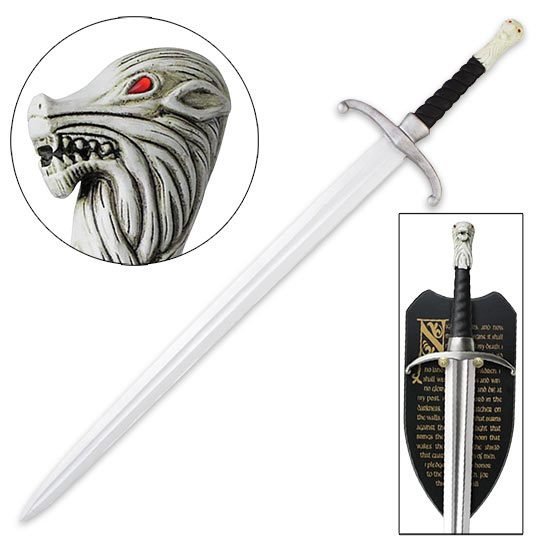 Longclaw is Jon Snow's sword from "Game of Thrones."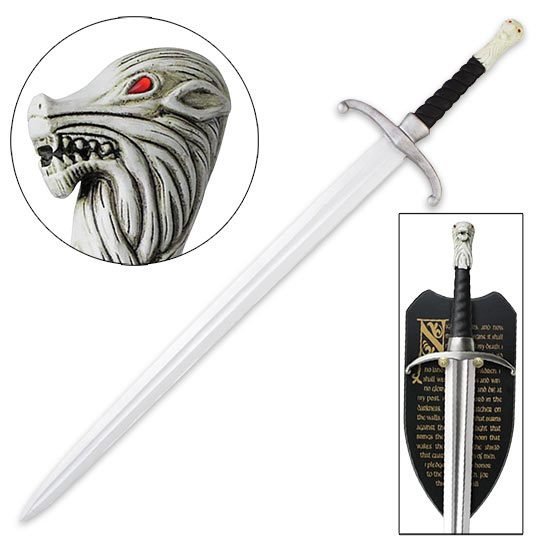 Longclaw is Jon Snow's sword from "Game of Thrones."
1.
Longclaw Sword of Jon Snow
This officially licensed replica from HBO's hit series Game of Thrones is a must have for any fan of the series and, folks, this isn't some "looks sort of like it" knock off sword. This is an officially licensed replica that was cast from the actual filming prop used in the series. This is an epic story and you just have to love Jon Snow the minute he walks on the screen, as the bastard son trying to survive. The interesting thing about Longclaw, though, is that it is considered a "bastard sword," as it is longer than a longsword but shorter than a greatsword. The direwolf pommel, sigil of the House of Stark, is so accurately designed, that it will break your heart.
2.
The Hobbit Orcrist Sword
This reproduction of Orcrist, the sword carried by Thorin Oakenshield, in the epic trilogy, "The Hobbit", is crafted to match the actual filming prop exactly. Also called "Biter," this sword had killed hundreds of Orcs in its time and was crafted by Elven swordsmiths. It ended its illustrious career buried with Thorin under the Lonely Mountain but you can give it new life again by bringing it back up into the light.
3.
Ultraviolet Sword
The Blood War is on and this sword makes a strong impression on everyone who holds it, whether they have seen the movie or not. You won't believe the detail when you see the intricately engraved inscription on the blade. And if you love portraying the character of Violet, this sword is the only choice for your cosplay costume.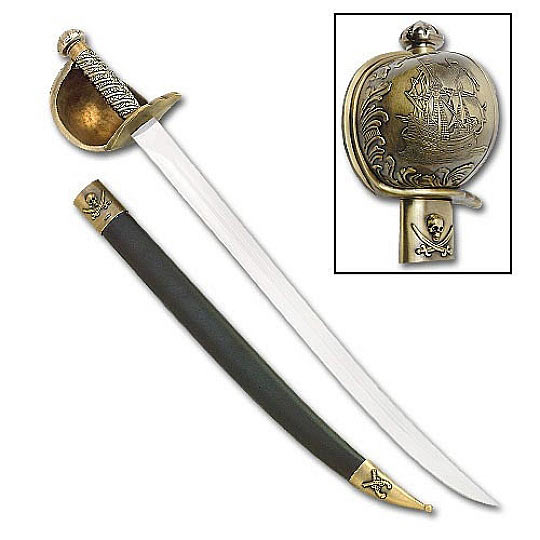 This beautiful pirate cutlass is definitely worth of Captain Jack Sparrow.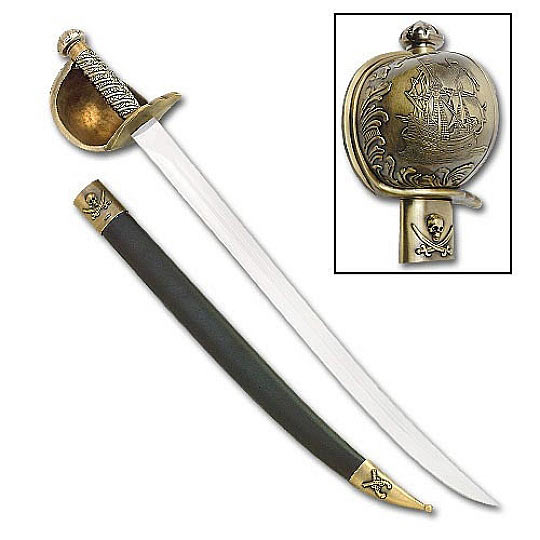 This beautiful pirate cutlass is definitely worth of Captain Jack Sparrow."
4.
Jack Sparrow Pirate Sword
The perfect addition to any pirate enthusiast's collection, this intricately detailed cutlass has a guard that is cast metal, bronze plated and adorned with a pirate ship at sea. The custom blade sheath is accented by a cast metal throat and tip adorned with a skull and sabers and crossed flintlock pistols. It is an elegant sword that pays homage to the days of The Brethren of the Coast and their adventures or misadventures on the high seas.
5.
Serenity Firefly Battle Sword
Dedicated fans and hardcore followers of cult sci-fi hits will instantly recognize this replica weapon and will want to add it to their collections. It is a Reaver sword based on the sword used by River in one of the final sequences of the series. It has a blade of stainless steel and a wooden handle.
6.
Klingon Bat'Leath War Sword
Warp speed, sir, and bring me my Bat'Leth – the most honorable weapon. This massive alien weapon is straight out of your favorite sci-fi series and movie and it doesn't get any more realistic than this. Worf carried one that had been in his family for generations and, during his time aboard the USS Enterpise, he trained both, First Officer William T. Riker and Dr. Beverly Crusher, in its use.
7.
King Leonidas Spartan Sword
The term "Spartan" still remains synonymous for anyone rigorously self-disciplined or courageous in the face of pain, danger, or adversity and this version of the 300 Movie sword beautifully illustrates just that. By popular request, this a true Spartan warrior's sword influenced by the movie "300". Used by King Leonidas and his men, this sword packs as much punch as the movie experience. Spartan culture was diligent and driven to succeed. They worked towards toughness of body, mind, and military efficiency. Sparta did not suffer under the rule of any tyrant or dictator, and its phalanxes were considered undefeatable.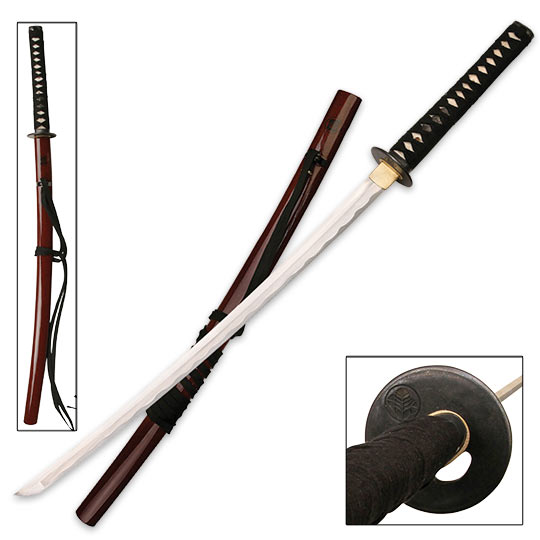 This handmade katana is a perfect replica from "47 Ronin."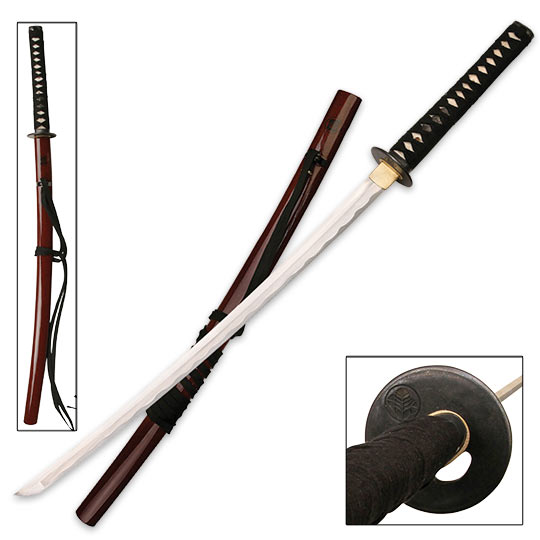 This handmade katana is a perfect replica from "47 Ronin."
8.
Handmade 47 Ronin Sword
Own your favorite sword from the blockbuster hit movie 47 Ronin that is not only a movie replica but also a functional work of art. It offers a handforged carbon steel blade that is honed to a razor edge and the handle is wrapped in genuine ray skin and traditional cotton cord. As he is being charged by the Kirin, Kai picks up one of these swords, carried by the Asano Clan, to slay the monster and this replica is just as battle ready.
9.
Narsil Sword of King Elendil
This highly detailed replica from The Lord of The Rings was constructed to exactly match the actual filming prop. Authentic accents abound, such as the 24K gold-plated fitting on the hilt and the genuine leather handle wrappings. Narsil, carried by King Elendil, during the Last Alliance of Elves and Men against the evil Sauron, was wielded most famously, by Isildur, to cut the One Ring from Sauron's hand. He only needed the handle-shard to do it, which is a testament to the swords strength and power. Now, that it has been reforged, you can own it, too, and marvel at this Middle Earth icon.
10.
Immortals Theseus Golden Sword
Theseus' golden fight sword comes to life with this highly detailed replica and features an "Immortals" engraving with the battle cry, "The Gods Need a Hero." Theseus was that hero, battling with the Gods against the Titans. Leading his men bravely into battle with this mighty sword, he defeats his mortal adversary.
Shop All Movie & TV Replicas Here
Related Products