Skip to main content
Skip to footer
Date Published: 2015-03-10
Top Weapons to Survive the Zombie Apocalypse
When faced with imminent danger, our brains have two default reactions: fight or flight. The ultimate goal is survival and longevity. All bets are off when an army of zombies overrun your neighborhood; in that scenario we have no choice but to wage a war against the hordes of the undead. When trying to survive, it comes down to getting the right tools for defense and surviving the flesh-eating zombies that are coming for you. Here are some top weapons that will help you survive and thrive in the looming Zombie Apocalypse.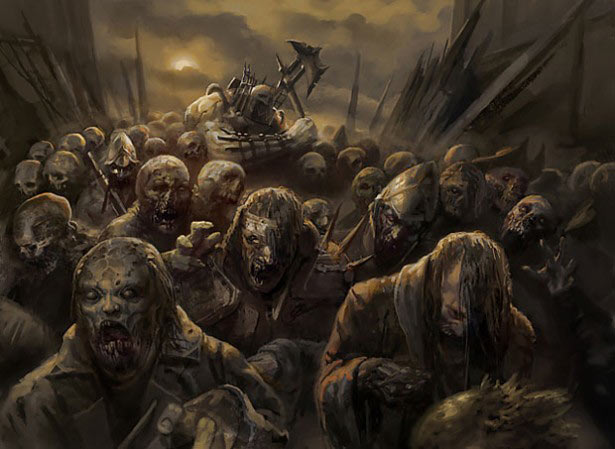 Are you ready to survive?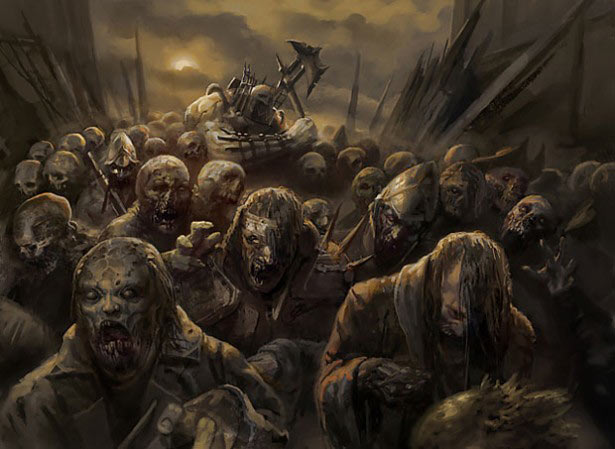 Are you ready to survive?
Swords
Probably the first choice of defense for emergency situations, swords are built for precision, power and performance. The long sharp steel blade gives you some space between yourself and the zombie, and a long sharp edge for zombie-slicing effectiveness. Apart from looking cool wrapped around your shoulder, swords such as the Katana make clean kills with just one slice. The cord-wrapped handles provide an excellent grip, especially when you are faced with a multitude of walkers coming at you. True Swords has an unrivaled assortment of Samurai Katana swords. Japanese swordsmisths have a long ancient history of forging the best swords, ranging from the Musashi, Ten Ryu, and Rymon swords. Following that tradition, Shinwa swords bring you old-school samurai sword-making techniques with modern touches and designs, with every sword featuring a heat-forged blade for superior cutting performance. When ancient warriors fought in battle, their skills and abilities with the sword determined if they lived or died. Warriors trained for years and mastered the skill of sword battle in order to ensure their survival and dominance. Just like these predecessors, we must also be ruthless warriors if we are to destroy the zombie armies, and we must arm ourselves appropriately.
Machetes
Machete blades are highly effective tools for taking down some zombies, too. The Zombie Defense Survivor Sword with Throwing Knife Set is just what you need. Its 19-1/2" stainless steel blade is effective for slashing and protecting you from the walkers and giving them a good dose of their own carnage. Complete with nylon PVC sheath to tuck in the three throwers, this machete is perfect for anybody left to fight the hordes in the zombie apocalypse. Other machete styles such as kukris, parangs and sawbacks will do the trick to, taking their heads off and keeping you safe.
Tomahawk Axe
Fancy chopping off some Zombie heads with one blow? The tactical Tomahawk will swiftly fend off Zombies, splitting skulls and taking off heads with like it's nobody's business. The light weight and portability of our tomahawks provide a fast way out of thick situations. The sharp blade is meant for a lethal offensives capable of slashing zombies in a flash. A Combat Tactical Tomahawk Spike has a great grip providing an excellent hand-held defense weapon. It's also great for other emergency survival situations like chopping wood, breaching doors, etc.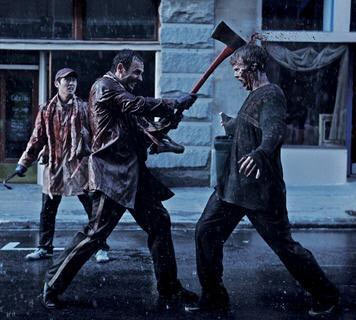 Take those zombies out!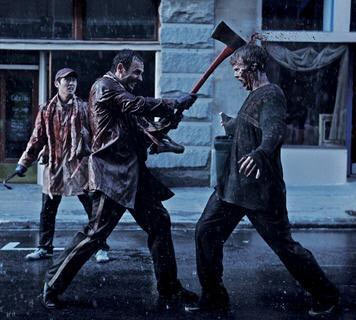 Take those zombies out!
Knives
So you have been overrun with zombies in your house, but they don't know exactly where you are yet. How do you take them down one by one? A firearm is definitely out of the question as the loud bang will just be an open dinner invitation for the zombies, your flesh being the main course. Close combat calls for swiftness, with precise moves that take down your hungry enemy quickly. A Full Tang Combat Tanto knife will do the job effectively. The 11" blade has skull-penetrating prowess with the cord-wrapped handle proving excellent grip. For a military blade, the SpecOps WWI Trench Knife has a great pointed knuckle grip and classic blades that will get through thick zombie situations. Knives are also great for throwing at oncoming zombie attackers, especially when on the run.
Spears
Survival depends on weapons that are multi-purpose and highly functional. Spears are especially versatile, providing use when hunting food both on land and in shallow rivers. They are also handy at containing and repelling the undead attackers. The Tactical Riot Apocalypse Spear is a beast of a weapon to use during the Zombie Apocalypse. The extra-long shaft provides extended reach, allowing you take down flesh eaters from a safe distance.
Accessories
Surviving a zombie attack has as much to do with careful planning as it does with skill and stamina. Helmets, body armor, elbow and kneepads are as important as knives and swords. The Medieval steel chainmail Armor is full of 19-inch sleeves that protect you in any battle. The tactical riot helmet is just great for some good old head butts while providing 360 degrees head protection. The polycarbonate face shield is good enough for cops during wild riots and should cover you from zombies. Some defense SAP gloves with eight ounces of steel shot at the back of the hand keep your hands well protected.
Shop All Zombie Apocalypse Survival Gear Here
Related Products